Newspaper tablets apps were the future. But the future still hasn't arrived
Are the pay wall and the tablet really finding general consumer acceptance?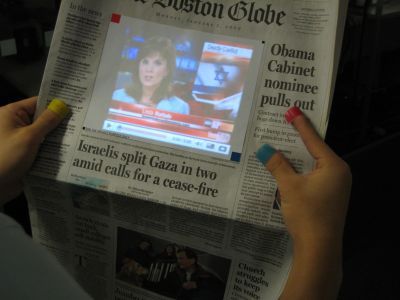 There were high fives in the offices of Rupert Murdoch's News UK stable when the Apple iPad launched in 2010, just weeks ahead of the publisher's introduction of a risky new pay wall around the digital content of The Times.
To chief marketing officer Katie Vanneck and other senior executives it seemed symbiotic – here was a platform that could transform their chances of success as they ventured into paid digital content. Three years and a few months later and the tablet devices that Apple pioneered are almost ubiquitous. During this quarter, sales of tablets and their close cousins "phablets" (phones with seven-inch screens) will overhaul those of laptops.
But is this proliferation of mobile devices really helping newspapers? Some of the big publishers claim it is. Associated Newspapers - publishers of the Daily Mail - has announced that its tablet edition Daily Mail Plus has grown in circulation by 50 per cent since April, with daily sales of 14,937. This tablet edition costs 69p (compared to 60p for the paper).
The sales are not huge for a publisher that attracts nine million browsers a day to its website. But Neil Johnson, managing director of Mail Plus, has highlighted a "massive expat potential readership" and a noticeable growth in readers over the age of 45.
This week News UK will release encouraging new figures for subscriptions to its Times app, having revealed last Thursday that it had reached 150,000 digital subscribers for its Times and Sunday Times titles.
Vanneck believes that both the pay wall and the tablet have found general acceptance. "It's a more mature market, three years on – it's on a traditional curve of early adopters into mainstream [consumers]," she says.
But away from the publishing companies the enthusiasm is more muted. Rob Lynam, head of press at the media agency MEC is sceptical. "I think for publishers the uptake of tablet apps has been fairly disappointing," he says. "A lot of publishers were seeing tablets as the solution to declines in print circulations and largely it hasn't happened."
Lynam – who advises advertising clients on where to spend their money – is frustrated that news publishers deliver only "irregular" statistics on the performance of their apps.
Newspapers have a fundamental problem, he says, in that most weekday tablet use takes place in the evenings. "Given the 24-hour news cycle lots of the apps will be out of date by the evening," he says, claiming that many users do not carry their device during the day. Vanneck disputes this. She says Times readers look at their copy on their commute. Evenings are a chance for publishers to offer "second screen" experiences.
In the view of media consultant Paul Thomas, the free BBC News app sets the standard in the market for innovative features and instant updates, creating a huge challenge for commercial publishers who must hope that the depth of their analysis and potency of their opinions are sufficient to persuade users to pay for an additional news source.
Much has happened since 2010. Then there was the iPad, (initially offered at £429 plus VAT), while now British households can choose from a vast array at all price points (Argos's MyTablet is just £99.99).
For optimists like Vanneck, here lies opportunity. But for cynics a case still needs to be made. This is why the national news industry body Newsworks is launching the Tablet Project to examine the performance of 20 advertising campaigns on newspaper apps in five sectors from retail to motors. It will report early next year and give new insight into the behaviour of tablet users.
With so many entertainment options on offer, many consumers are yet to be convinced they should use their devices for reading press reports – still less pay for them. Newspaper apps must offer premium content which can be viewed (not necessarily read) while watching television, listening to the radio or browsing online.
Fortunately for the press, this is an evolving medium. For the innovative publisher, they still constitute a grand canvas filled with potential.
Maria Miller's three-pronged mission across the United States
Culture Secretary Maria Miller has been on an American tour. No doubt grateful for a break from the thorny problem of press regulatory reform – where she has managed to displease parties on every side of the argument – she crossed the Atlantic on a three-pronged mission.
First she flew out to Washington to meet campaigners against online child pornography, which should strengthen her standing in the eyes of the Daily Mail, a paper which has campaigned against internet porn but has also asked: "What is the point of Maria Miller?"
From the East coast, the member for Basingstoke headed to the West Coast to bang the drum for the British film production industry in the hope that more American movie projects will take the lead of George Lucas' Star Wars Episode VII, which will be shot here next year. She visited the Disney and HBO production companies.
While in California, Ms Miller networked with groups who have fought for equal marriage rights for same sex couples (having introduced such a Bill into Parliament in July). She also visited Google and other Silicon Valley companies – whose support she will need if the clamp-down on child porn is to be more than gesture politics.
The BBC and its troubling relationship with the Peel Group
A report by the Public Accounts Committee (PAC) last week on the BBC's £24m move to Salford was a triumph for the ExUrbe think tank which was mentioned in dispatches for its probing work in highlighting the Peel Group, the BBC's powerful commercial partner in the project.
ExUrbe published a report in March on a "complex, opaque conglomerate comprising several hundred individual companies" controlled by a private family trust in the Isle of Man. The BBC has entered a 20-year lease with Peel (which owns the "Media City UK" site), paying an estimated lifetime rent of £171m. A separate 10-year deal for studios is worth a further £82.8m to Peel.
The PAC has demanded the BBC Trust looks into the relationship and satisfies itself that Peel is paying its "fair share of tax". Peel insists that Peel Media– the subsidiary which owns the BBC site – is UK domiciled and pays its dues.
Join our commenting forum
Join thought-provoking conversations, follow other Independent readers and see their replies