No-platforming: Curtail disappointment by never, ever, agreeing to hobby-debating in the first place
Grace Dent believes that 99.9 per cent of hobby-debates are merely a setting for people enamoured of the look of their own name on an A3 flyer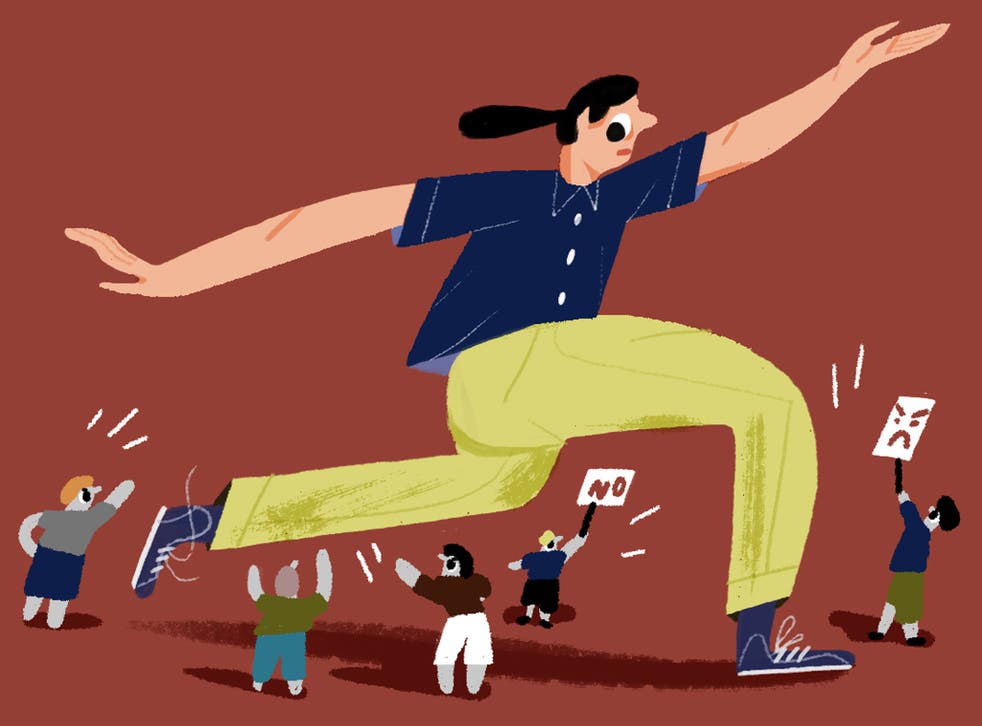 Friends seem to have entered a nigh-constant state of umbrage over their right to debate. Dammit, they've been dying to drive to Halifax in order to go head to head with a rival blowhard over the ethics of field sports. Or was the matter under discussion the sanctity of marriage in the light of the popularity of bumming? Or the availability of condoms near Catholic secondary schools? Well, whatever – it's now cancelled because beastly people are impinging on our right to debate.
"Bloody hell, mate. Lucky escape," I tend to reply, feeling that they may have misunderstood the dank wretchedness of the chore. Were they pissed when they agreed to it? Or heavily flattered? Somehow they must have misjudged the futility of an unpaid night in a municipal building in West Yorkshire that whiffs of cheap disinfectant and yoga mats, and of being shouted at by people with vastly different beliefs to their own.
This, in truth, is the hobby-debater's lot. They will wake in the morning with a white wine-induced hangover, remembering not only that the evening was a flagrant waste of time, but that in the post-debate green-room fug they agreed, most charitably, to appear in three more debates, even further away and in front of even smaller audiences.
I must warn you, however, that congratulating a friend on a cancelled debate booking is the wrong answer. Bad Gracie. I know this now. I'm supposed to look utterly outraged on their behalf. And not, as I often am, amused. But slightly mirthful is all I am when I hear that a debate has been cancelled as a result of – in a very modern phenomenon – someone's opinion being considered too terrifying to endure.
This pre-claim of terror is typically made by a formidable-looking woman called Morag who is sporting a nose-ring and a sea-green coloured homecut and looks like she could capably run crowd-control at the Glasgow Barrowlands. But, you bastard, do not prejudge Morag as hardy and strong, because she is not. Morag is made of eggshell and squirrel's hiccups. And while debate is important to Morag – and debate is bloody important, remember – so too is feeling safe.
How, we must wonder, can Morag feel safe when someone with an opposing view on abortion or Trident or Caitlyn Jenner's spring/summer wardrobe is threatening to pitch up in a room close to her and say these things with their mouth, lips and tongue. "This is ludicrous," my eager-to-debate friends squeak, their hopes of saving the world from people like Morag temporarily thwarted.
One way to curtail this disappointment, I've found, is to never, ever, ever, agree to hobby-debating in the first place. I do not need this platform. This house – ie, my house – believes that 99.9 per cent of hobby-debates are merely a setting for people enamoured of the look of their own name on an A3 flyer, and of the idea of sitting on a slightly raised stage, entertaining sad sacks who need to orgasm more in the presence of others.
You could ask me to debate this view as schedule-filler for the Bumfart-on-the-Nowhere Book Festival, but I wouldn't turn up. "Everyone is entitled to my opinion. Feedback isn't necessary," is something I like to tell friends, mainly to see the cogs in their head whirr with confused disgruntlement.
Especially the privately educated ones. These people have been hobby-debating since they were aged 10. It is in their veins. They feel it is bad, wrong and savage to even hint that a pleasant night in eating spaghetti hoops is better for the soul than a trip to Sheffield to shout about sex workers, which will be cancelled at the last minute because of the presence of "whoreophobes".
But expensively educated buddies feel that no topic is truly honoured unless everyone divides into teams and scores points. At the secondary I went to, the closest thing to a debating society was 300 kids shouting "Fight!" and "Pile on!" while teachers blew whistles and drew ringleaders into headlocks. I am heavily realistic about the pig-headedness of human beings. I have never bought into the notion that an evening of light jocularity in a sports hall – £2 entry – changes anyone's minds about anything. That's why my favourite debate is a cancelled debate where everyone can go directly to the bar.
Whatever you think of my views is not, despite how my ego yearns, crucially important. I'm only on this earth for around 40 more years and after that I'll be in hell. Probably running a speakeasy. You're all invited. No one will be disinvited. In the meantime I am in some doubt as to whether I will change your mind – via public debate – on why foxes are glorious or why maybe putting your tit away in Claridge's is only polite. I am no-platforming myself from public speaking at a town near you indefinitely. My safe space is my sofa. Try banning me from that.
Register for free to continue reading
Registration is a free and easy way to support our truly independent journalism
By registering, you will also enjoy limited access to Premium articles, exclusive newsletters, commenting, and virtual events with our leading journalists
Already have an account? sign in
Register for free to continue reading
Registration is a free and easy way to support our truly independent journalism
By registering, you will also enjoy limited access to Premium articles, exclusive newsletters, commenting, and virtual events with our leading journalists
Already have an account? sign in
Join our new commenting forum
Join thought-provoking conversations, follow other Independent readers and see their replies