Not sexy: Rihanna and Shakira pose as lesbians for a music video - but where are they on LGBT rights?
This is an empty, cynical performance by two straight women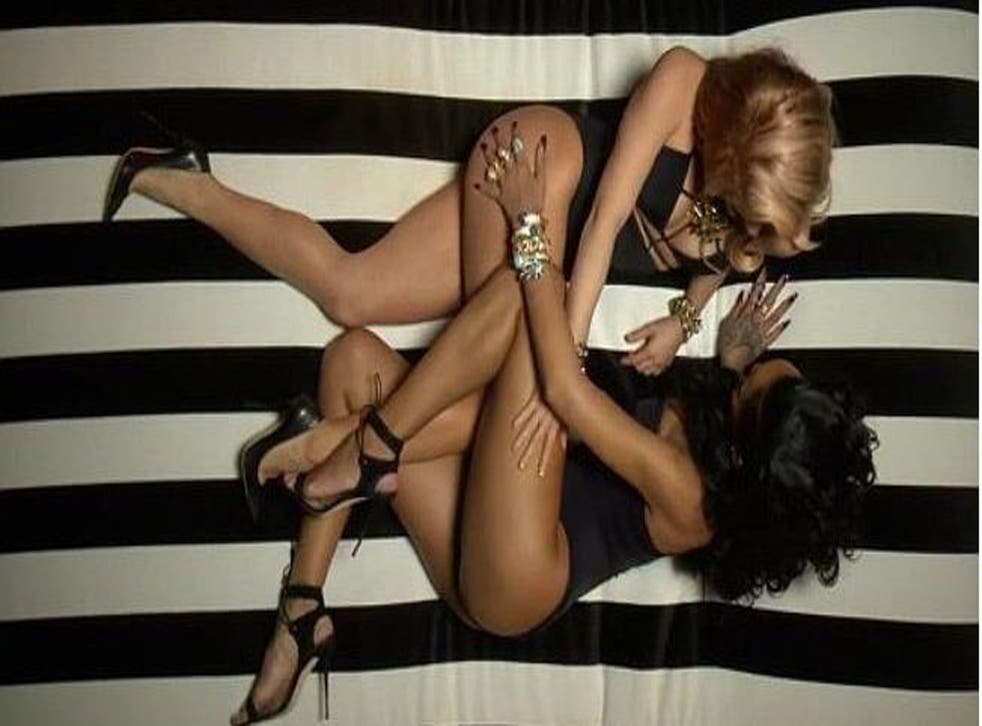 The assertion that 'sex sells' isn't revolutionary, particularly when it comes to music videos. From Madonna's 'Justify My Love' to Miley Cyrus' groan-inducing 'Wrecking Ball', sexy videos made by female pop artists are pretty much expected. The problem here (apart from it being an extraordinarily tired formula) is that you have to keep cranking up the steam-o-meter to draw views. The video for Shakira's new single featuring Rihanna does this by posing the two women as lovers, and judging by the number of views, it seems to be working.
If there were more positive depictions of same sex couples in the mainstream media, I think the video for 'Can't Remember to Forget You' would be less offensive. As things stand, Rihanna and Shakira's latest offering devalues lesbian relationships and reduces them to a fun thing to do to get people watching.
While they are grinding and stroking each other's thighs, both women look outwards to the camera and audience, rather than at each other. They repeatedly sing "I'd do anything for that boy", clearly placing a male presence at the centre of the performance.
This kind of faux lesbian pairing isn't new either. Remember Britney and Madonna's kiss at the VMAs in 2003? Or Britney and Rihanna's lip locking at the 2011 Billboard Music Awards? These are performance kisses, staged in front of huge audiences. They do not signify real intimacy or feeling or anything that actually occurs in a lesbian relationship, apart from the window dressing of a kiss. Rihanna and Shakira's antics are merely part of the overwhelming tide of sexy music videos from female pop artists, a practice so dull in its homogeny that it no longer really shocks or excites for longer than the song's duration.
Lesbian relationships should not be used as a form of entertainment, for the consumption and titillation of an audience. It is difficult enough for women in relationships with other women to openly show each other affection in public because they are so often harassed by sexualized remarks and cat calls. If massive stars like Rihanna and Shakira are going to depict lesbianism as a steamy performance, lesbians will continue to be treated like entertainment when out and about with their partners. If you're a queer woman, you don't kiss your girlfriend to make the boys stare.
I would also be more forgiving of the lesbian posturing in the video if Shakira or Rihanna would stand up for LGBTQ rights in their home countries of Barbados and Columbia. There's a great deal of public ill-will still present towards homosexual couples in Columbia because of machismo attitudes in Latino culture. And although the law is rarely enforced, homosexual acts are illegal in Barbados and carry the death penalty. The influence of both artists could legitimately be used to promote tolerance and equality and it is disappointing that they have failed to rise to this challenge, while at the same time they have donned lesbianism like a fun costume in order to enhance the appeal of a single.
A Columbian councillor has started a petition urging the National Television Authority to ban the video. Marco Fidel Ramirez reckons Shakira and Rihanna's Sapphic antics "damage the moral character of the youth of Bogota, Columbia and Latin America". This is unpleasant and homophobic, and utterly irrelevant. The video isn't a "shameless case for lesbianism", as Ramirez claims, because it doesn't depict lesbianism. It depicts empty, cynical performance by two straight women.
Register for free to continue reading
Registration is a free and easy way to support our truly independent journalism
By registering, you will also enjoy limited access to Premium articles, exclusive newsletters, commenting, and virtual events with our leading journalists
Already have an account? sign in
Join our new commenting forum
Join thought-provoking conversations, follow other Independent readers and see their replies