Only by coming together can students and trade unions fight the Coalition's failing austerity
Our writer, a student activist, argues that though we are about to see another wave of protests across Britain, it needs to be more co-ordinated if it is to be effective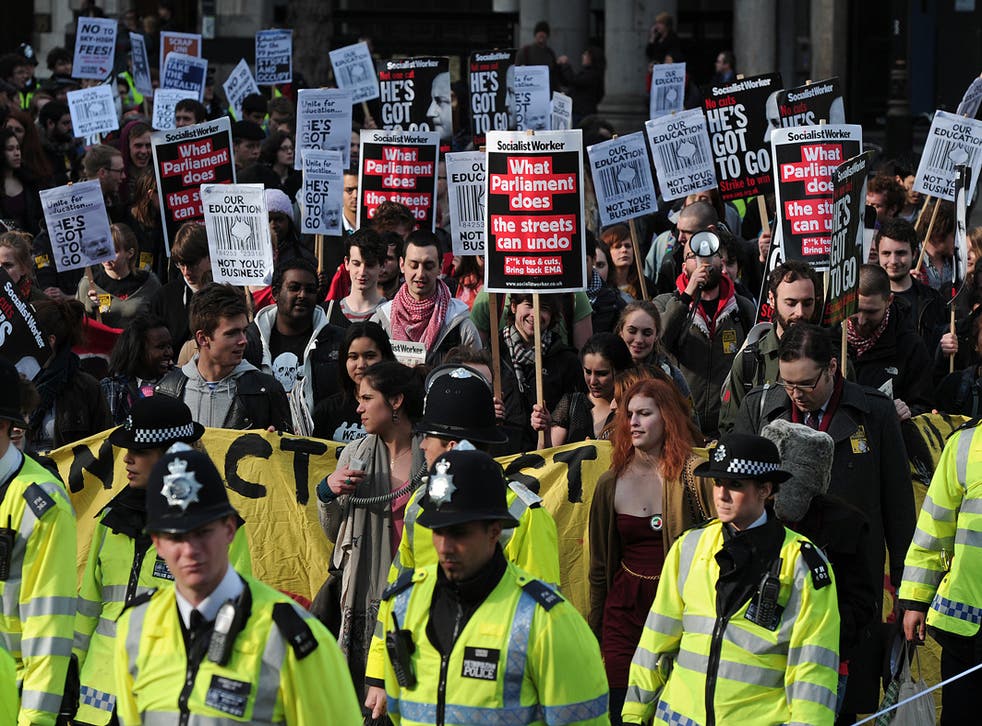 The United Kingdom is on the precipice of another wave of protest politics. Trade unions have declared their intent to co-ordinate strike actions in the months ahead, and significant grassroots mobilization is taking place across the UK.
The next major show of force is on October 20, when hundreds of thousands are expected to march in the Trade Union Congress rally in protest against relentless austerity being imposed by the Coalition government. This rally also comes at a time of continuing wars abroad, drumbeats of war with Iran in violation of the UN Charter, and ongoing environmental degradation in the name of economic growth.
Interestingly, the latest wave of resistance in the UK is being led principally by public and private sector unions. This stands in sharp contrast with recent successes Québec, my home province, where students are leading the struggle and their appeals for a general strike went largely unheeded, although unions did actively participate in student rallies and organize several joint-actions.
Meaningful
The potential for meaningful strike activity in the UK is significant in this sense, but the Québec student strike does offer some important lessons. At the end of the day, students in Québec went on strike to win. This was not a symbolic affair. It was a painful battle that lasted roughly seven months, during which time thousands of arrests were made and students put their academic careers at risk. Students succeeded in repealing a $1,625 tuition hike to be introduced over five years with an incredible level of solidarity, creativity and militancy.
This is likely the kind of resolve that trade union members and students will require in the UK if any meaningful gains are to be made. The Coalition government has shown no meaningful signs of repealing or even slowing austerity, despite its minority status and rapidly growing unpopularity.
It is quite likely that the only thing that will stop and, more importantly, repeal austerity measures is a widespread general strike. Given that trade unions are taking action in the UK, a general strike option should be on the table if no meaningful policy reversals are made.
In this respect, one troubling sign in the UK at the moment is the woeful silence from the student movement. The NUS have decided to hold their own independent demonstration on November 21, and this invariably separates the student body from the labour movement. That said, the November NUS action is important both domestically and because it coincides with the Global Education Strike endorsed by some 23 student groups internationally to date.
Solidarity
Solidarity is a word with real substance and meaning. The student struggle in Québec could not have achieved its gains without the active participation of thousands of union members, families and community groups that took the streets alongside students on a daily basis. More likely could have been achieved had public and private sector unions decided to play a more active role.
Students need to be there in numbers on October 20 to defend the public good, and October 20 is ultimately just a show of force before the struggle morphs into coordinated strike and industrial action. Upcoming strike and social movement actions in the UK would ideally be sustained until austerity measures are repealed. Public opinion in the UK certainly provides favourable conditions for something along these lines.
But in order for something like this to succeed, student and trade union struggles should be linked from the outset, and this is entirely within the realm of possibility.
For students, the as-yet benign presence of the NUS should not be regarded as a barrier to committed student organizing. Students have the capacity and resources to organize autonomously within their universities and collectively across cities and regions. Students also have the capacity to compel their local student unions to adopt positions that may discomfort the NUS.
In essence, student movements do not emerge upon the whims of elected student leaders. They emerge from grassroots democracy through patient organizing in our universities and direct democracy in our departments and faculty general assemblies. "Student activists in Quebec reaffirmed this sentiment beautifully in addressing a letter to the Canadian Federation of Students, which has some resemblance of the NUS.". Here is an extract:
"Certainly, the Federation [read NUS] can and must support [student] strike initiatives. However, these have to be built from the ground up and through structures of direct democracy - specifically, general assemblies which are fully empowered to make real decisions. This is something that we have learned again and again in Québec, and this method of organizing has consistently proven to be the only way to build viable strike movements. Students feel a sense of ownership over movements created this way, which cannot be undermined by claims of a minority imposing their will on a majority."
Collaboration
If the NUS is not providing the kind of response to austerity that is necessary, than students can build autonomous structures in their university departments and faculties built upon the foundations of direct and participatory democracy.
University-wide student unions can be effective, but real organizing and decision-making is best at the departmental or faculty level, where students spend most of their time and energy. The Coalition government would rightly fear something modeled on "the threat of Québec's good example," as Kingston University professor Peter Hallward put it in his recent column. The National Campaign Against Fees and Cuts (NCAFC) is promising in this regard, but significant work remains to be done.
The time is ripe for grassroots student and trade union organizers to sit together and discuss how to collaborate on their shared goals. The slow grind of austerity, the drumbeat of new and ongoing wars and dangerous environmental degradation in the name of growth all merit a student response.
Students can invite union organizers onto their campuses to explore possibilities of collaboration, and trade unions can also invite students to take part in meaningful discussion. This kind of collaboration could yield incredible results and the prospect of student and trade union solidarity seems tangible in the UK. The prospect of repealing austerity is real, but this requires an inspiring level of collaboration, commitment and action.
Register for free to continue reading
Registration is a free and easy way to support our truly independent journalism
By registering, you will also enjoy limited access to Premium articles, exclusive newsletters, commenting, and virtual events with our leading journalists
Already have an account? sign in
Join our new commenting forum
Join thought-provoking conversations, follow other Independent readers and see their replies