Oscar Niemeyer had the vision our leaders lack
The Head of the Design Museum surveys the long and inspired career of the great architect, who died this week at 104, and find reasons to be immensely thankful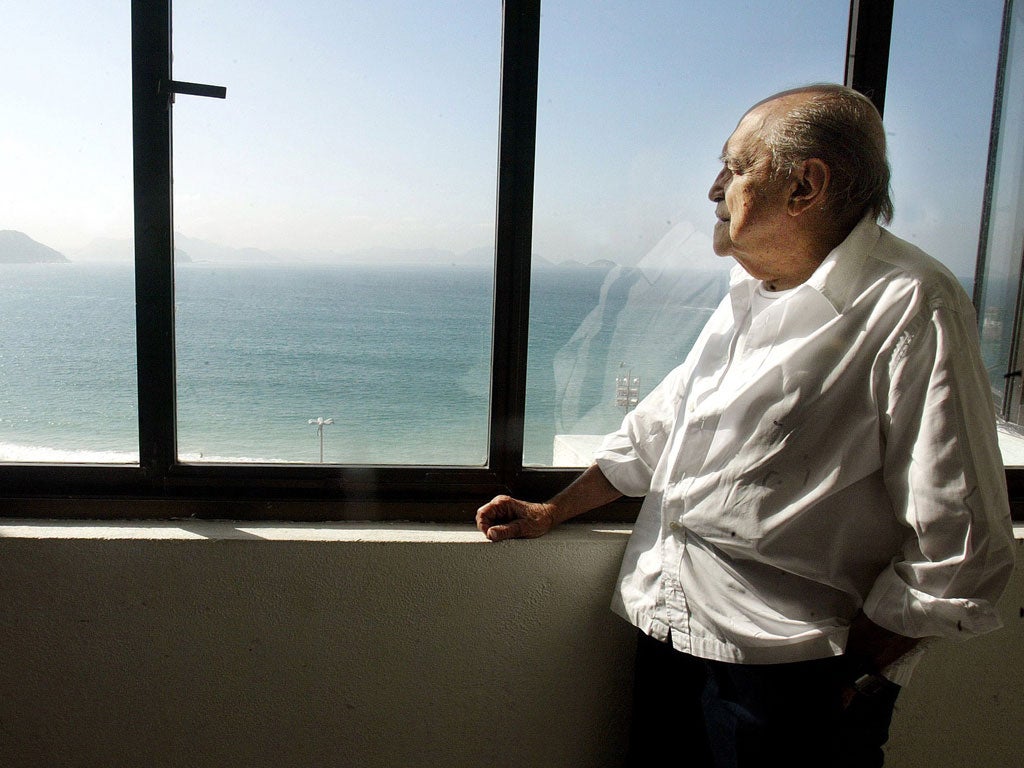 Oscar Niemeyer, who died this week at the remarkable age of 104, was the last survivor of the heroic age of modern architecture. To the end of his life, he remained a firm believer in the power of contemporary architecture and design to make the world a better place.
It is an idea, as it applies to the former at least, that has been out of favour somewhat in Britain, ever since the Prince of Wales was tasteless enough to compare the efforts of Britain's architects to remodel contemporary London to those of the Luftwaffe to do the same job during the Second World War.
Niemeyer's greatest achievement was to use architecture to give Brazil a new identity as a dynamic modern state, rather than a picturesque former colonial backwater. Of course, as an architect, he could not have done that on his own. What gave Niemeyer his chance was a sophisticated political understanding in Brazil of what design could do for the country.
Survivor
The result was Brasilia, for which Niemeyer designed all the major buildings; from the parliament to the foreign ministry. This capital, built with breakneck speed and bold, focused investment because President Kubitschek knew that he was not going to get more than a single term in power, survived a dictatorship as well as decades of mismanagement, to become an enduring and powerful symbol of Brazil as an emerging economic superpower.
It was a lesson in the political uses of design and architecture that I found myself remembering on Thursday morning when I heard of Niemeyer's death. I was in a converted former power station in Hoxton to hear the Prime Minister and the Mayor of London open the LSE's Urban Age conference on the future of the city by announcing a £50m investment by the Government to build Tech City on the site of Silicon Roundabout, east London's answer to Silicon Valley. The idea is to give the area both a practical and a symbolic boost.
In physical terms, Tech City will offer places for a generation of software designers, who currently do most of their business nursing undertaxed coffee at Starbucks, somewhere to set up a less precarious base, somewhere to test prototypes, to get advice and to meet each other. Importantly, Tech City will also be a symbol of the significance of the area, and a reflection of how the messy vitality of a city that is nothing like Brasilia can continually reinvent itself, and provide the raw material for innovation.
Hoxton, on the fringe of the City's financial centre, was once the place where small workshops served the furniture-making and printing industries. They have gone, but the latter was probably what laid the foundations for the area's current reincarnation as the home of scores of start-up businesses. Print went digital early, and it was also closely associated with design and the creative industries. When hot metal died, Hoxton was left with plenty of empty warehouse space that was once, but is no longer, cheap. The vacuum has been filled by the creative industries, who flourish by working closely with each other, and who like to have a good time when they are not working. It accounts for Hoxton's mix of studios, galleries and bars.
Governments can't build another Apple, but they can create the conditions in which innovative companies will flourish. Building a symbolic heart for Silicon Roundabout will help. But it is not just symbolism that has made London a creative centre for the world. Its reputation is based on substance – in particular, on a system of education both in the schools and in what used to be known as art colleges. And for innovation to become useful, and profitable, we need more than technology, and that is where design comes in.
Every government minister, from David Cameron to Vince Cable, by way of George Osborne, is ready to embrace the economic benefits of what they sloganise as "designed in Britain and made in Britain". But their policies on design education, from diluting its presence on the school curriculum, to removing funding for such vital places as the Royal College of Art, and discouraging international students, will undermine Britain's leadership in the field.
Investing in the future
Boris Johnson, who knows how to work a room, asked the audience at the Urban Age where Apple's chief designer was born. Jonathan Ive, of course, comes from Romford, and studied design in Newcastle. What Johnson did not mention was that Ive's father taught design and technology – a subject that is in danger of slipping off the national curriculum.
At the time that Niemeyer was building Brasilia, the country's economy was based on minerals and agriculture. It now has a successful aerospace industry, and is busy using design to move its products up the value chain, from generic commodities to premium products. This is the year that Fiat's Brazilian factories launched their first car designed and built entirely in Brazil. The country is well aware of the value of design, and is investing in design education and in promoting its own designers.
Britain's competitors are doing the same, from Hong Kong and Seoul, which are building their own design museums, to India, Turkey, Singapore and Taiwan, which are all taking design with the utmost seriousness.
Tech City is a welcome initiative. But if we want to secure London's position as a serious centre for technology and innovation, we must also invest in an education system that nurtures the skills on which it depends. For politicians to make effective use of investment in design, they need to offer more than symbolism. Content is needed, too.
Dejan Sudjic is Director of the Design Musem
Join our commenting forum
Join thought-provoking conversations, follow other Independent readers and see their replies