Oxford Street is one of the most polluted places in the world, and here's why
The threat of toxic gases in our capital has been ignored for far too long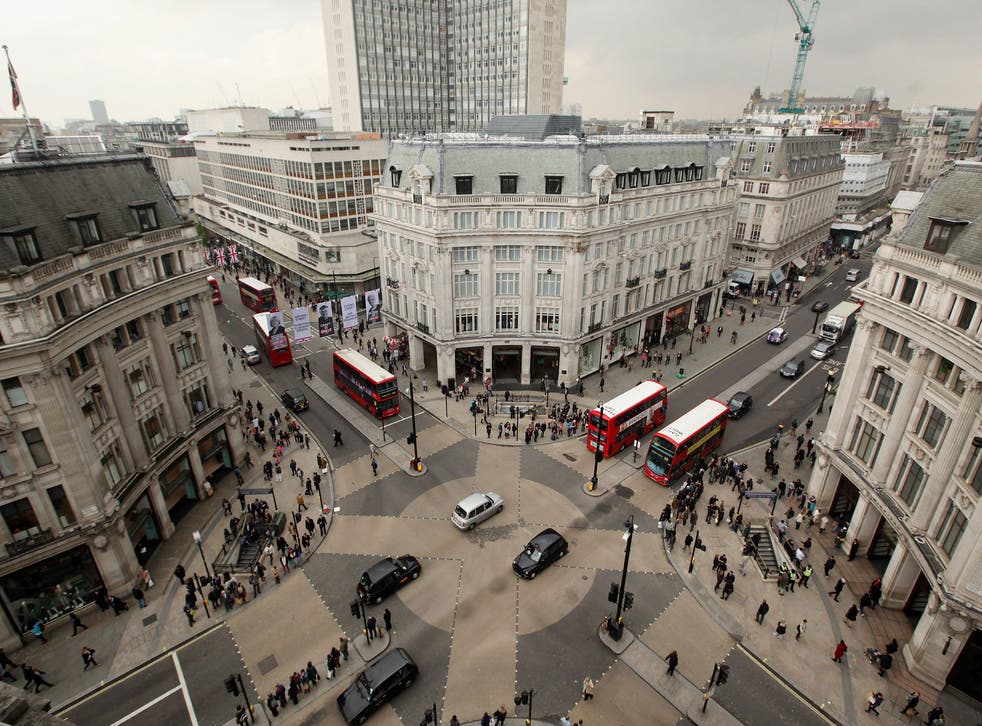 We've just learned that our country's showcase shopping area is a world leader - for diesel fumes.
Oxford Street is now officially known as the area with the highest known concentration of Nitrogen Dioxide (NO2) in the world. A toxic pollutant that can trigger asthma and heart attacks.
The unique circumstances arise from the canyon-like shopping strip being permanently congested with taxis and buses, whose diesel engines release large amounts of this gas.
Now we know just how bad it really is. But for years retail and catering staff, office workers, council and utility workers, shoppers and tourists on this and other busy and polluted major roads have been unaware of the dangers and risks associated with this invisible killer.
Successive Governments and Mayors have avoided the hard steps to tackle this blight that not only affects Oxford Street, but large swathes of London.
Instead, the Government and civil service has downplayed the seriousness of the problem and systematically mislead both its own population and the European Commission.
If Boris Johnson had followed through on the emergency plans he proposed in 2010 instead of dropping them, then vulnerable Londoners would have been better protected during the recent "high" levels of pollution. Since 2009, there have been almost 30 such episodes in London. These carry official warnings for adults and children with lung and heart problems with advice to reduce physical exertion and avoid outdoor activity.
However these episodes were not communicated to the public. Its only after almost four years of rejecting numerous calls to issue smog warnings and alerting the vulnerable, that the Mayor has finally agreed to an early warning system.
According to reports, this will activate whenever pollution levels are expected to be 'high' and 'very high', aiming to reduce vehicle journeys by up to 300,000 a day.
I have urged the Mayor, as part of this early warning system, to include tailored warnings to the 1,148 schools in London within 150 metres of roads carrying 10,000 plus vehicle per day, alongside messages and actions that discourage the school run.
Children exposed to excessive vehicular pollution are particularly vulnerable and can suffer from permanent reduced lung capacity or develop asthma.
In fact, a third of new cases of asthma are believed to be as a result of air pollution. We must not only fix Oxford Street but sort out the 28 towns, cities and regions across the UK which suffer from bad air.
Unlike the Government, Boris Johnson does have at least one big idea for doing something. His Ultra Low Emission Zone will only allow the cleanest vehicles into central London.
However, it is due to start in 6 years' time and will only deal with 7 per cent of the total of London main roads which will still be over the legal limits in 2020. Sadly, the Mayor is proposing a solution for his successor to carry out, which will deal with only a small fraction of the problem.
There are plenty of things we can do immediately to turn Oxford Street into a showcase to be proud of. We must have a rapid switch to trams, electric buses and taxis. We also need to follow in the footsteps of New York, which has a range of popular traffic free days to promote its main shopping area.
Don't get fooled by a Government or politicians who say they are doing all they can. It's rubbish. We know how to reduce traffic and we know how to make cleaner vehicles. All you need to make Britain healthier is the political will to deliver a safer, less polluted environment.
Register for free to continue reading
Registration is a free and easy way to support our truly independent journalism
By registering, you will also enjoy limited access to Premium articles, exclusive newsletters, commenting, and virtual events with our leading journalists
Already have an account? sign in
Join our new commenting forum
Join thought-provoking conversations, follow other Independent readers and see their replies