Peer pressure: The nobles in the Lords should know when to go
Given that it is unlikely to be abolished or even drastically reformed any time soon, how about some tweaking of the rules to encourage them to be more active?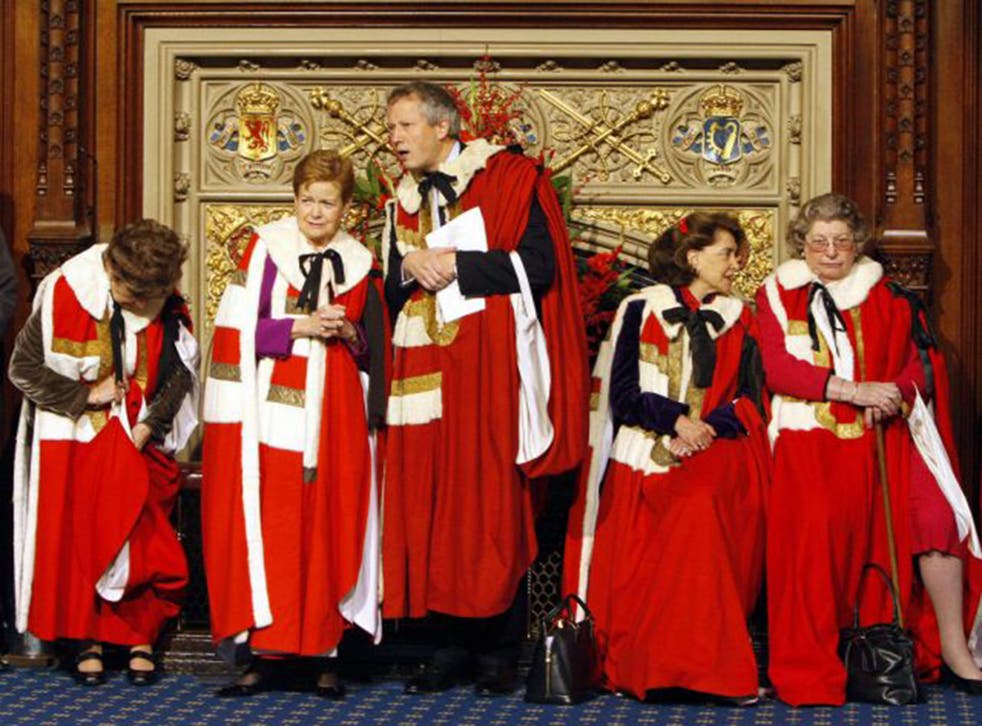 The normally staid House of Lords erupted with applause last week as Patrick Jenkin, the former Conservative cabinet minister, retired as a peer. This sort of thing doesn't happen that often – the clapping or the retiring. It was said to be the first-ever retirement from the Upper Chamber, although there have been a handful of voluntary departures over the years.
Lord Jenkin, in a parting shot at the "extinct volcanoes" who make up the numbers on the red benches, said he was standing down to let in younger peers, and hoped that others would follow suit. There are nearly 800 lords, earls, barons and baronesses, and 45 of those have been granted a leave of absence – the majority of whom have genuine reasons to be away, such as illness. Yet what about the non-absent peers who continue to claim a daily allowance of £300, but don't seem to do any work? This money is paid just for going through the Palace of Westminster gates – not for contributing to debates or legislation.
There is, in fact, a perverse incentive to not speak, due to House of Lords rules. Out of courtesy to other speakers, peers who want to contribute to a debate must be in the chamber from the start, even if that means sitting for several hours listening to all the speeches and interventions before they get a turn. Turning up halfway through to have your say is not allowed.
The rules state: "Ministers may decide not to answer, orally or in writing, points made by a speaker who does not stay to hear the minister's closing speech. Members who believe that they are unlikely to be able to stay to the end of a debate should not seek to participate in it." Of course, there are plenty of peers who put in the hours. Jenkin praised the newly ennobled Arminka Helic, William Hague's longstanding adviser who was instrumental in the former foreign secretary's campaigning alongside Angelina Jolie against FGM and war rape. Karren Brady, who has also just become a Conservative peer, has cleared her diary on Mondays to attend the House of Lords all day and says she will not claim any allowances. But many peers are not contributing to debates.
Given that the House of Lords is unlikely to be abolished or even drastically reformed any time soon, how about some tweaking of the rules to encourage them to be more active? Yes, some should take Jenkin's advice and do the honourable thing by retiring, but, if they don't, they should be encouraged to turn up more by scrapping the rule that says they need to attend debates from the start. That would be something worthy of applause.
Fun by numbers
Shirley Conran is launching a campaign in the new year called Rebrand Maths, aimed at getting more 13- and 14-year-old girls into the subject. Conran is an adviser to the Department for Education as a maths champion, and told The Daily Telegraph that she feels an "affinity" for young girls on the verge of adulthood. She has persuaded Nicky Morgan, the Education Secretary, to get on board with her campaign, which will involve making maths cool through social media.
There is no reason why girls should be worse than boys at maths and science subjects but, from an early age, there is an assumption that these are "not for girls". Given that people who study maths to A-level are on higher incomes than those who don't, I am taking no chances with my four-year-old daughter: in her Christmas stocking, amid all the chocolate and the Frozen gear, will be an old-school "book of times tables". At her age, she is into repetition, so there is a chance she will love reciting numbers. Conran's new campaign is great but getting girls to think that maths is cool should start earlier than 13.
Obama and women journos
Barack Obama, in his final White House press conference before Christmas, on Friday, made a deliberate decision to call only female reporters for questions.
A great move, I thought at first, given that our Prime Minister, on the rare occasions he holds a press conference, doesn't get the opportunity to call many women because we are in a minority in the Westminster lobby of one in five. But then I read that officials wanted the President to only call reporters who hadn't been able to ask a question since the election two years ago. So why doesn't he show a bit of this equality all year round? A female journalist is not just for Christmas.
Abdication anticipation
Of all the daft predictions around – and I will eat the paper hat from my Christmas cracker if I'm wrong – the most ludicrous is that the Queen is about to abdicate in her Christmas Day message. Bookies suspended betting at 10-1 after a surge of bets.
The Queen is the most stable and sensible monarch we've ever had, so why would she abdicate? She may – as I learnt from reading a guide to the royal Christmas in the Daily Mail yesterday – keep up her decorations at Sandringham until February, a move that is not only unlucky but also a bit naff, but why would she risk the instability of a royal handover, particularly as we go into a general election year?
A no-fly positivity zone
It is easy to think, especially after last week, that the world is a terrible place. It is true that tragedy, poverty, hunger and war are everywhere, but it is also worth reading the words of Torbjørn Pedersen, the Danish man who is hoping to travel to every country on earth without stepping on a plane.
Currently in St Lucia after already visiting 68 countries and with a budget of just £12 a day, he says he has experienced "amazing hospitality" all over the world from people who want to tell him about their lives. He told The Guardian: "It restores your faith in humanity. There's no doubt that there's evil in the world, but most people are just getting on with life, being nice to each other and talking about football and the weather."
Register for free to continue reading
Registration is a free and easy way to support our truly independent journalism
By registering, you will also enjoy limited access to Premium articles, exclusive newsletters, commenting, and virtual events with our leading journalists
Already have an account? sign in
Join our new commenting forum
Join thought-provoking conversations, follow other Independent readers and see their replies