PMQs: David Cameron and George Osborne simply couldn't believe their luck
The Chancellor's Budget has gone up in smoke and the Prime Minister's party is hopelessly divided on Europe: trust Labour to come to the Government's rescue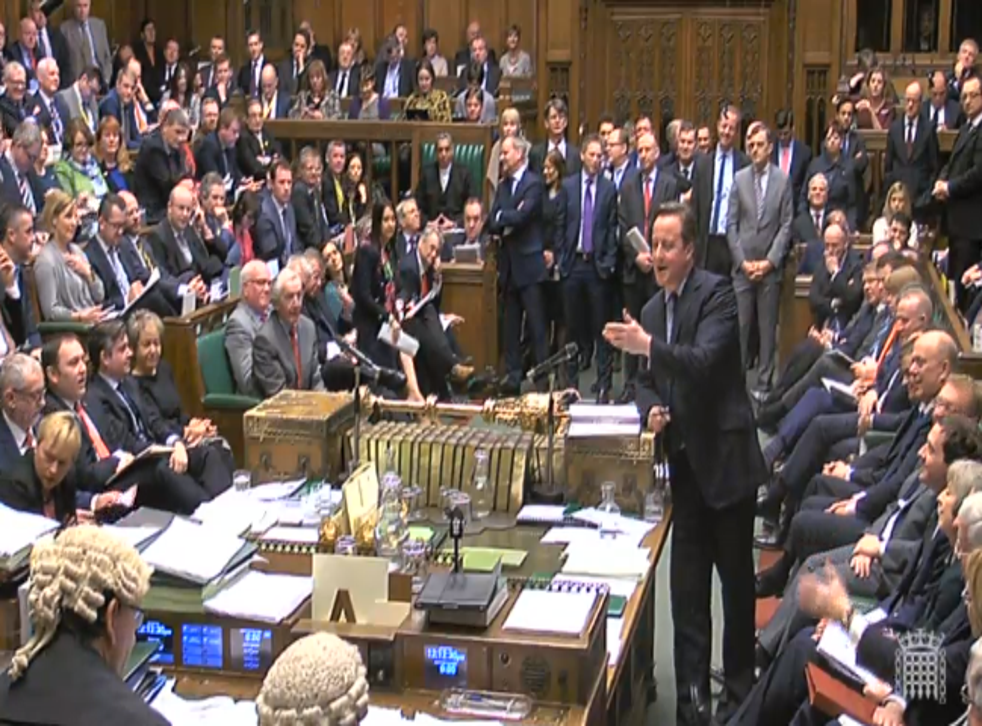 David Cameron and George Osborne must have been simply unable to believe their luck. The Budget, delivered just a week ago, has been torn apart, rewritten and rushed through the Commons in an unfinished form, but Jeremy Corbyn just could not decide on his line of attack.
First, the Labour leader read out an email from Adrian, who is disabled, and who lives in "constant fear" of having his benefits taken away. Now his benefits are not going to be taken away, Corbyn asked: "Could the Prime Minister do what the Chancellor failed to do yesterday and apologise for the upset he has caused?"
It turned out that Cameron couldn't actually, as he was a bit busy reading out statistics about how poverty has fallen since he had been Prime Minister, homelessness is "still 58 per cent below the peak reached under Labour" (a suspiciously selective figure, that) and 293,000 more people with disabilities have gone into work.
Corbyn wanted the Prime Minister to rule out further cuts in welfare spending. A more forensic leader of the opposition might have tried to prise open the difference between "no further cuts" and "no plans", both of which were used by Stephen Crabb, the "new welfare secretary", as Cameron called him, on Monday and both of which were endorsed by Osborne yesterday. Cameron retreated to the safer option, that he was "very clear we are not planning additional welfare savings".
Corbyn, surprisingly, decided to take the Prime Minister at his word and to attack him from the other side: "Who's going to pay for this? The £4.4bn has to be found."
Cameron welcomed his conversion as the "king of fiscal rectitude". If the prince of anti-austerity was now demanding to know how the Government would close the deficit that Labour had insisted didn't need to be closed – not at that rate, anyway – Cameron knew that he didn't really need to answer the question.
Other Labour MPs had no better luck. Rushanara Ali asked the sharpest question: How did the Prime Minister allow the cut in the Personal Independence Payments to be planned in the first place? It was a good question, but it admits that Cameron and Osborne have now done the right thing. Calling for inquiries into how mistakes were made is what oppositions do, but if the mistake has been put right, the opposition cannot expect the voting public to be that interested.
With Labour unable to decide whether the Prime Minister was guilty of failing to apologise for having made and corrected a mistake, or of failing to impose enough austerity to pay for it, Cameron sauntered through the session effortlessly.
Why, he even found time to make some childish and silly remarks about some "list" of Labour MPs, categorised as "core group", "core group plus", "neutral but not hostile" and so on, that had been leaked. The same puzzled and pained expression came over Corbyn's face that came over it on Monday when he wondered if any cabinet minister had resigned recently over the question of disability benefits. "List?" he seemed to be thinking. "What list?"
Register for free to continue reading
Registration is a free and easy way to support our truly independent journalism
By registering, you will also enjoy limited access to Premium articles, exclusive newsletters, commenting, and virtual events with our leading journalists
Already have an account? sign in
Join our new commenting forum
Join thought-provoking conversations, follow other Independent readers and see their replies