Tory MPs just disgraced themselves at PMQs by jeering at Corbyn's questions about cuts for the working poor
It's Jeremy Corbyn 1 Tories 0 (Cameron wasn't playing)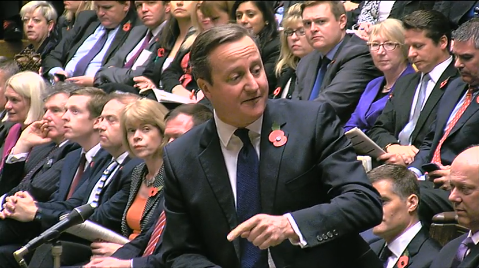 David Cameron thinks Jeremy Corbyn is so useless that he doesn't have to try. His was a token effort in the House of Commons today. He got in one of the worst jokes recently attempted at PMQs. After listing Corbyn's recent appointments, a Stalinist, a Trotskyist and a Communist, the Prime Minister gave him "full Marx" for leading Labour to the left. The purpose was not, however, to make us laugh. It was to be quoted in the mass media, which it will be, to underline the point, probably not well known by normal people (the ones who don't watch PMQs), that Corbyn is the adherent of an ideology that could never command wide electoral support in Britain.
But the trouble with not trying is that it looks as if you don't care. Corbyn rightly stuck with the old-politics approach of last week, reminding the Prime Minister that he had asked the same question six times. "He's now had a week to think about it," Corbyn observed, and asked it again. "Can he guarantee that nobody will be worse off next year as a result of cuts to working tax credits?"
Corbyn can't speak for jeers at PMQs
Cameron's answer, surprisingly, was no better this week. He mentioned the rise in the income tax personal allowance to £11,000 a year, which is worth £80 a year against planned cuts in tax credits averaging £1,300 a year. He mentioned the rise in the minimum wage, which the Institute for Fiscal Studies says might offset a quarter of the loss. And he mentioned the extra 15 hours a week of free childcare, which was planned to come in a year after the tax credits cuts.
Still, it did sound as if the rethink in the cuts to tax credits is more substantial than the hints about "phasing" and "amelioration" that were whispered (outside the Chamber) last week. "We will come forward with new proposals" in three weeks' time, Cameron said, referring to the Autumn Statement on 25 November. "At that time I'll be able to answer his question." It was an accidental admission of the limits of prime ministerial power. He can't answer the question now because (a) of course there will be losers but (b) he doesn't know what the new proposals are yet.
The most ridiculous claims made about Jeremy Corbyn
Show all 11
Unfortunately for Cameron, though, his leaderly insouciance came across as callousness. He doesn't know and he doesn't care, but millions of the working poor are still likely to suffer hardship as the result of decisions he hasn't yet taken.
It was at this point that Conservative backbench MPs chose to concede the session to Corbyn. Sensing his tenuous hold on the Chamber, they jeered and heckled to try to put him off. He has only one device in his repertoire, which is the geography-teacher stare (as if saying, "it's your own time you're wasting"), and managed to ask three pointed and effective questions. In particular, he did well to use a private in the Army as a case study for the sort of family that could lose tax credits.
The racket sounded terrible. A decent and slightly pompous man was asking serious questions about poor families who face frightening cuts in five months' time, and Tory MPs were hooting at him like geese. I don't agree with scoring PMQs as if it were a sporting event, but if I did the Labour leader scored a clear victory over the Tory benches, with Cameron more or less a non-participant.
Tory MPs were right to sense weakness, however, and once Corbyn switched to the subject of the health service for his next three questions, he lost that sense in one's head of what one is saying and started babbling. By his last question his syntax had come apart and he ended with an attempted rhetorical flourish about the NHS, "surely the jewel in all of our crowns".
Cameron, who is always editing the next paragraph in his head and judging it against the audience for whom it is intended, had no trouble issuing a ticker-tape of statistics about more doctors, more nurses and more patients treated. The same spiel that I remember every prime minister chuntering through since Margaret Thatcher. The NHS is a barren and featureless territory for Corbyn, and he got nowhere.
Cameron achieved what he set out to do with his reference to Corbyn's Marxist tendencies, but on the substance of the exchanges he and his MPs had a hideous time. Only another two of those to go, and then, the Prime Minister hopes, George Osborne will save him.
Join our commenting forum
Join thought-provoking conversations, follow other Independent readers and see their replies