Ransoms are a price worth paying to save the lives of heroes like Peter Kassig
Governments should reconsider whether there is the need for some flexibility in their stance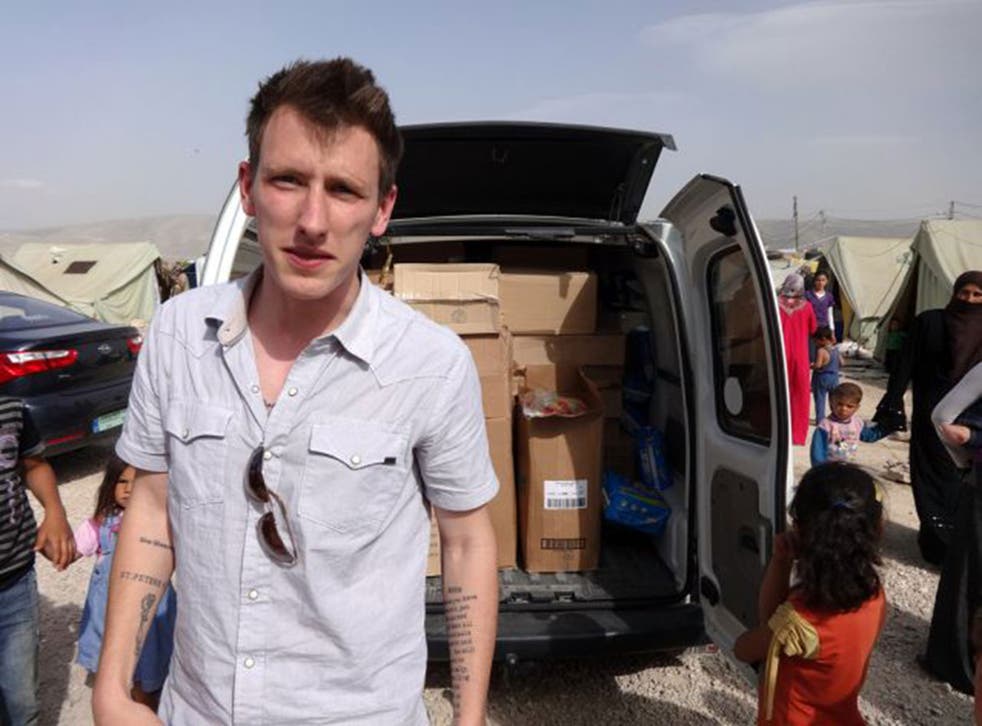 I met Peter Kassig in London in early summer last year at the Frontline Club. We were both going to opposition held Syria a few months later and discussed what we may expect to find. He spoke with great enthusiasm about his plans for helping the dispossessed. I later got an email from him saying: "Please know that my door is always open to you should you ever need anything at all."
This was entirely typical of Peter's generosity. I did not have the need to seek help at the time, but I did point a number of Syrians who had fled the country in his direction. They were treated by him and his aid group, Sera, with utmost care and kindness. Many of them were victims of the Assad regime, the same regime that Isis and its allies claim to be dedicated to overthrowing.
As we know, the help that Peter gave to the Syrian refugees, or the fact that he had converted to Islam, did not stop Isis from beheading him, just as the emergency supplies that Alan Henning, the taxi driver from Salford, took repeatedly into Syria did not save him from being murdered by the same people.
Kassig was American and Henning British. The others who have been butchered, Jim Foley and Stephen Sotloff, both journalists, and David Haines, an aid worker, were also American and British. Isis had, however, freed four French and three Spanish journalists earlier in the year and, later, an Italian aid worker, Federico Motka, who worked for the same aid organisation as Haines and had been kidnapped at the same time. A German, too, was freed. John Cantlie, another British journalist, still remains alive, as far as we know, but has been coerced into making jihadist propaganda videos.
The difference in the fate of the hostages have little to do with claims by Isis that they are Western spies or have waged war on Muslims. None of them were spies and their captors know that. Kassig did serve in the US forces, but had publicly questioned his country's policies in the Middle East. In any event, his army background did not stop rebels, including a senior member of al-Qaeda affiliated Jabhat al-Nusra, welcoming medical treatment from him.
Nor is it the case, as Isis has claimed, the killings have been solely in retaliation for the US-led air strikes. We know from Foley's family, for instance, that his abductors had offered his release in return for ransom after the bombing began and that this was rebuffed by the US administration.
While Britain charges returning jihadis with terrorist offences, and David Cameron threatens to withdraw their passports, Denmark, where I am at the moment, is among countries that seeks to rehabilitate them back into society. One of those who had come through the scheme, run in the city of Aarhus, told me that the general consensus was that getting ransom for prisoners – or taxing their governments as he put it – was justified. And for his former bosses, it has been, very much, about the money rather than anything else when it came to Western hostages.
The British and the US governments have an official policy of not paying ransom to kidnappers. Many other countries appear to have decided that, unpalatable as it may be, payments have to be made to save their citizens' lives.
There were reports that François Hollande's government paid out a hefty sum for the release of the French hostages of Isis. Defence minister Jean-Yves Le Drian was said to have personally carried $18m (£11.5m) to the Turkish capital, Ankara. The claim was denied by the Élysée Palace, which pointed out that "President Hollande has said it is a very important principle that hostage-takers should not be tempted to take others". The Spanish government refused to comment on whether money had changed hands. A foreign ministry spokeswoman in Madrid stressed, however, that, "we use maximum discretion" when dealing with kidnappings. The Italian government denied claims that it paid €6m (£4.7m) for the release of Motka. The German government denied reports in the country's media of making an undisclosed ransom payment for their man.
Timeline: The emergence of Isis

Show all 40
Two years ago the G8 group of countries issued a statement that it was repugnant to reward hostage taking. A few months later, Laurent Fabius, the French Foreign Minister, and Mr Le Drian were on the tarmac in the Niger capital, Niamey, to welcome four employees of the nuclear firm Areeva who had been captive for three years. At the time, the Élysée was forced to deny that a ransom of €30m (£23.8m) was paid.
Speaking at the Nato summit in Newport two months ago, Mr Cameron declared, "what matters is not your signature on a declaration [G8] but not letting money be paid to terrorist kidnappers because the money goes into arms, into weapons, into terror plots, into more kidnaps… It is actually a risk at home."
But ransom was not a big issue for discussion at the G20 in Brisbane and there are no signs that the states paying the insurgents will abandon the practice. Britain and the US remain, as a recent New York Times investigation tracing the ransom trail recently pointed out, very much in a minority in refusing to make deals on hostages.
Both governments should now reconsider whether there is the need for some flexibility in their stance. It can, of course, be said with some justification that it is self-serving for journalists and others who work in conflict zones to call for this. But, as a recent Foreign Office travel advisory stated, Britons now face attacks, including kidnapping, in a vast array of countries abroad. This was not entirely alarmist: it reflected the repeated threats by Isis and other extremist groups.
A failure to address the issue will sadly and inevitably mean that the British and American governments will continue to see their citizens murdered, while those of other countries go free.
Register for free to continue reading
Registration is a free and easy way to support our truly independent journalism
By registering, you will also enjoy limited access to Premium articles, exclusive newsletters, commenting, and virtual events with our leading journalists
Already have an account? sign in
Register for free to continue reading
Registration is a free and easy way to support our truly independent journalism
By registering, you will also enjoy limited access to Premium articles, exclusive newsletters, commenting, and virtual events with our leading journalists
Already have an account? sign in
Join our new commenting forum
Join thought-provoking conversations, follow other Independent readers and see their replies