Remove humans from the equation and self-service shoplifting is the result
One in five of us knowingly shoplifts at the electronic till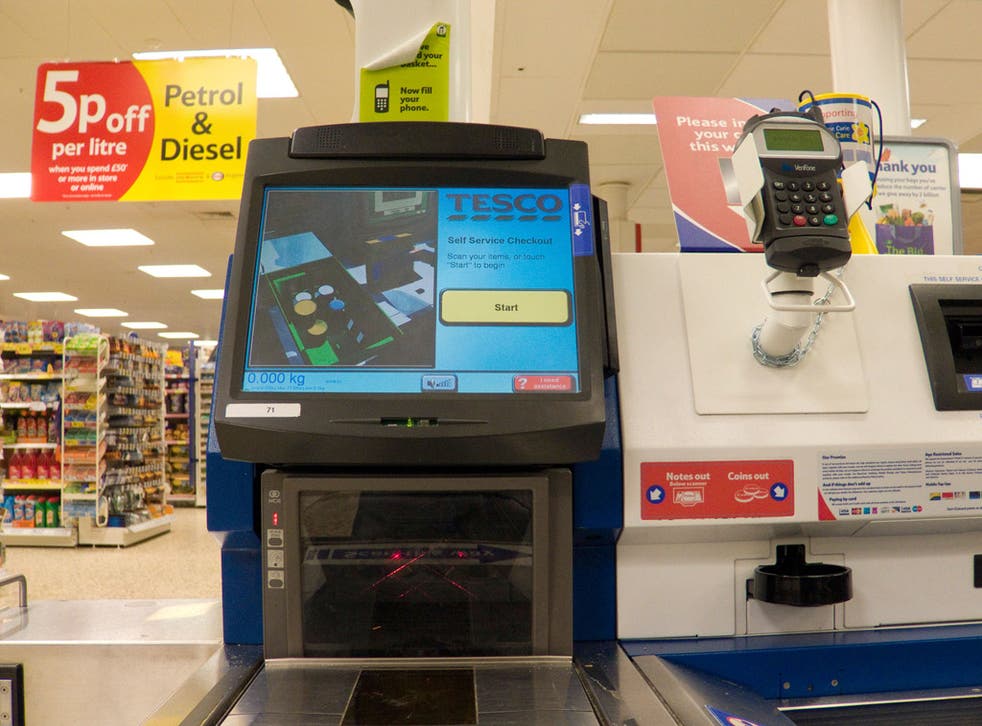 I was in Waitrose yesterday. Buying two cheap items (pillows, on special offer), and a pricey one, namely a bottle of bubbly for a special occasion. I walked up to the self-service tills. At which point I might well have thought about slipping the bottle of champagne into the giant pillow bag. And walking out, thus saving about £30. Apparently this is more common than you think. VoucherCodesPro has conducted a survey which found that self-service tills are turning us into a "nation of shoplifters", half-inching around £1.7bn worth of goods a year. One in five of us knowingly shoplifts at the self-service till.
While acknowledging that shops will come down on you like the proverbial if you are found guilty of deliberately putting so much as an orange in your bag without paying for it, and thus the question of whether stealing it is worth the heart-thumping stress, perhaps one should consider the nature of the self-service till itself, as one whose innate design means it is easier to stray from the moral compass.
Buying at a self-service till, all bleeps and buttons and strange weighing areas, is certainly a more irritating transaction than going up to an actual person, sitting at a till. Its liquid crystal demands might make you rather resentful of using the shop in the first place. Furthermore, the arrival of the self-service till usually means the disappearance of the (costlier) human version, hence more profits for the shop, hence more justification to steal from it, some might think.
This is all quite thought out, however. And shoplifting isn't always so considered. Possibly it is the essentially private transaction involved in the self-service till, which makes stealing from it altogether easier. After all, who is going to see you tap in "One Banana", when in reality you are bagging half a dozen of them? There is much less shame in actually taking your food to a till, and "forgetting" to pay for a jar of coffee than hiding in an aisle and slipping said jar of coffee into your bag. And if you are apprehended, you can always point to the fact that you are indeed at a till and you simply forgot to pay – the traditional excuse, updated for these automated times.
Because the thing is that when human interaction is at work, honesty seems to bounce back into the system. Take eBay. You post a picture of something nice, online. An actual person, probably unknown to you, but still someone with an identity and an address, buys it. Their money arrives in your PayPal account. You wrap up that nice thing, and send it off to Aberdeen, or Tavistock, or wherever. You don't simply not send it. Or send something inferior. I have bought and sold loads of things on eBay. I have never been ripped off. Once I harangued a seller because I couldn't find the screws on a chest of drawers I had bought. To my shame I later discovered she had packed them neatly in a drawer for me.
How about my latest hobby – house swapping? What a leap of faith, what an investment of trust. No, you don't swap credit cards. You do, however, swap a lot of emails. You may never meet your swapees, but you will sleep in their beds, wash in their bathrooms, eat off their plates. You get to know them in a wholly intimate manner. Plus, they have allowed you to have a free holiday. Are you going to trash their home? Of course not. They could trash yours. But nobody ever has done. Quite the reverse, actually. Last time, our guests did a whole spring cleaning job on the kitchen. They even put noise-cancelling pads on the legs of our kitchen chairs. You want to discuss shame? That was shameful.
Good riddance, January
Was there ever such a grim accumulation of days as the last 31? Thank goodness January is over. It's been bad. Firstly, the guilt. The diet sheet on the fridge door, ignored as said door is opened in frantic search of a sausage roll. Then, the dull knowledge that every glass of alcohol is a) forbidden and b) a move towards the slippery slope of obesity, alcoholism, diabetes or all three.
For us parents, there was the demonisation of ALL sugar and the information that Cheerios contain vitamins culled from fatty strands of sheep wool. Then, the exercise, or should I say, the non-exercise. Too cold, too windy, too damn wet.
I took to eating Nutella. Out of the jar. Oh, the boredom! We finished the box set of Breaking Bad. We don't have Netflix for the prequel, and we have lost six tiles from the Scrabble bag, which Mr Millard says renders all my Christmas victories null and void. There's no money, thanks to a mighty tax bill thundering in today. And newspaper previews of the World Cup have already started to appear. I want a holiday.
Register for free to continue reading
Registration is a free and easy way to support our truly independent journalism
By registering, you will also enjoy limited access to Premium articles, exclusive newsletters, commenting, and virtual events with our leading journalists
Already have an account? sign in
Join our new commenting forum
Join thought-provoking conversations, follow other Independent readers and see their replies