Sainsbury's Christmas advert 2014: Nothing says 'Merry Xmas folks!' like trench warfare
If the Great War is now fair game for advertisers, are we now 87 years away from a moving Christmas tale set in the Twin Towers?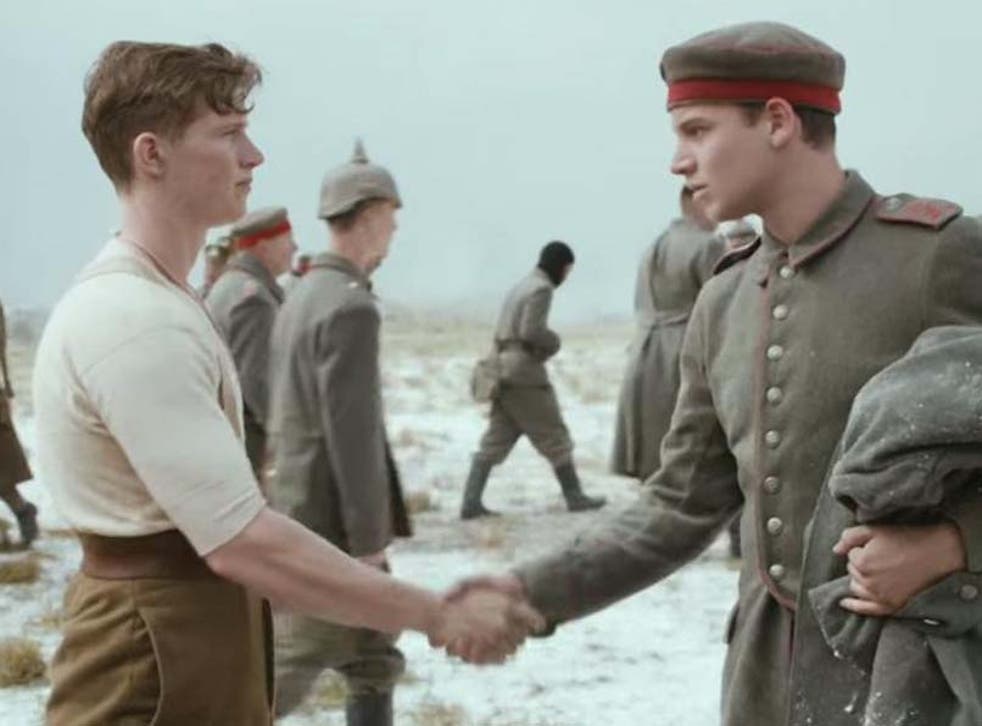 First, there was a horny penguin. Then came a pair of rather naff giggling fairies perched precariously on a roof, sprinkling CGI'd sparkles over a rubber turkey. Now, the latest in the seemingly endless line of festive adverts designed to pull at both our heart and purse string, comes Sainsbury's offering: 'Christmas is for Sharing'. Theirs is a soft-focused retelling of the December 25th 1914 truce between British and German soldiers on the Western Front , because nothing says 'Merry Xmas folks!' like trench warfare.
Initial responses to the three-minute film appeared to be overwhelmingly positive. Twitter was full of gushy messages: "The Sainsbury's Christmas ad is the best Christmas advert I've seen so far!!"; "The Sainsbury's advert is beautiful. Once again I'm left in tears!".
Finally, so it seemed, we had been given the Christmas ad we had always wanted. It was beautifully shot, with no shoehorned product placement – aside from a single chocolate bar, the proceeds from which will all be donated to the British Legion – and a story which was sensitively depicting a more-or-less historically accurate moment of genuine human kindness. The true Christmas message was back on our screens. In the year of the centenary of the outbreak of the First World War, and with the Tower of London poppies still in the process of being dismantled, the whole thing was perfectly timed to tap into a collective feeling of remembrance. It was hard not to be moved.
Sainsbury's Christmas advert 2014

Show all 12
But then came the creeping realisation that maybe, just maybe, there was something not quite right here. The 'perfect timing' was just too perfect. It felt a little, well, emotionally manipulative. Of course we were moved, because it's an incredibly poignant story - but harnessing this historical moment in order to sell some Brussels sprouts seems pretty crass and cynical, to say the least.
Not only that, but a short three minute clip does rather gloss over the actual horrors of the trenches. This is war for the Instagram generation. Two incredibly attractive, chiselled young men, without a spot of mud or a smear of blood in site, merrily frolic together in the sunshine, before swapping Sainsbury's own brand chocolates (yours for just one pound; in stores now).
Let's ignore the fact that in a matter of hours they will be trying to kill each other again, and that they may very well succeed. And let's not talk about how in the later years of the war artillery bombardments were ordered on Christmas Eve to make sure that such fraternisation never happened again. These facts do slightly muddy all the festive cheer.
So, then, isn't this just a case of forced sentimentality and rampant commercialism? Is this a supermarket literally trying to cash in on war? It is starting to appear as if everything is fair game now in the annual battle to get consumers close to tears, in the hope that this will persuade them to buy more mince pies. Are we now 87 years away from a stirring Christmas tale set in the Twin Towers?
There is undoubtedly something slightly uncomfortable about the advert, however good the intentions of the company behind it, and there is no doubt the debate will continue to rage until Boxing Day. But looking at the fierce spats it is has caused to break out all over the internet, I am reminded of only one thing: the festive season is truly here. Because Christmas isn't really about sharing, it's about falling out with everyone you've ever known over something as utterly silly and superficial as a TV ad.
Join our new commenting forum
Join thought-provoking conversations, follow other Independent readers and see their replies