Sally Jewell is a born survivor – it's a shame she could never be president
Out of America: But Obama's UK-born nominee for the Interior Department has enough on her plate as it is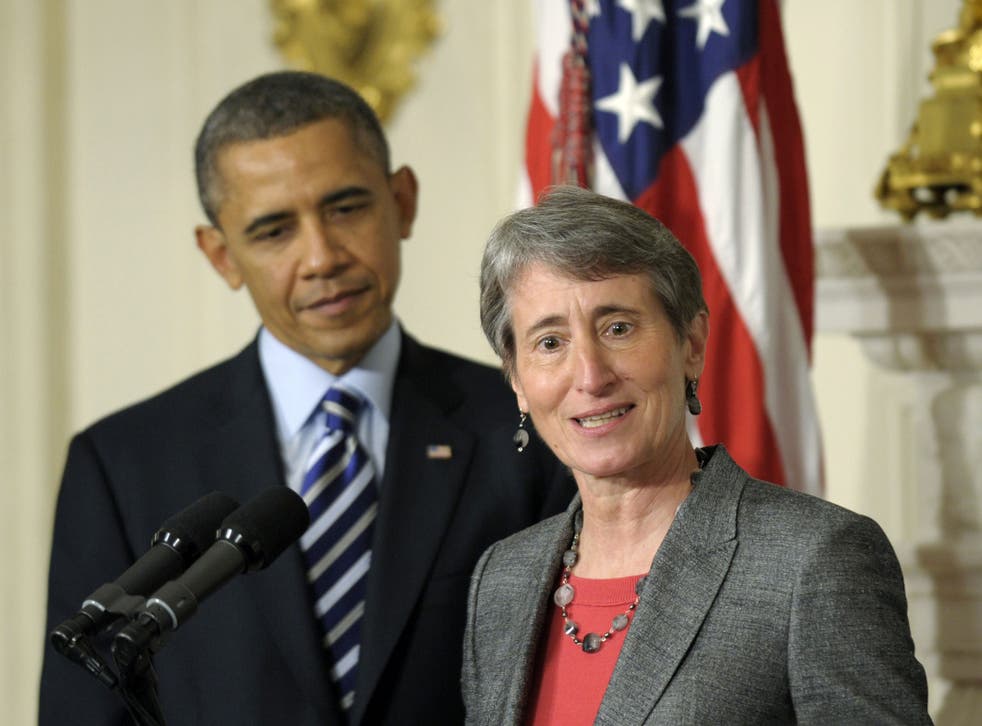 Sally Jewell is an intrepid and accomplished outdoorswoman. Show her a trail and she will hike it; show her a mountain and she will climb it. A few years ago, she even survived a deadly blizzard on Mount Rainier, the majestic 14,400ft peak that stands guard over Seattle. But at the rarefied heights of government that she is now set to join, one thing she will never be is the "designated survivor". And why? Because she was born in Britain, to British parents.
As she left England aged three, and has long since taken US citizenship and lost any trace of accent, it would be impertinent to claim her still as one of our own. But for the purposes of America's constitution, she might as well be. She does not qualify as a "natural-born citizen" and is therefore ineligible to be either president or vice-president of the United States.
Last week Jewell was nominated by Barack Obama to be the next Secretary of the Interior, and a member of the cabinet. But, thanks to her birth, she can never be the one cabinet member who is always deliberately kept away from great occasions like inaugurations and State of the Union addresses – the so-called "designated survivor" to take the reins of power should some nuclear or other calamity wipe out the rest of the government at a stroke.
But who wants to be president anyway? And these days, the Interior Department is quite enough to handle. Unlike interior ministries in most of the rest of the world, the US office of that name has nothing to do with law and order or the security of the state. But it is no less important, looking after the interests of Native Americans and managing not just the country's wonderful national parks, but the huge swathes of territory, especially in the west, owned by the federal government. In fact, it's more important than ever.
Foreign-born cabinet members are far from uncommon here. (Think Henry Kissinger and Madeleine Albright, German and Czech exports respectively.) Jewell, however, will be the first British-born one since James Davis, of Welsh origin, served as Secretary of Labour under Warren Harding, Calvin Coolidge and Herbert Hoover in the 1920s.
Back then, the Department of the Interior scarcely basked in glory. Its best-known incumbent was Albert Fall, secretary under Harding and star of the Teapot Dome scandal, in which he handed out cheap drilling licences on federal land in Wyoming and California to his oil company pals, in return for bribes. Teapot Dome was the biggest government scandal here until Watergate, and Fall became the first ex-cabinet member in US history to be sent to prison for wrongdoing in office.
Conservationists will tell you things haven't improved much since, at least under Republican administrations. Time and again the department has been caught in a tug of war between wilderness preservation and energy exploration, and when Republicans have been in charge, has invariably chosen the latter. Back in the 1980s, James Watt called for every single acre of undeveloped land in the US to be opened up for drilling and mining. Things weren't much better under George W Bush: the parks were starved of funds, and a 2008 official report lambasted the department for "ethical failure", adding that "short of a crime, anything goes at the highest levels of the Department of Interior".
Many Republicans maintain the opposite; that tree-hugging Democrats run the department far too cautiously, preventing the exploitation of America's vast natural resources and the new jobs that go with it. Anyone remember a certain former Alaska governor, and her war cry of "Drill, baby, drill"? But Obama won in 2008, and under Ken Salazar, his first Interior Secretary, conservation and renewable energy again became the priority – though that didn't prevent the BP Deepwater Horizon disaster in the Gulf of Mexico, in US territorial waters also overseen by the department. Now enter (if confirmed) Sally Jewell, but to a stunningly different, if under-reported, reality.
You may not realise it, but within a couple of decades the world's biggest energy importer could become self-sufficient or even a net exporter. Whether this is because of, or despite, Obama's policies may be disputed. The fact, however, is that US oil and gas production, thanks to new drilling and new techniques such as fracking, is soaring. The geopolitical implications are huge: what if the dollar sharply strengthens, and Washington grows less inclined to meddle in the Middle East?
Whatever happens, the Interior Department will be in the thick of the action. After all, it owns some 45 per cent of the US west of the Great Plains (including 85 per cent of Nevada), and under this land lies much of the oil and gas that will help to make America self-sufficient. The contest between the conservationists and the drillers will surely grow – and no one is better qualified to understand both points of view than Jewell.
Her CV is almost too good to be true. Anyone who's climbed Mount Rainier half a dozen times is a true wilderness lover. Since 2005, she's been chief executive of the Seattle-based REI, a $2bn retailer of sporting and outdoor goods that is run as a workers' and consumer co-operative, and recognised as one of America's most eco-friendly companies. All that delights Democrats.
On the other hand, Republicans will appreciate the fact that this certified green worked in the oil industry, as an engineer for Mobil in the Oklahoma fields, before switching to the banking sector as an oil specialist in 1981. Those were the years of America's previous great domestic oil boom, cut short by the collapse in crude prices in the late 1980s. The lady, in other words, has seen it all before, up close. Pity she can't be president.
Register for free to continue reading
Registration is a free and easy way to support our truly independent journalism
By registering, you will also enjoy limited access to Premium articles, exclusive newsletters, commenting, and virtual events with our leading journalists
Already have an account? sign in
Register for free to continue reading
Registration is a free and easy way to support our truly independent journalism
By registering, you will also enjoy limited access to Premium articles, exclusive newsletters, commenting, and virtual events with our leading journalists
Already have an account? sign in
Join our new commenting forum
Join thought-provoking conversations, follow other Independent readers and see their replies