Scottish independence: A nail-biting time for politicians – but for worried pollsters too
But pollsters are bracing themselves for criticism if they get it wrong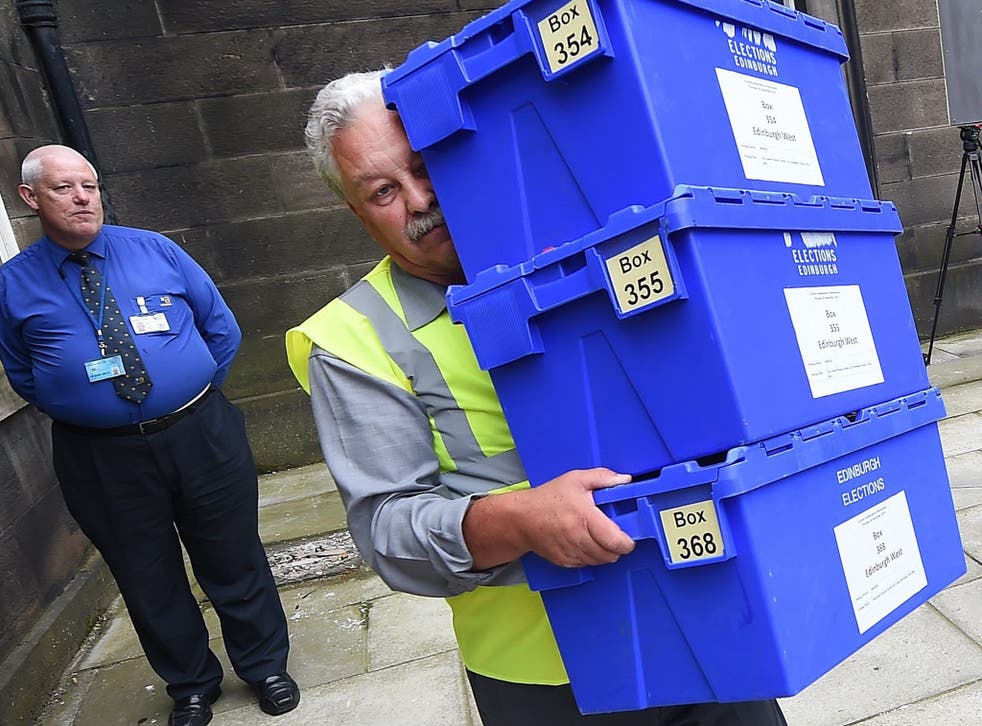 It looks as though it is going to be long and nervous night for the politicians – and the pollsters too. What until a few weeks ago had looked as a race the No side were odds on to win, has, if the polls are right, is now a nail biting contest of whose outcome nobody can be quite sure.
Three polls published on Monday evening all rather remarkably pointed to exactly the same result – Yes 48 per cent, No 52 per cent. They thus underlined the message of every poll conducted in the last fortnight that while No is apparently still ahead, the Yes side is breathing very heavily down in its neck.
The message of two more polls published tonight was much the same. Panelbase produced the fourth poll that put Yes on 48 per cent and No on 52 per cent. For much of the campaign Panelbase put the Yes vote above other companies, and the Yes side will have been disappointed that even it seems to have decided it is narrowly set to lose.
Meanwhile the second poll suggested the vote was on even more of a knife edge, with Yes on 49 per cent, No on 51 per cent. This poll came from Ipsos MORI who hitherto have given the No side some of its largest leads. Just seven weeks ago the company put Yes on only 42 per cent. Its latest finding will thus seriously discomfort the No campaign.
So despite five polls putting No in the lead, no unionist politician will feel comfortable until the ballot boxes are opened. Meanwhile, although all the pollsters may have indicated that the race is too close to call because they have all put the No side ahead, they will be widely criticised for having got it wrong if Yes do in fact manage to win.
Central to voters' decisions throughout this campaign has been economics. Nearly all of those who think that Scotland would be more prosperous say that they will vote Yes, while those who reckon the country would be worse off are inclined to vote No.
While the Yes side has made some progress during the campaign in convincing people that independence would be economically beneficial, they may not have done quite enough. Two of Monday's night's polls reported that economic pessimists still outnumbered optimists, while last night Panelbase found that more than twice as many people believe they personally would be £500 a year worse off than believe they would be £500 better off.
But even if the No side do emerge victorious by tomorrow morning, the referendum campaign will have left its mark. The narrowing of the polls in the last fortnight of the campaign has forced it to firm up its promises of more devolution. Meanwhile, more than one recent poll has found that less than one in five voters in Scotland are happy for the powers of the Scottish Parliament should remain as they are. If Scotland does opt to stay in the Union, it will expect those promises to be delivered.
John Curtice is Professor of Politics at Strathclyde University
Register for free to continue reading
Registration is a free and easy way to support our truly independent journalism
By registering, you will also enjoy limited access to Premium articles, exclusive newsletters, commenting, and virtual events with our leading journalists
Already have an account? sign in
Register for free to continue reading
Registration is a free and easy way to support our truly independent journalism
By registering, you will also enjoy limited access to Premium articles, exclusive newsletters, commenting, and virtual events with our leading journalists
Already have an account? sign in
Join our new commenting forum
Join thought-provoking conversations, follow other Independent readers and see their replies