Scottish referendum: Partisan fallout, Gordon Brown's comeback and Elizabeth, the Queen of unity
Almost an hour of wondrous unity, but a new dawn for politics? Barely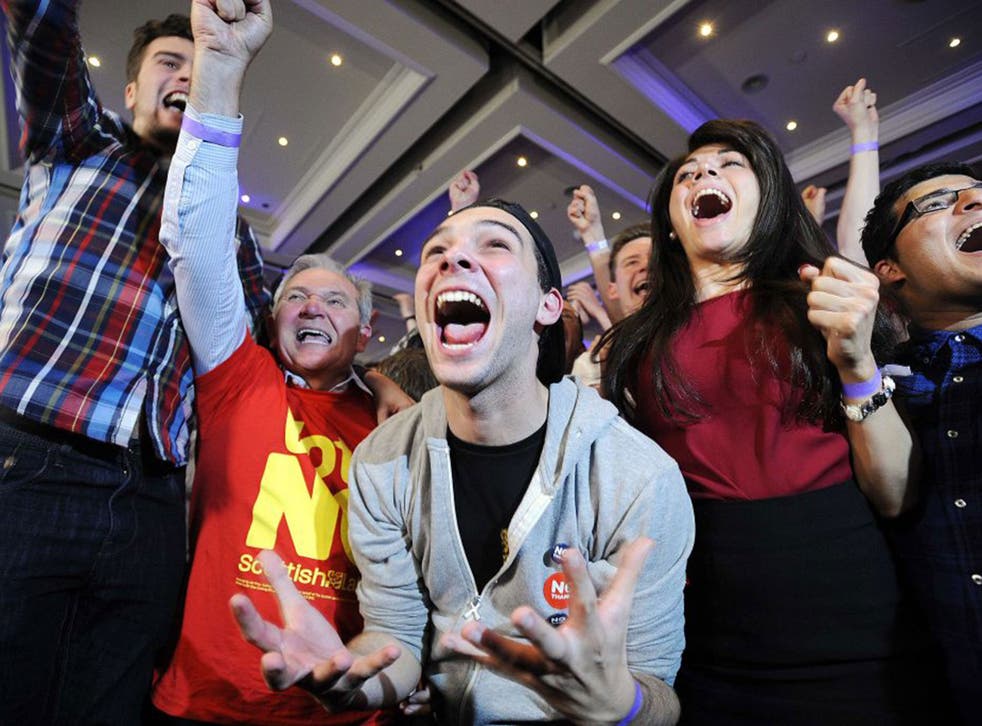 Were you still up for Clackmannanshire? As with general election nights, I wrestled with this dilemma on Thursday evening as the nation awaited the outcome of Scotland's independence referendum: stay up through the night (but inevitably fall asleep at the crucial verdict) or go to bed early and wake before dawn to catch the peak of the excitement.
I went for the second option, because the phrase "all-nighter" to me no longer means pacing a bottle of champagne through the early hours (or what we hacks at party conference call a "througher"), but the blissful realisation that my four-year-old has slept through until 7.30am. So, having set my alarm for 5am, I woke to the news that No looked certain for victory. At 6.08am, it was confirmed, and what followed were, for those who love both Scotland and the UK, 57 minutes of wondrous unity and our leaders being, like the Queen, above politics – the Prime Minister tweeted praise for both Alex Salmond and Alistair Darling.
But, to misquote Tony Blair, it wasn't a new dawn, was it? At 7.05am, David Cameron gave a statement outside Downing Street that seemed more tailored to Conservative back benchers than to a desperately relieved United Kingdom. Greater democracy and change, yes, but English votes for English laws, in its purest form, would be a mess.
What if David Mundell, the Tories' only MP in Scotland, were Education Secretary in the next Parliament, or if Michael Gove represented a seat in his native Aberdeen rather than Surrey and made a shock return as the nation's schoolmaster? Neither man would be unable to vote on his own reforms. Cameron's announcement looked designed to win over his recalcitrant backbenchers and destroy Labour's election-winning chances, when it should have been a great constitutional moment. Friday was Westminster politics at its most partisan, not just from Cameron but from all sides – a bunch of politicians fighting over a gigantic, messy pie.
Yet as they all try to grab a slice, something is missing. Amid the constitutional flux, why isn't Nick Clegg talking about having a fresh go at reforming the House of Lords? Tory backbenchers may have blocked reform two years ago, but the Scottish referendum has thrown wide open the window of democracy. Lords reform is supposed to be one of the most cherished ambitions of the Deputy Prime Minister – and one of the unfulfilled pledges in the Coalition Agreement.
As Chuka Umunna, the shadow Business Secretary, tells me in an interview on page 28, the Lords is unsustainable in its current form. Any constitutional shake-up must include radical reform of the upper house, including Umunna's suggestion of a directly elected Senate filled with local representatives, or else it isn't worth it.
But instead, Clegg has only spoken about accepting some form of Cameron's English votes proposal. As we enter the final conference season before the general election, I keep being told by senior Lib Dems that the party wants to remind voters of the great things it has achieved in government – on cutting tax for the poorest, increasing childcare and the pupil premium. But only by pressing for Lords reform can Clegg look Lib Dem voters in the eye next May.
Gordon Brown: the comeback
In less than a week, in two speeches, Gordon Brown has rewritten his own obituary. There was the searing passion of his "This is not their flag … these are not their streets" rallying call to Scots to reject independence – reassuring those who felt passionately patriotic that they would not be betraying their country if they voted No.
Then yesterday, in Dalgety Bay in his constituency, his victory speech was the most prime ministerial performance of any senior figure of the past few days. Watching him talk of a "new union" of the United Kingdom and calling on all sides to honour voters' "thirst to participate", I have never seen him look so happy and invigorated, in a political context anyway – putting aside his personal joy at becoming a father. The adage that all political careers end in failure remains true, but it must be modified. Some politicians – such as William Hague and Iain Duncan Smith – can be the most ridiculed and hated people in Westminster and yet, years later, be rehabilitated.
Brown's is the most extraordinary comeback in modern political history. He has now recast himself as the Father of the Nation.
Enfranchising teenagers
Brown revealed yesterday that his 10-year-old son John had wanted to vote in the referendum because 16 and 17-year-olds were doing so. Brown said it was incredible to see the enthusiasm of these teens turning up at polling stations in their school uniforms and showed why votes at 16 would be a great way to capture that "thirst to participate". I have been opposed to votes at 16 in the past, but seeing the scenes in Scotland has changed my mind. If we are in despair about voter apathy, then the way to solve this is to enfranchise teenagers so, as they enter adulthood, they feel part of society. But pupils should not just be offered votes at 16, they should be, from an even earlier age, taught politics and economics as part of the national curriculum. If you are inspired by something at 14, it is hard to see how you would become apathetic at 20.
The Queen of unity
I'd like to think that the Queen, in her fireside chair in Balmoral, did a "througher" on Thursday night, staying up as the votes rolled in until Aberdeenshire, where the castle is, was announced – perhaps to make sure there wouldn't be hordes of Yes voters at the gates on Friday morning. Or maybe she slept undisturbed. But her statement later that day was unprecedented, given that she never intervenes in politics. This was, of course, of constitutional importance. Whatever you think of the Queen and the monarchy, it was right for her to make a statement of unity. What a gift to republicans it would have been if she'd merely shrugged her shoulders and taken the corgis for a hack through the heather.
Twitter: @janemerrick23
Register for free to continue reading
Registration is a free and easy way to support our truly independent journalism
By registering, you will also enjoy limited access to Premium articles, exclusive newsletters, commenting, and virtual events with our leading journalists
Already have an account? sign in
Join our new commenting forum
Join thought-provoking conversations, follow other Independent readers and see their replies