Security never drives our leaders, it just soaks up their time
May defended scrapping orders while arguing she had brought them back. Quite a contortion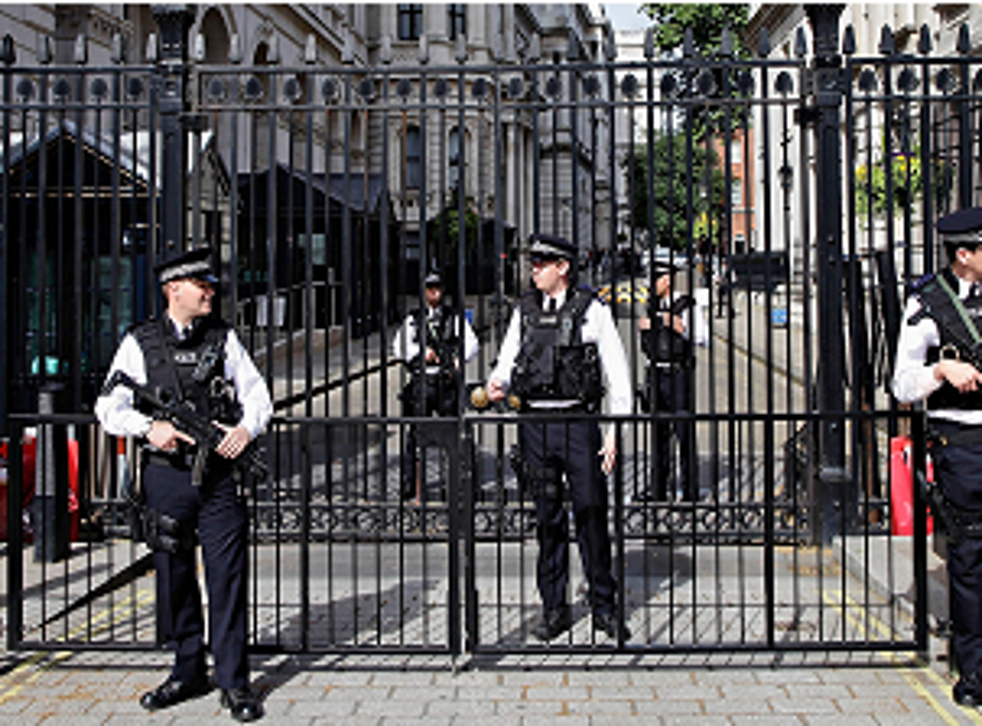 Soon after he became Prime Minister a journalist asked David Cameron what had surprised him most about his new job. After pausing for a moment, Cameron replied that he had not anticipated the vast amount of time he needed to focus on security and intelligence matters.
On one level it is a surprise that he was surprised. Imagine the prime ministerial focus required over these past few days following the public unveiling of Mohammed Emwazi, along with the accompanying debate over whether the security services could have stopped him leaving the country and about what new constraints might be required to prevent further terrorist outbreaks. His predecessors were similarly diverted. Gordon Brown's second night as a Prime Minister was interrupted by news of a foiled car bomb attack in London. Tony Blair's final years as Prime Minister were famously punctuated by actual or potential terrorist attacks.
And yet on another level Cameron's response to the question is wholly understandable. Those who enter politics do not do so because they have a fascination with security matters. They might want to change their party, improve the quality of life in their country, or it might just be that they find political battles eternally compelling. Security issues, meanwhile, are thrust upon them.
While each party leader takes their responsibilities in this policy area with the seriousness it deserves, there has also been a curiously high level of political game-playing and posturing. In his third term, Blair's support for the 90-day detention of suspects without trial arose partly from his assumption that such a robust position would be popular with voters and their newspapers. His proposal was defeated in the Commons.
Then a youthful leader of the opposition, Cameron opposed Blair partly to portray his leadership of the Conservative Party as modernising and liberal. When Brown became Prime Minister, he sought to resurrect Blair's proposal for detention, but in a slightly milder form. He did so partly to reassure the likes of Rupert Murdoch and voters that he could deliver where Blair could not. At the time Ed Miliband was so horrified at Brown's move that he pulled out of Question Time where he was scheduled to appear as a panelist. Miliband could not justify the policy on TV and had no desire to try. Brown failed to get his policy through.
The political game-playing in relation to security never entirely stops. The issue of control orders has also verged on the dangerous and absurd. Control orders were scrapped soon after the Coalition came to power. When they were in place, suspects could be relocated to a town far from their home. At the time they were scrapped, the Home Secretary, Theresa May, insisted her softer alternative would be even more effective. Her proposals were "more focused and flexible", she told MPs in 2011. Yesterday in the Commons May managed to defend the scrapping of the orders then while arguing that she had in effect brought them back in more recent legislation, quite a contortion. Probably she was only compelled to scrap control orders in the first place because of Cameron's affectations of progressive liberalism in opposition and the genuine but misguided insistence of her Liberal Democrat partners in coalition.
Away from the day-to-day political fray there are more reliable guides. Alex Carlile has been one of the more influential and interesting Liberal Democrats over the last few years despite not being a minister in the Coalition and rarely expressing a view on his party's testing experiences as a governing partner. A Liberal Democrat peer and former MP, he was the independent reviewer of anti-terror laws. In that role and subsequently he has shown independence in every sense, often arguing against his party's position. Most recently Carlile has suggested that Emwazi might have been prevented from joining Isis, which calls itself Islamic State, if control orders had not been abolished.
Carlile noted: "Had control orders been in place, there is a realistic prospect that Emwazi, and at least two of his associates, would have been the subject of those orders with a compulsory relocation." Obviously no one knows for sure that Emwazi would have been stopped from carrying out the atrocities of recent months, but he might have done.
Over the course of the past few years Carlile has often spoken out against his party's theoretically admirable instincts to protect the citizen against potential abuses from the state. In general and in relation to specific legislative changes he has argued that the protection of the citizen against the threat posed from terrorist attack must be the ultimate priority.
He is right to do so. Put crudely, no one would opt for the freedom to be blown up if there are measures available to prevent such an attack from happening in the first place. Of course part of the challenge with any legislation in this area is proving that the tougher proposals would stop some terrorists from acting and would not be abused by intelligence agencies or governments. There can be no such definitive proof. But there could be improvements in the current awkward interplay between politicians, security agencies and the implementation of policy.
The political oversight is erratic and laced with misjudged expedient calculation. The hurdles before giving powers to the intelligence agencies are high. The accountability of those agencies is low, shrouded at times in unnecessary secrecy, a darkness that can lead to complacent error.
Obviously political oversight is unavoidable even if it is unreliable at times. But the agencies should be less constrained as they seek, as far as it is possible to do so, to prevent an attack in the UK. At the same time the agencies should be subjected to greater scrutiny. To take one example the parliamentary Security and Intelligence Committee could meet more often in public without undermining security. Their inquiries are retrospective and would not reveal spectacular secrets. Shine more light on the security services, but give them the powers they insist they need to protect us.
Depressingly, whatever happens the next Prime Minister and the one after will find to his or her surprise that the issue will suck up their time.
Register for free to continue reading
Registration is a free and easy way to support our truly independent journalism
By registering, you will also enjoy limited access to Premium articles, exclusive newsletters, commenting, and virtual events with our leading journalists
Already have an account? sign in
Join our new commenting forum
Join thought-provoking conversations, follow other Independent readers and see their replies