Seized ships and hungry vultures: the piratical world of hedge funds define modern capitalism
Protests uniting Ghana with Argentina offer an insight into vulture funds: a dark new force in modern business which are making indebted countries suffer further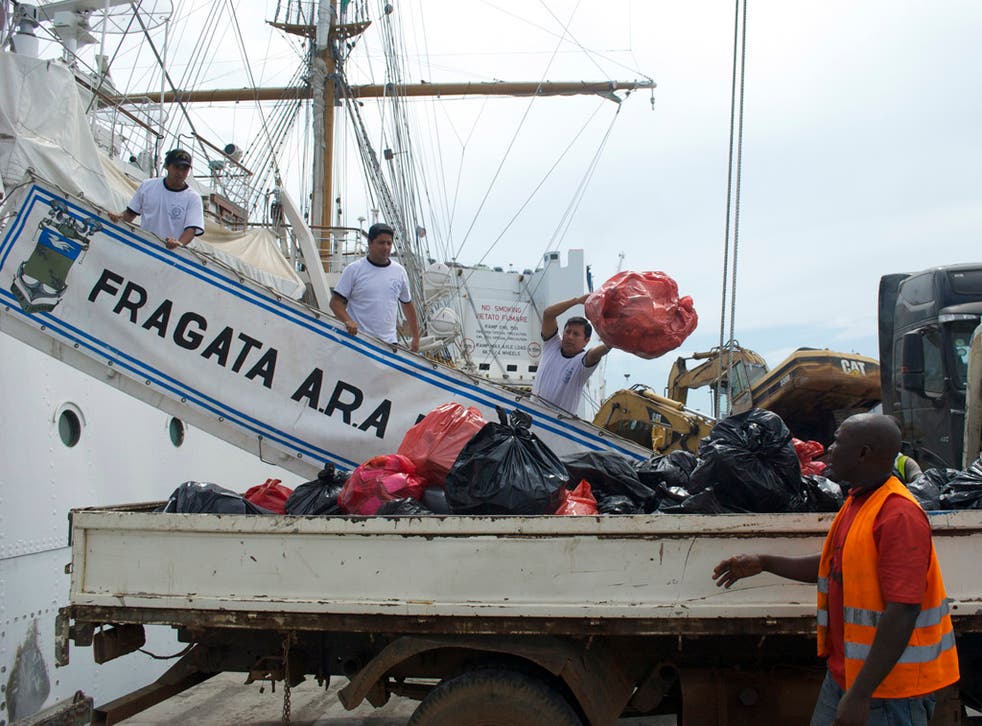 The view down to Tema, Ghana's largest seaport is a packed one. Multi-coloured, Legoland stacked grids of containers, skeletal thickets of cranes, smouldering factories and boiling refineries mark out a global trade hub. Look harder, down to the spines of terminals and pontoons and one can view the pathology of modern vulture capitalism.
There bobs the roped up "Libertad" - an Argentinian naval training vessel impounded since 2nd October, pictured above - after a Ghanaian court ruled in favour of a US "vulture fund" with a claim on Argentinian debt. The euphemistically named "distressed debt" hedge-fund in question is a subsidiary of Elliot Capital Management; an entity founded and CEO'd by right-wing billionaire, "vulture fund king" and major donor to the electoral campaigns of George W Bush and Mitt Romney, Mr Paul Singer.
Operating in the rapacious way that vulture funds do, Singer eyed a "distressed" Argentina during the 1990's as its economy, guided by the IMF, hit major, sustained recession. The IMF had insisted on savage austerity measures that in turn resulted in mass unemployment, depleted government revenue and a slashing of social welfare and retirement programmes.
Six further rounds of austerity led to spectacular social and political turmoil. Bank accounts were frozen and millions of impoverished Argentinians took to the streets, where some were killed in clashes with the police. Circling above the turmoil, Elliot Capital Management eagerly bought up sovereign debt at very low prices in hope of an eventual re-fleshed carcass and lacerating legal recourse via any international jurisdiction that would stand for it.
As imposed austerity hollowed out the economy, by 2001 the IMF refused to release further loans to the Argentinian government for not pushing far enough with budget deficit targets. Argentina defaulted on its national debt, the government fell and the IMF actively lobbied for private creditors like Singer's.
Once recovered and growing, Argentina repaid the IMF in full, 92% of other creditors settled or debt was restructured, but some - the specialists in the deeply unethical vulture kettle like Elliot Capital Management - held out for legal hunts launched from secrecy jurisdictions like the Cayman Islands. This is the leitmotif of the "Vulture Fund"; feeding off toddling, recovering nations from murky secrecy jurisdictions.
The UK government has rightly enacted a debt relief act that limits the amount of sovereign debt from the developing world a commercial creditor (or vulture) can litigate for in a British court. Some of our tax haven dependencies too are making similar moves: both Guernsey and Jersey have live draft bills to emulate the central UK law. But not all are following suit.
The Singer hedge fund involved in the Libertad case is based in the UK "overseas territory" of the Cayman Islands, described by the New York Times as the "tax-free home for 9,253 hedge funds". Cayman flies the union jack, sings "God Save the Queen" and its authorities report directly to our Foreign Office.
If, as in September this year, the UK government can refuse to give "Royal Assent" to the national budget of the Cayman Islands; rejecting it until it is drafted to suit our demands, why can't we act to prevent vulture funds preying on developing countries? The Jubilee "Drop the Debt" campaign (remember that?) is currently lobbying the UK government to do just that, pointing out that similar Cayman Islands based vulture funds are now doing to Greece what they did and are attempting to do to Argentina.
Because it's these developing countries – attempting to trade their way out of debt and stand on their own two feet – which we should support and nurture, if for no other ethical reason than to pragmatically remove their reliance on our western aid. It seems contradictory to offer aid with one hand whilst simultaneously allowing British territories to host suffocating raids on debt laden nations?
Back to the lapping waters of the Atlantic and the legally stricken "Libertad". The Argentinian government has appealed to the International Sea Tribunal – a United Nations Court – to speed the release of the ship under its acknowledged international immunity as a military vessel. The outcome is uncertain and the stand-off continues. Argentina is no longer a developing country of course, but the case of the "Libertad" is instructive.
A signal should be sent from the International community, whatever that might be, that vulture funds operating from neo-colonial paper centres will not be allowed to strangle progress towards the UN Millennium Declaration to assist heavily indebted poor countries. Decent laws at home really only matter if your overseas satellites are not safe havens for deplorable, unethical economic gorging
Register for free to continue reading
Registration is a free and easy way to support our truly independent journalism
By registering, you will also enjoy limited access to Premium articles, exclusive newsletters, commenting, and virtual events with our leading journalists
Already have an account? sign in
Join our new commenting forum
Join thought-provoking conversations, follow other Independent readers and see their replies