Sexual education is a basic right, Gove. So let's stop thinking of it as a fruity optional extra
It's vital that we make SRE – including a proper education about women's autonomy, rape, and consent – a statutory part of the curriculum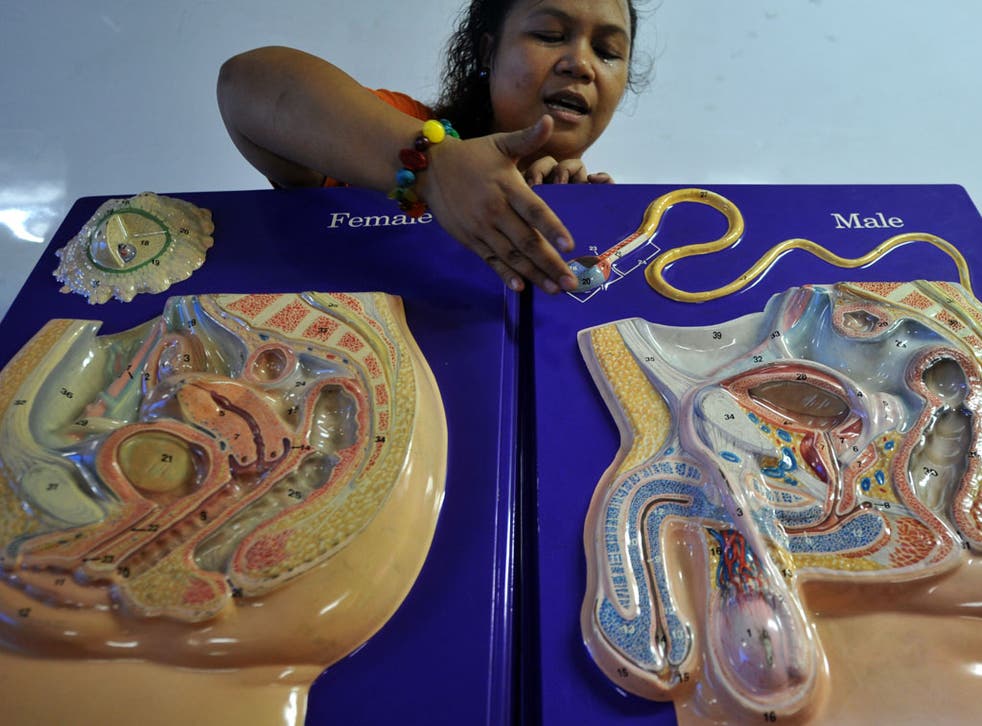 What's better than sex! Good sex. What's better than good sex? Good, safe sex. And what's worse than sex? Well, lots of things – but one of those things is sex in reverse.
No, not that. I'm talking about XES, the name of the new campaign for Sexual Health Week. 'XES – we can't go backwards' has been launched by Brook and FPA to draw attention to the worrying slippery slope backwards in terms of our sexual health awareness.
Sexual health is, of course, important in and of itself, for straight forwards health reasons, but there's more to it than that - proper sexual and reproductive healthcare is also a cornerstone of equality. And not just in terms of the fun stuff. Nope, this isn't one of those articles about how we all love slutting it up nowadays because of the radical notion that women like sex, which we established at least as long ago as the 60s but for some reason we're still arguing about it. No, sexual health is central to inequality in another, less sexy area of policy - economics.
Unprotected Nation is a report compiled by economist Stephen Lucas, and released by FPA and Brook earlier this year. It combed through service cuts and found that – surprise, surprise – many spending cuts that appear as savings at first glance will almost certainly lead to higher costs in the long run. In fact, Unprotected Nation estimates that cuts to sexual health services will contribute to an overall increase in health - and welfare - spending of £136.7bn.
But it's not just health and welfare reforms that are nudging our progress on sexual health backwards. Sex education is in urgent need of reform. It's not every day I praise Nick Clegg, but he was dead right last month to speak up on the poor quality of sex education in schools.
Speaking on his LBC phone-in, Clegg said: "At the moment there are lots of schools, academies and so on, who don't need to follow the [SRE] guidelines, even the outdated ones. But I'll be open with you. This [position] is not shared across Government. I haven't been able to persuade Michael Gove and the Conservatives to move all the way on this."
Michael Gove's professed reluctance to even enforce existing guidelines, let alone bring in new ones because he "trusts teachers" seems curious in light of his reluctance to trust teachers when it comes to so many other policy areas. We really ought to stop allowing it to fly, this abdication of responsibility from ministers when an issue gets sticky. This isn't the only issue it happens with, after all. Gay marriage, women as bishops, creationism in free schools – whenever there's a strongly-held but fairly indefensible position to challenge, too many politicians duck the debate altogether by saying it's 'not the role of the state'. Which often comes off as the political equivalent of telling your boss, hey, that's not my job, mate.
Leaving the SRE (sex and relationships education) syllabus entirely up to individual teachers has simply not worked. It's vital that we make SRE – including a proper education about women's autonomy, rape, and consent – a statutory part of the curriculum, instead of a fruity optional extra, before this sliding scale of sexual regression gets completely out of hand.
And by the way, if you noticed something all the issues the government ducks the debate over have in common, you're not the only one. Organisations like the British Humanist Association have raised concerns specifically about the religious education, particularly which it comes to creationist 'free schools' that are opening up - without obligation to follow the curriculum at all, let alone the SRE parts of it. The pupils who need accurate, informative sex education the most – the pupils whose lives outside of school are most likely to bring them into contact with guilt, shame, mistruths and myths – are the very pupils being denied that education as a basic right. And sexual education is a basic right, just as much as access to education itself is a basic right.
To make matters worse, these cuts and reforms are happening against a backdrop of panic that sees a lot of useful resources likely to end up blocked by the 'porn censors' that the government supports – supposedly to deal with the very problem that young people are being exposed to unhealthy "information" about sex instead of accurate facts. It's a weird mess of a situation we're in when we try to solve a problem of poor quality information by restricting access to information.
The call from charity groups like Brook for better sex education is important and it shouldn't be viewed in isolation. It certainly shouldn't be viewed, as it so often is, as 'just' a women's issue. Sexual health and reproductive rights hang at the centre of so much else. From child or housing benefit for larger families, to the nature of NHS spending; from paternity rights to vasectomy and abortion, proper sexual health services are essential. Our choices are personal, but the cost of inadequate sexual health services is everybody's business. If we're not careful, we will end up with a situation where it comes to be the other way around.
Register for free to continue reading
Registration is a free and easy way to support our truly independent journalism
By registering, you will also enjoy limited access to Premium articles, exclusive newsletters, commenting, and virtual events with our leading journalists
Already have an account? sign in
Join our new commenting forum
Join thought-provoking conversations, follow other Independent readers and see their replies