Sinai plane crash: Bomb would derail President Sisi's claim that he crushed terrorism in Egypt
The fact that Isis has not formally claimed responsibility is not a sign that it did not make the attack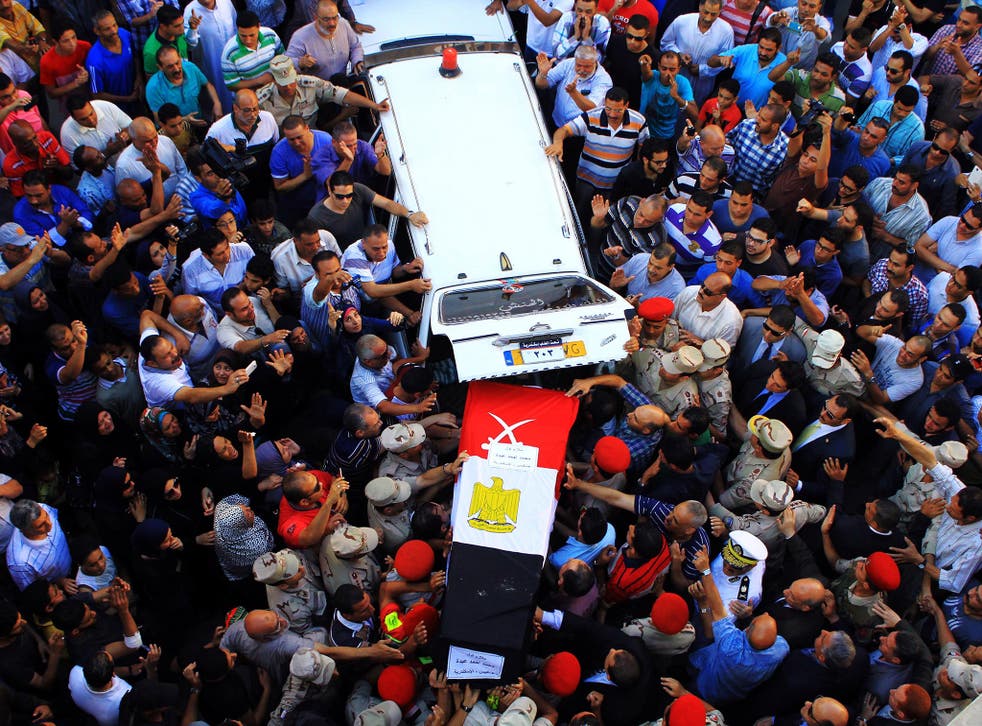 Isis has carried out revenge attacks against any state or group which fights against it. When the US started bombing its forces in Iraq and Syria last year, it decapitated American journalists and aid workers. When beheadings became the norm and lost their shock value, it burned to death a Jordanian pilot in a cage. And when it was defeated and driven from the city of Kobani by the Syrian Kurds, it sent suicide raiders to butcher over 200 Kurdish men, women and children.
The message in all cases was a show of strength and a demonstration that nobody can strike Isis with impunity.
These atrocities are not difficult to carry out as they are directed against civilians or prisoners who cannot defend themselves. The destruction of a Russian plane by a bomb is in keeping with Isis tactics. The fact that the group has not formally claimed responsibility is not a sign that it did not make the attack. It has not yet claimed two suicide bombings in Turkey, the first at Suruc in July, which killed 32 young Turks bringing aid to Kobani, and a second in Ankara on 10 October that killed 102 people demonstrating for peace. The attacks may have had the more subtle intention of deepening hostility between the Turkish state and the Kurdish minority.
Russian passenger plane crashes in Egypt

Show all 20
The loss of the plane is damaging to both Egypt and Russia. President Abdel Fattah al-Sisi had wanted to show the outside world that he had crushed "terrorism" in his country since he came to power in 2013. His critics say that by persecuting the Muslim Brotherhood he is providing Isis supporters with a new constituency. The worst violence has been in Sinai, where there has been a slow burning insurgency for decades, and from which journalists have been excluded in order to sustain the fiction that order has been restored.
Few of the tourists visiting Sharm el-Sheikh will have taken on board that there is a fierce guerrilla war going on in other parts of Sinai, but these cannot be kept entirely separate from the sanitised tourist resorts of the Red Sea. On 1 July this year the Isis affiliate known as "Sinai Province" sent 300 to 400 armed fighters in a well-organised attempt to take the town of Sheikh Zuwayed in North Sinai, using machine guns and rocket-propelled grenade launchers. The government announced that 241 jihadi fighters and 21 soldiers were killed in the clashes, but the number of civilian dead is unknown. Egyptian journalists who tried to investigate what was going on were arrested.
The planning and strength of the attack on Sheikh Zuwayed shows that Sinai Province can carry out sophisticated operations, which might include getting a bomb on board a Russian aircraft. Members of the group who have fought with the Syrian opposition will have had instruction in bomb making. The group was previously known as Ansar Beit al-Maqdis and swore allegiance to the self-declared caliphate in November 2014. In retaliation for attacks, the army launched an operation called "Martyr's Right" in which hundreds of people have been killed. According to Human Rights Watch the Egyptian military has destroyed 3,255 buildings and expelled thousands of people in North Sinai who now have nowhere to live. Most of the fighting is taking place 200 miles from Sharm el-Sheikh, but in 2004-2006 the resort towns on the Red Sea were hit by bomb attacks when 165 people were killed.
Several factors make the current insurgency more serious: it is plugged into the international Isis network and there are fighters who have been to Syria travelling via Libya, which has a long, porous border with Egypt, and have now returned to Sinai. There is also the question of how many former supporters of the deposed President Morsi and the Muslim Brotherhood are turning to the gun in their struggle with President Sisi.
Register for free to continue reading
Registration is a free and easy way to support our truly independent journalism
By registering, you will also enjoy limited access to Premium articles, exclusive newsletters, commenting, and virtual events with our leading journalists
Already have an account? sign in
Register for free to continue reading
Registration is a free and easy way to support our truly independent journalism
By registering, you will also enjoy limited access to Premium articles, exclusive newsletters, commenting, and virtual events with our leading journalists
Already have an account? sign in
Join our new commenting forum
Join thought-provoking conversations, follow other Independent readers and see their replies