Spain's torture of bulls has hit a gruesome peak this year – and no thanks to the EU
Despite facing fierce opposition from Spaniards, the industry shamelessly continues because of the millions it receives in EU subsidies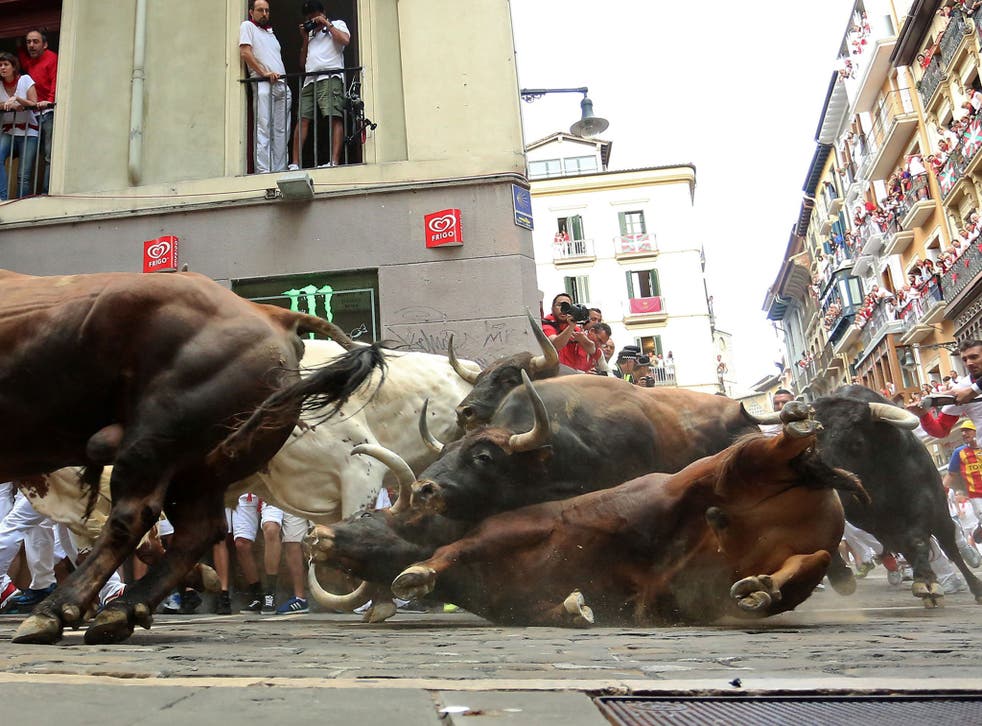 This summer, 12 families have lost loved ones to bullfights or bull runs. These individuals were gored to death, and in each case it was entirely preventable. Others have been maimed or otherwise injured but have escaped with their lives. The bulls, of course, are never that lucky.
Bull "festivals" are shameful, barbaric spectacles of mostly drunken men who deliberately harass, terrify and cause injury to animals. In the run-up to these notorious events, bulls are often confined to small dark enclosures overnight before being forced out into a menacing crowd on the street, frequently through the use of electric shock prods. The bulls try to get their bearings after being momentarily blinded by the sunlight, but runners immediately begin hitting them with rolled-up newspapers and other objects. It's no surprise that they panic, literally running for their lives and often losing their footing, slamming into walls, sometimes breaking bones and otherwise injuring themselves, or into people in their desperate attempt to flee from their attackers.
And while the people who are gored during this display of human cruelty and idiocy have voluntarily chosen to participate, the bulls (thousands every year) have no choice in the matter. And they all end up in the bullring. There, more than a dozen people will attack each one of them, taunting, beating and jabbing them with daggers for approximately 15 minutes. Finally, the matador takes over to stab the exhausted animal repeatedly with a sword. At best, the term "bullfighting" is a misnomer, as there is very little competition between a sword-wielding matador and a confused, maimed, psychologically tormented and physically debilitated bull. It is neither art nor culture to torture a bull, a sentient animal, to death by repeatedly stabbing him with spears until he dies. And anyone who attends a bull run or bullfight is supporting these cruel and bloody spectacles that are costing both people and bulls their lives.
Most people in the UK don't realise that bullfighting is something many Spanish people are working hard to end. A ban on bullfighting in Catalonia went into effect in 2011 after parliamentarians were presented with the signatures of 180,000 residents demanding an end to the carnage. It has also been outlawed in the Canary Islands, and more than 100 Spanish cities and towns have declared their opposition to it. Several years ago, Spain's RTVE network implemented a ban on airing bullfights, deeming them psychologically harmful for children to watch.
In pictures: Bull running in Pamplona

Show all 20
Former Spanish Minister of the Environment Cristina Narbona, herself the daughter of a bullfighting expert, publicly denounced the blood sport, saying, "I am deeply ashamed of living in a country with such a tradition". But in fact, bullfighting is no longer a tradition that most Spanish people want to be associated with. According to a Gallup survey, 76 per cent of Spaniards show no interest in bullfights and the same number also oppose the use of public funds to support them. Nonetheless, the loss-making industry shamelessly continues because of the millions it receives in EU subsidies.
In the 2013 report "Toros & Taxes", compiled by Spanish MEPs, an official Spanish source is quoted as saying that "major revenues derive from … subsidies from the [Common Agriculture Policy] ... we can say that economic returns for fighting-bulls are negative". In the UK, Common Agriculture Policy payments given to Spanish farmers using their pastures to rear fighting bulls are reportedly worth more than £110 million a year. The study concludes that "[w]ithout such backing [bullfighting] would probably be on the brink of financial collapse…".
With 2015 set to be one of the bloodiest and most deadly bullfighting seasons in recent times, isn't it time we pulled the plug on the subsidies and consequently this dying industry? Let's hope for the sake of both people and bulls that this year's carnage will finally prove to be enough.
Register for free to continue reading
Registration is a free and easy way to support our truly independent journalism
By registering, you will also enjoy limited access to Premium articles, exclusive newsletters, commenting, and virtual events with our leading journalists
Already have an account? sign in
Join our new commenting forum
Join thought-provoking conversations, follow other Independent readers and see their replies