Stephen Hester did sterling work in a tough job at RBS – but politics beat him in the end
His reluctance to stay on much beyond 2015 has been used to oust him. It's a fig leaf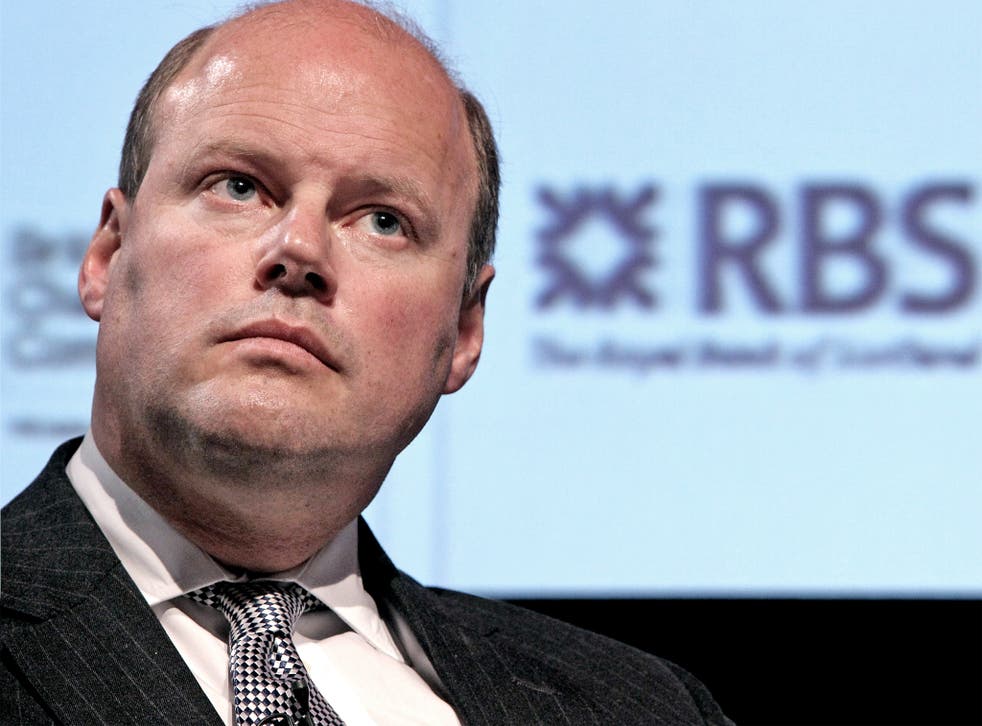 First reaction is often the best. Was I shocked at the news of Stephen Hester's departure from Royal Bank of Scotland? No, not at all. Possibly, the timing was a little odd, coming out of leftfield. Normally these things are trailed in advance so that when the news comes it's expected and we all shrug and move on. With Hester's quitting as CEO of the bank, there was no sign.
Quite the reverse: all the mood music was that he was enjoying his role, he'd been through a rocky patch, had sustained fierce personal criticism of his pay and bonus, had made swingeing job cuts and embarked on a tough, colossal reorganisation, but was looking forward to basking in the light offered by privatisation and a return to financial health.
Anyone who doubted the former is wrong. I well remember sitting with him in the Wolseley restaurant as he discussed the brickbats thrown at him for earning a low seven-figure salary to run an organisation that employed 225,000 people when he took charge in 2008, required a reshaping of £250bn worth of assets deemed to be non-essential (you read that right: £250bn) and, thanks to the Government's £45bn bailout, cast him firmly into the public limelight. The irony of Hester being just about the only suitably qualified person prepared to do the job, sitting in a room where there were doubtless some diners earning more than his £1m-odd package, was not lost on us.
Apparently, he was expected to do the job for nothing – or at least nowhere near the market rate for someone heading a similarly sized international bank.
As a result of volunteering, he'd become a public figure, his private life dissected, his country house photographed from a helicopter. A snap of Hester in the garb of his pastime of fox-hunting was wheeled out to traduce him as "another fat cat banker on the make, except this was one who was now being paid by us, the taxpayer".
Yet, he'd chosen to do it and was sticking with the task. So, why wasn't I surprised at the announcement of his going? Because his face never fitted. Rather, to qualify that, as RBS required drastic surgery, he was the necessary clinician. Behind the scenes, though, Hester could be an awkward customer. Softly spoken and eloquent (for a banker), he was strong intellectually, fully prepared to speak his mind, not prepared to lie down easily in front of politicians and civil servants without banking experience and know-how.
Big physically, with a face that reddened quickly – which meant he found it difficult to disguise what he was really thinking – Hester was an imposing, doubtless occasionally intimidating, character.
I was never able to picture him meekly taking orders with which he disagreed, delivered, however circuitously, from George Osborne, the man controlling an 82 per cent stake in the bank.
When Osborne was in opposition, he and Hester were reasonably close. Hester is a natural liberal conservative, and Osborne was full of admiration for this star banker turned property supremo (he was chief of British Land before going to RBS) who was ready to step into the breach.
Then, however, Osborne was not his ultimate boss (in those days, from 2008 to 2010, it was Alistair Darling). Once Osborne was installed in power, their relationship changed and the atmosphere between them became less friendly, more antagonistic.
Under Labour, which was reeling from the banking crisis and was grateful to Hester for taking on RBS, he was very much his own man. Under a Tory Chancellor, who was anxious to correct Labour's mistakes and to show that he could recover the taxpayers' £45bn outlay, Hester had much less leeway.
Two issues caused a falling out. One was the insistence of the Government that he axe RBS's investment banking arm, the bit of the bank that – while it carried risk – was also responsible for generating the bulk of the profits. The other demand was that RBS exit US consumer banking. Osborne was abetted by regulators who also wanted to see the bank's capital reserves bolstered. Begrudgingly, Hester conceded – the investment bank is being slimmed down and Citizens, the US retail subsidiary, is to be sold.
Relations that had not been good, got worse. Osborne made plain his wish to be seen to begin the process of privatisation in 2014 – in other words, well in advance of the 2015 general election. But readying the bank for sale, compiling the documentation required for what Osborne wants to be a populist, "Tell Sid" shares-for-all offer, will be a logistical and legal nightmare. Hester was indicating that while he had little difficulty with flagging the sale in 2014, he would stay until 2015 when the bank was expected to be restored to profitability – after that, though, he was unlikely to want to remain any longer.
He wasn't being negative – he was up for the privatisation. He simply did not want to commit himself, at 52, to anything much beyond 2015. Divorced and newly married to the delightful Suzy, Hester was in buoyant form – more positive, perhaps, with life, including the bank, than he'd been for a while. But his refusal to enter into a long-term pledge gave his opponents the opening they wanted.
Suddenly, the onus became one of finding a new, fresh face, one who could agree to run the bank for many years into the future, long after privatisation. While this message has been conveyed to the world as the reason for his exiting, in the seasoned business community it provokes a knowing smile. The idea that Hester could not lead the bank up to and just past privatisation is laughable. There is no reason at all why he had to promise any more. Most businesses would not want or expect their CEO to sign on the dotted line for such a length of time.
No, Hester's reluctance has been used to oust him. It's a fig leaf, as is the notion that while he was good at cutting he's not someone who knows how to grow a business and he's not a natural front-of-house salesman of the sort who would persuade wannabe Sids to snap up the shares.
Having steered Hester to and through the door, Osborne must now find a successor. It won't be easy. While RBS is in much leaner shape, there is not exactly a surfeit of bankers who politicians find acceptable or, given what they've said, bankers who wish to work with politicians.
There was one. He was Stephen Hester. Sadly, someone who reduced the bank's balance sheet by £1tn (yes, your eyes are not deceiving you, that really is £1tn) deserves much better.
Register for free to continue reading
Registration is a free and easy way to support our truly independent journalism
By registering, you will also enjoy limited access to Premium articles, exclusive newsletters, commenting, and virtual events with our leading journalists
Already have an account? sign in
Join our new commenting forum
Join thought-provoking conversations, follow other Independent readers and see their replies