Stop knocking Halloween. It's a chance to crack my teeth on toffee apples
Brits buy in to spookiness, so bring on the pumpkins and trick-or-treating.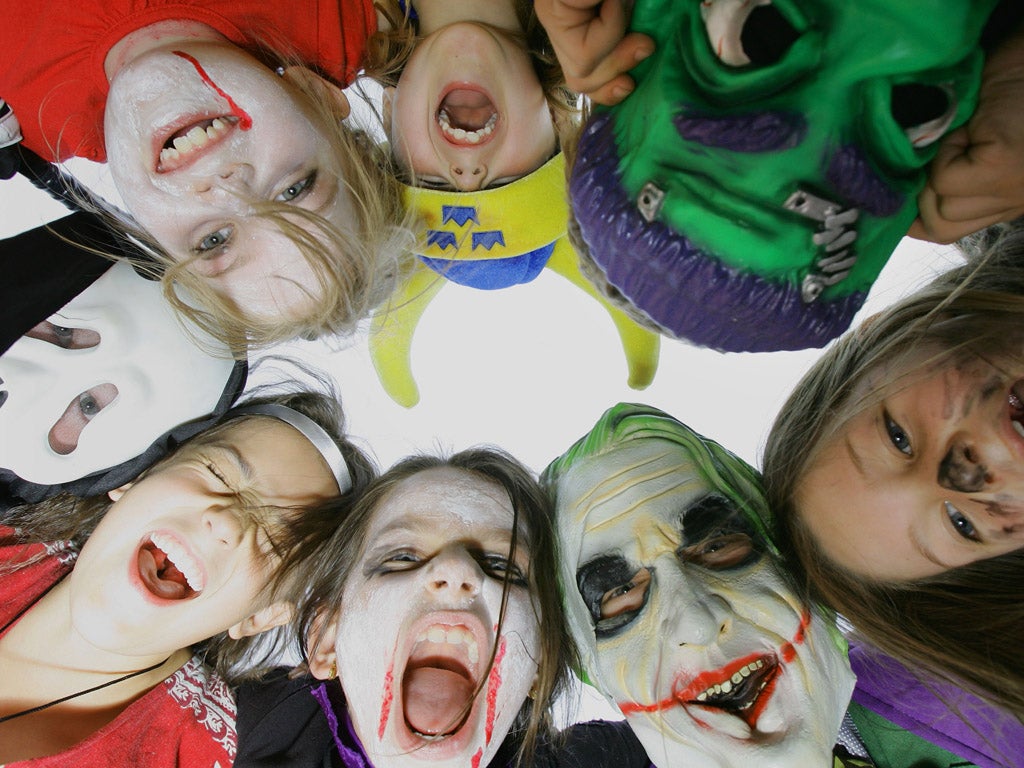 It's 30 October, which is technically Halloween-eve, so I hope you have your pumpkins carved, your house haunted and your decorative bats poised overhead.
I've had my flat decorated for a week, obviously, because I love Halloween. This can come as no surprise to those of you who have seen me below my headshot – I have dressed like a witch since I was 15 years old, and that is unlikely to change now, since I am statistically likely to resemble a witch more and more as the years go by.
Every year, some killjoy tells me Halloween is an American import and I should save myself for good old-fashioned British Bonfire Night, but answer me this: shouldn't there be two days, less than a week apart, where I can crack my teeth on toffee apples? And, anyway, the word for a fear of Halloween is samhainophobia, which should remind us all that Halloween owes more to Celtic roots than transatlantic ones.
Besides, as a nation, we're pretty sold on spookiness – apparently, 60 per cent of us reckon we wouldn't buy a house if we found out it was haunted, which suggests that considerably more of us than I would have guessed believe in ghosts. Or have seen The Haunting too many times.
But my recent trip to America has left me with massive Hallow-envy. Who knew you could buy bat-print doormats? Not me, or I would have bought one years ago to go with the haunted tree we've put up in the hall. I once walked past a house in LA that had a giant animatronic black cat in the front yard, whose eyes flashed and head moved when you approached. It also made a slight creaking sound, possibly from lack of use, since pedestrians in LA are rarer than the ghosts of unicorns.
For this week's trick-or-treaters, the research is in, and it turns out that Cambridge is likely to provide you with the best haul. The property prices are high, which theoretically means the owners have cash to spend on barrels of sweets, and the traffic levels are low, which means that even in a borderline sugar coma, you're unlikely to get hit by a car.
The second best place would be my flat, as I always buy in coffin-shaped chocolates, and then hardly anyone turns up (perhaps that witchy reputation is more serious than I have so far considered). But even this is better than my previous flat, which was in the roof of a huge Victorian house. No child, it turned out, wanted sweets enough to walk up 70 stairs to get them. And since there would have been a net calorie deficit on the trip, I could hardly blame them.
All the world's a Greek tragedy
Last week, I went to see Rachael Stirling play Medea in Mike Bartlett's excellent modern version of the Euripides tragedy. She's fiercely good. Since it's my favourite play (I know – it's a mystery that I don't have kids), I reckon I see about one production of it every year. Most of them, if I'm honest, aren't great. But they keep being staged: audiences can't seem to get enough of Greek tragedy.
Prof Edith Hall, at King's College, London, reckons that more Greek tragedies have been staged in the past 50 years than at any time since the ancient Greeks were watching them. Which makes perfect sense: plays about war, disease and infidelity are as relevant as ever, and morph seamlessly into contemporary settings. Faithless husbands and wives still hurt their spouses, contagion and disease still terrify us, and the war might now be against the Taliban rather than the Spartans, but the nature of war itself – and its impact on those involved – is unchanging.
Join our commenting forum
Join thought-provoking conversations, follow other Independent readers and see their replies