Of course, teenage girls need role models – but not like beauty vlogger Zoella
Her particular brand of sickly sweet girl power brings me out in hives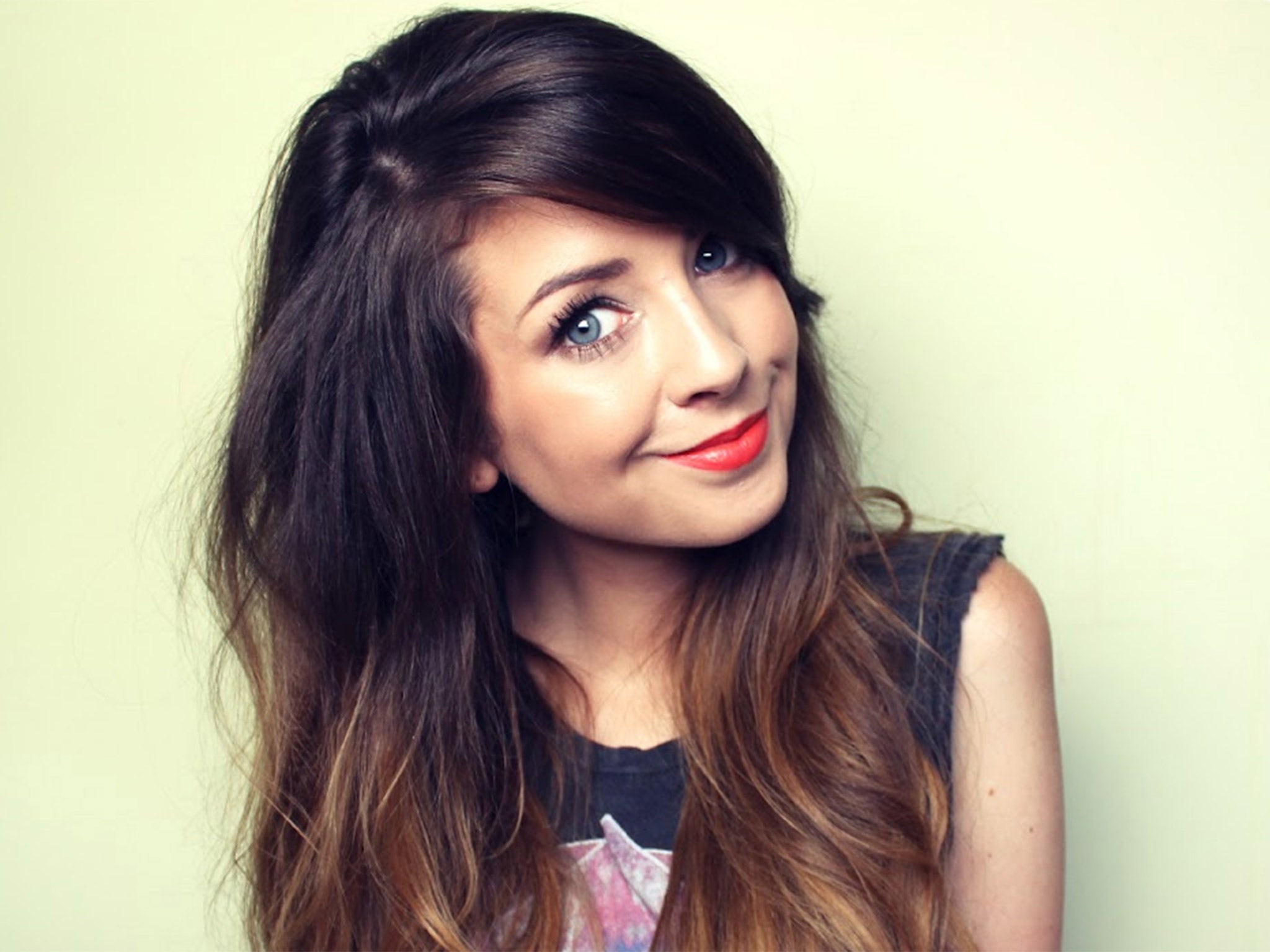 Her eyes are enormous. She looks like a startled bird; albeit a bird with the gorgeous, flowing locks of Rapunzel, the high-pitched giggle of Tinkerbell, and a name so irritatingly Disney-fied it makes my stomach churn: Zoella.
Zoella is a beauty and fashion vlogger – the latest creation spat out by the YouTube machine to instruct young girls how to paint on the perfect smoky eye or red lip.
As her subscriber count sky-rocketed, Zoella – real name Zoe Sugg – began to offer more than beauty advice to her young admirers. She has vlogged about her anxiety and recently joined mental-health charity Mind as a digital ambassador. She now has a Penguin book deal, a bespoke beauty range, and two Teen Choice awards to her name, but continues to upload videos to her YouTube channel in which she squeals with excitement over new brands of mascara. She is the epitome of a 21st-century social media megastar – an inspiration to tween girls, and not just because she's trodden an easy-peasy path to fame and fortune.
Unfortunately, Zoe's (sorry, Zoella sticks in my throat and on my keyboard) particular brand of sickly sweet girl power brings me out in hives.
At the 2014 Teen Choice awards, where she was named the Choice Web Star: Fashion/Beauty, she told a reporter that if she could give her teenage followers one piece of advice, it would be to fret less about their appearance. "When you're younger you worry about so many things that you don't need to worry about like image, appearance," she coos to the camera, without an ounce of irony in her singsong voice, as though unaware that she's forged an entire career by prattling on to young girls about how to look good.
To illustrate my point, here are the titles of some of Zoe's beauty videos: My Spring/Summer Hair and Make Up; HUGE Beauty and Cosmetics Haul; Fresh Spring Make Up Tutorial; My Everyday Make Up Routine. I could go on. She certainly does. On and on she rabbits about how to perfect "festival hair", "messy top knots", and even "Back to School beauty" – which really says something about the age of her followers.
It's maddening that a girl who has made it her business to tell teenagers how to put make up on, or get their hair just right, now feels she's in a position to admonish them for "fretting" about their appearance. Why, if she feels so strongly about the pandemic of insecurity raging through the tweenage generation, doesn't she vlog about going to school without make-up, or encourage kids to spend their pocket money on books or days out with friends, rather than on the latest liquid eyeliner to hit Boots' shelves?
She wants young girls to worry less, but she unwittingly exacerbates their body anxiety as they strive for her level of perfection, often falling short. The very fact that she tutors her young prodigies on how to get beauty and fashion right immediately discredits her belief that girls shouldn't worry about the way they look. The conflict is infuriating; not least because I doubt her millions of admirers will notice the irony, and will instead hang on to every flippant word that comes out of her mouth.
The sad thing is, Zoe Sugg's devotees hold her in such high esteem that I suspect she could make a credible difference to their lives – if only her message was bolder.
If she did away with beauty tutorials altogether and instead used her soapbox solely to speak out about the pressure girls are under to look pretty all the time, or the unfair advantage given to boys who need not worry about the latest eye-liner trends, Zoe could become the face of accessible, digestible feminism, adored by legions of female fans. Her work with Mind is just one example of how influential she could be.
Instead, too much of her inane chatter reinforces the age-old premise that women must be beautiful if they are to lead happy lives, and that what we care about, above all else, is how to do a flawless festival-ready top knot.
Young YouTube vlogging stars
Show all 6
When seeing is corrupting
According to a US study, the rise of sex and violence in PG films means lots of children are watching explicit content played out on the big screen. Parents have become desensitised to films featuring adult content and can no longer judge what is appropriate for their children.
To my mind, though, the small screen is infinitely more threatening. Pornographic images and YouTube beheadings can be beamed into a child's bedroom at the click of an iPad button. With sexually and violently graphic content readily available online, film classifications have been rendered almost redundant.
Instead of fighting against an impossible tide, we should educate children about such content, so that when (not if) they're confronted with it, they're as prepared as they can be.
Join our commenting forum
Join thought-provoking conversations, follow other Independent readers and see their replies