Syria intervention: Would Operation Biffing Arabs be the best name for it?
America in Lebanon's civil war in the 1980s, just as it is poised to do in Syria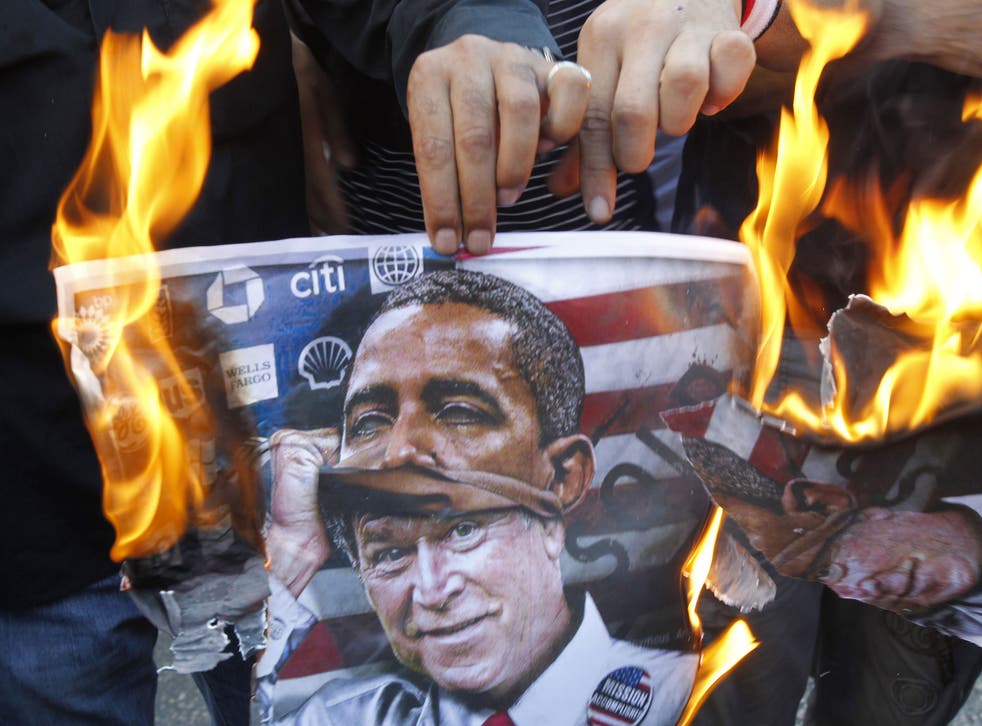 Almost exactly 30 years ago today, I was having breakfast with my landlord below my home on the Beirut Corniche. The date was 19 September 1983, but nothing has changed – neither Mustapha's little garden with its yellow and red flowers, my balcony two storeys above, nor the butterflies that settle on the flowers, nor the great bright blue Mediterranean in front of us. I am writing this on that same balcony. We were drinking our third or fourth hot sticky Arabic coffee that morning when we saw the American destroyer the USS John Rodgers making smoke as she moved along the seafront. She passed close to us. We could even see the naval crew on the upper deck and the Stars and Stripes drifting in the warm breeze.
Then there came from the vessel a hollow, popping sound. It was a very dull series of reports, as if someone were playing tennis under the sea. As I wrote later, there was nothing warlike about it. Mustapha fetched his binoculars and I focused on the warship. The glasses caught a puff of smoke, nothing more than a smudge near the for'ard 5in gun. A few seconds later, there was another pop and then I saw a shell case – a brass shell case glinting gold under the sun – bounce off the deck and spin right off the ship into the sea. Pop-pop. Another bright gold casing splashed into the water. Thus did the Americans go to war in Lebanon.
It made no sense to us. America was firing at Syrian-supported Druze militiamen in the Chouf mountains who were trying to destroy the (dubiously) elected government of President Amine Gemayel, whom President Ronald Reagan, and Israel, wanted to rule Lebanon. Washington had taken sides in a civil war and was now fully committed to preserving one bunch of Lebanese against another bunch of Lebanese. In the US, apparently, it all made sense. Reagan had backed Gemayel and now Reagan's honour was at risk. I shall not speak of parallels.
I was reminded of this Conradian scene by a deeply moving article by my old friend Rami Khouri which appeared last week in a local Beirut paper I rarely buy. I often quote my Arab colleagues by name but usually not in quotation. But Rami's piece in the Daily Star was brilliant.
He described how a few years ago, just before the Syrian war, he received a letter from Peggy Stelpflug, the mother of Corporal Bill Stelpflug, a US Marine sent to Lebanon in May of 1983 and of how Peggy and her family "enjoy special credibility in asking about the appropriateness of American military attacks in the Arab world".
And Rami quotes a letter home from Bill, written in Beirut on 7 September 1983 – 30 years ago last Saturday. "I am alive and well," the young Marine told his family. "Maybe a little dirty, tired and shell-shocked, but walking and talking. Our 'war' just lasted three full days so far. Two more Marines have been killed by rockets and more wounded … We have been taking rockets and bullets … we have been shooting back with some effect, mainly snipers or destroying rocket positions with artillery … I am filthy, and bone sore, and 100 per cent fit … It worries me more to know that ya'll worry about me more than I worry about me … I think Beirut is just a realistic training base for the US Marine Corps … Won't go out of my way to be a hero or anything like that. Just doing my time in this Mediterranean junk yard. Thinking of home. Love you all very much."
The day after he wrote this letter, the USS Bowen – a close cousin of the USS John Rodgers which was shooting off my home on the Corniche – opened fire on the same target: Syrian-supported forces in the Chouf. And on 23 October the same year, an Islamist truck-bomber drove to his suicide by exploding his vehicle in the US Marine headquarters beside the airport. I still remember how the air pressure changed inside my own home when that bomb went off. It killed 241 US service personnel. And I recall how I saw with my own eyes the bodies of many of the dead Marines laid out beside the rubble of their headquarters. Six days later, an officer visited the Stelpflug family home in Auburn, Alabama, and told Peggy and her husband that their son, Bill, had been killed by the bomb.
Rami wrote about his conversations with Peggy and spoke of how enlightened he was by the family's "noble reactions". He shared their feelings that "Bill's life, service and death could enrich 'our common desire to learn from each other in the cause of advancing our shared humanity … and that the lessons of his life and death would perhaps be illuminating for others'."
But Rami's penultimate paragraph deserves to be read in full: "It is appropriate today – 30 years after American ships shelled the Lebanese mountains – that all of us be very sure that, before American men and women are sent again to attack Arab targets, citizens like the Stelpflug family are credibly consulted on such an important decision. Those expressing scepticism in the opinion polls deserve a clear answer. So do the Syrian people. So does the world."
Against journalism of this standard, I must remain silent. It says it all.
Operation Punitive Endeavour?
If – and I repeat "if" because I'm still not at all sure Barack Obama really is going to war in Syria on the back of his own words – there has to be a name for this ridiculous adventure, what will it be called? Churchill used to warn his lads that they should never, ever, give a military operation a stupid name since widows would not want to hear that their husbands died in a ridiculous battle. So I suppose the most honest operational name – Operation Biffing the Arabs Again – is out. So is Operation Bashing Bashar. In keeping with Obama's evangelical streak, Operation Punishment is probably a bit too revealing – but I suspect Operation Punitive Endeavour might do the trick. Most people will be too lazy to look up "punitive" in the dictionary and "endeavour" is a great work, hinting at enormous struggle hinged to deep morality (which is what Obama's rhetoric is supposed to be about).
And then – again, "if" America attacks – we must have a good string of excuses for the hospitals/buses/civilian targets we hit. "Collateral damage" will no doubt be churned out by defence correspondents but it is wearing a bit thin. If a cruise missile does hit the roof of the Umayyad mosque in Damascus, however, I will remember well the lies we used when a plane fired missiles into a crowded Baghdad market during a sandstorm in 2003. It was not a missile. It was an Iraqi anti-aircraft rocket that had misfired and crashed into the people.
The same was said in Libya in 1985 when American weapons destroyed the lives of civilians in Tripoli. It was a Libyan anti-aircraft missile that killed them. This was swiftly disproved – so was the lie about the Iraqi rocket. But wait for the Syrian anti-aircraft rocket that kills its own people. It's an old one. But so is biffing the Arabs.
Register for free to continue reading
Registration is a free and easy way to support our truly independent journalism
By registering, you will also enjoy limited access to Premium articles, exclusive newsletters, commenting, and virtual events with our leading journalists
Already have an account? sign in
Register for free to continue reading
Registration is a free and easy way to support our truly independent journalism
By registering, you will also enjoy limited access to Premium articles, exclusive newsletters, commenting, and virtual events with our leading journalists
Already have an account? sign in