Thanks to social media, we've become a shouty society where no one listens and bullies prosper
New laws are supposed to protect us from internet trolling, but they will be totally ineffective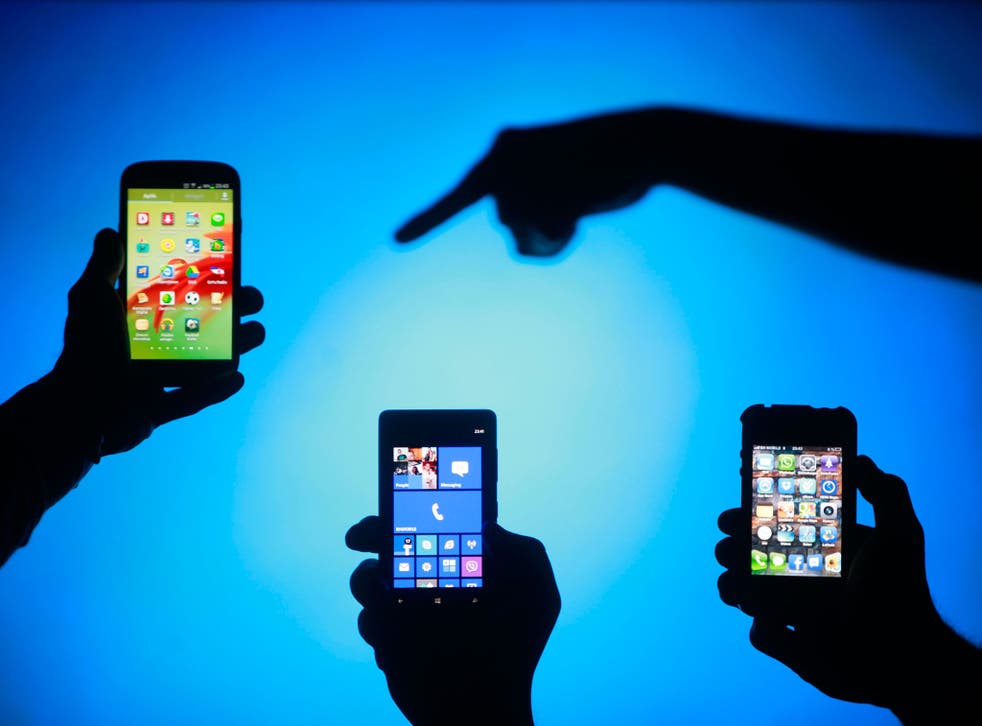 If Jesus had been tortured and crucified today, photos would be online within seconds, along with jokes and "funny" videos. Social media enables us to fight social injustice and shine a light on acts of terror, but it has also turned us into yobs – people who rarely think of the consequences before pressing the send button.
The smartphone has become a weapon to be feared, evidenced by a new survey revealing that one in three teachers has experienced bullying online, not from pupils, but from their bad-mannered parents. It's great to have freedom of speech, and the right to express ourselves, but the downside is that modern technology has turned us into a shouty society, with no place for nuanced debate or an acceptance of someone's right to have differing views.
Anyone in authority is to be challenged in the most insulting way possible. Even our political leaders can't accept that the way forward might lie in listening and consensus. Look at the ridiculous seven-way TV debate. Once the party leaders had stated their positions, they started to talk over each other, refusing to contemplate that there was any common ground between them.
As a broadcaster and columnist, I experience shouty Britain on a regular basis. Luckily I've developed a thick skin. On Question Time recently I dared to correct Plaid Cymru's uninspired Leanne Wood (who read from her notes throughout), and mentioned that cutting benefits "wasn't exactly a vote-loser with a large section of the population" (a fact borne out by numerous polls, though not necessarily my point of view).
Over the next 48 hours, I received hundreds of abusive tweets. No one knows my politics – I am a professional observer – but I was denigrated as "obviously right wing, ugly, stupid and someone who 'deserved to die from cancer'".
As we move towards another coalition government (which will inevitably involve a huge amount of compromise and the advent of consensus politics), are we losing our ability to politely disagree? This week I took part in a daytime TV show hosted by James O'Brien. Christine Hamilton and I were supposed to offer our thoughts on the NHS and on legalising drugs, but from the start, the audience shouted over each other, chucking out insults. In short, no one was listening and everyone was spouting drivel at full volume.
This oafish posturing is rampant online. If one in three teachers gets hounded by parents posting abuse and innuendo on social media, no wonder their kids are growing up as proto-bullies. Teachers get mocked for their appearance, are accused of having sexual relationships with pupils, of being paedophiles. More than a third have been photographed or videoed by pupils and the results posted online without their permission.
New laws are supposed to protect us from internet trolling, but they will be totally ineffective. The police have far too much to do already. Recently, Labour MP Frank Field suffered a heart attack after a rowdy meeting in his Birkenhead constituency. Colin Dow – a Green Party activist – apparently tried to photograph Mr Field as he lay on the floor unconscious, even though he'd been asked not to. Far from apologising, Mr Dow stated, "Had I been closer, I would have taken a picture", claiming that other people had done so. This Easter, just imagine if a bunch of Green activists had been present at the stoning of Christ.
The DIY generation could be on its way out
This holiday weekend brings happy memories of my dad. Easter was an opportunity to spend hours doing two of his favourite pastimes – planting vegetables and DIY. Both represented an opportunity to spend plenty of time away from my mother, engrossed in his private world with a cigarette on the go and sport on the radio.
Dad worshipped Barry Bucknell, who presented a long-running TV series on DIY, and never brought in workmen to renovate and repair our home. He decorated and rewired it, carried out basic plastering and put up bookshelves. He repaired televisions and radios and mended the family car.
All these skills have vanished, so it's no surprise that B&Q is planning to close up to 60 stores, with the loss of 3,000 jobs. Rival chain Homebase has already announced the closure of a quarter of its stores by 2019. These stores have gradually given over large amounts of space to lawnmowers, patio furniture, plants and car accessories. Handymen and women make up a very small portion of their customers.
I can't be too sad about the demise of DIY because it is always good to have a non-family member to blame when something goes wrong, and because it means employing small businesses to perform all these tasks. I have continued my father's tradition of growing vegetables, though. I'm praying that frost won't kill my broad beans.
Fast-food takeaways: the moral conundrum
Over the past 20 years, the biggest change to our high streets has been the proliferation of fast-food outlets. The number has grown by 50 per cent, particularly in the poorest areas, according to a study published by Cambridge University. It calls for town councils to do more to clamp down on the number of takeaway outlets, claiming they make it harder to eat healthily and that they encourage obesity. Some councils, including Birmingham, have started to restrict takeaways to just one in 10 of the retail premises in some suburbs.
In Paris, high-profile residents are taking an even tougher line against fast food. The Rue de Rivoli used to be a world-famous upmarket shopping street, but, like many of the grand boulevards in the city, it has gradually been blighted by takeaways. Now, a campaign launched by former Eurotrash and Rapido presenter Antoine de Caunes aims to rid the street of kebab shops.
Citing an arcane 19th-century law prohibiting ovens in the front of shops, he wants kebab shops declared illegal, claiming that they should be restricted to areas like Barbès, home to a large North African community. Is Antoine a racist? Or a passionate conservationist? Critics claim that the campaign is motivated by a desire to preserve local property values.
Over here, when MPs such as Diane Abbott have complained about the number of betting shops dominating high streets in poor areas, I have heard opponents justify them on the grounds of "human rights". I struggle with that concept, because gambling is highly addictive. But is it too draconian to insist that all councils limit the number of takeaways in town centres?
Onshore wind farms are ugly, noisy and inefficient
Nick Clegg said he "just doesn't get" what he describes as the Tories' "fatwa" against wind farms. Alex Salmond says wind turbines "enhance Scotland's appeal as a country". I couldn't disagree more – onshore wind farms emit noise, are an inefficient way of gathering energy and blight the countryside as they are rooted in massive concrete pads.
Now, the wind industry plans new, even bigger super-turbines, and if they are put up onshore the environmental impact will be horrific. I'm thrilled plans to extend the ugly wind farm on the edge of the Nidderdale Area of Outstanding Natural Beauty outside Harrogate were refused. Now there's a worrying proposal to install eight huge turbines at Labrax Moor on the stunning coast of Dumfries and Galloway. Once you've desecrated a view, it's gone for ever.
Register for free to continue reading
Registration is a free and easy way to support our truly independent journalism
By registering, you will also enjoy limited access to Premium articles, exclusive newsletters, commenting, and virtual events with our leading journalists
Already have an account? sign in
Register for free to continue reading
Registration is a free and easy way to support our truly independent journalism
By registering, you will also enjoy limited access to Premium articles, exclusive newsletters, commenting, and virtual events with our leading journalists
Already have an account? sign in
Join our new commenting forum
Join thought-provoking conversations, follow other Independent readers and see their replies