Thatcher death parties are not just mindless morbidity, they can be a community coming together
Everyone I spoke to in Brixton had a clear and political reason for being there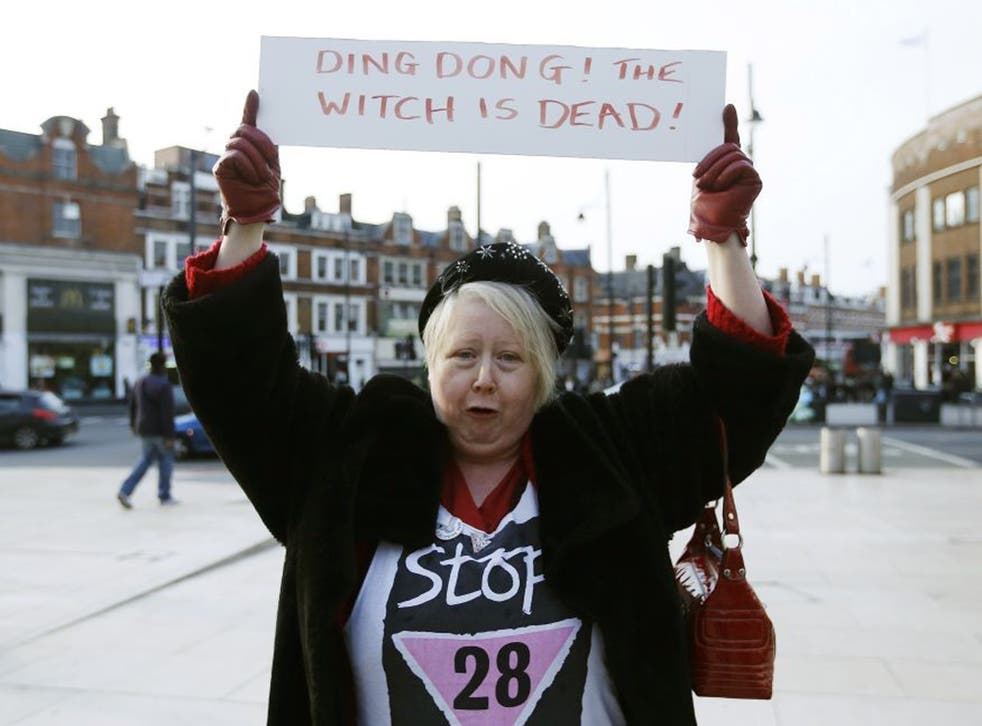 Death ruptures all communities. Confronted with the cold, blank slab of human mortality, instinct leads people in a desperate search for explanation - both of what the deceased meant and how their absence will be dealt with. Last night, people took to the streets of Brixton, Bristol, Glasgow, Derry and Liverpool in raw displays of personal and political emotion. And with a large event planned for Trafalgar Square on Saturday, these morbidly titled 'death parties' make up an important part of the collective search.
When the void is left by a public figure as contentious as Margaret Thatcher (the most contentious of them all?), the search quickly turns into a scramble amongst the press for broader communal narratives. The Daily Mail has thrown a characteristic punch with today's online lead: 'Dancing on Maggie's grave: How the Left 'celebrated' Baroness Thatcher's death with smashed shops and anarchy in the streets.' But from where I stood, in the crowd, it seemed more about community than anarchy. With samba bands and a portable sound system, this was undoubtedly a celebration of her death. But also, there was a sense that she meant a lot more to people there than many would care to admit.
From New Orleans to Giza and the Ganges, communities have come together in a range of ways to try and cover the wound of absence left by death. Surveying the chanting crowds and samba bands in front of Brixton's Ritzy cinema, Jonathan Chuter, 37, passed by on his cycle home from work. "I feel very moved by this; this is a huge outpouring of whatever it is, whatever you feel."
Richard Kennedy, 35, an NHS worker from nearby Peckham, went to Trafalgar Square straight from his office, still in his suit: "About 100 of us sporadically turned up. It was just like, 'oh my god, this is so bizarre'. The first thing I did was google 'Margaret Thatcher's died' and it came up: 'Margaret Thatcher's dead party', Trafalgar Square, 6pm. So I thought, 'I'm going to see who's there' and I followed everyone down here when they said they were going to Brixton."
He says he felt "euphoric" when he heard the news of her death. He adds: "It's like Tahrir Square. When have you ever seen people celebrating a stateperson's death like this?"
But for many, in spite of Thatcher's famous quote on the nonexistence of society, something both closer (and warmer) and something more abstract and symbolic than a statesperson has been lost. A 25-year-old local waitress, who asked not to be named, said she'd been moved by speaking to a woman about her experiences of Section 28. "And that completely justified my being here to celebrate someone's death, because actually I think it's a good chance for a very big cross-section of community to come together and have an opinion in a way that you can't really do anymore."
"I called my mum and I said 'Mum, I'm in Brixton at a celebration of Thatcher's death' and she said 'I'm so happy you're there'. And that's it, for me it's inherited. And it's a chance to speak to people living under the actions of Thatcher."
All of which highlights the nonsense of the 'dumb kids' rhetoric of the Mail and many others. This was used to great effect after the London riots: in casting protesters as mindless, we cannot share in thinking about their actions and motives. Whether it's schoolchildren tweeting 'Who was Thatcher anyway?' or protesters who are 'too young to remember', we are all living lives deeply shaped by Thatcher. There's no denying that.
Everyone I spoke with had a clear, and decidedly political, sense of why they were there. Whether it was "decimating the working classes", "dissolving society", "introducing a system that could make a coal miner go out into the street and fight with a policeman", or "creating punk rock 'n' roll", Maggie meant something to all.
Another common thread was the spontaneous, and digital, ways by which people had found themselves there. Whether it was through Google, Facebook or text message, they had reacted to a gut impulse at hearing about the death of a member of their community – and turned to those around them for answers.
Register for free to continue reading
Registration is a free and easy way to support our truly independent journalism
By registering, you will also enjoy limited access to Premium articles, exclusive newsletters, commenting, and virtual events with our leading journalists
Already have an account? sign in
Join our new commenting forum
Join thought-provoking conversations, follow other Independent readers and see their replies