The body politic? Angelina Jolie's double mastectomy is radical - and not just for her chest
The step she took goes beyond altruism. She has made it all right to be a strong, powerful, beautiful woman without breasts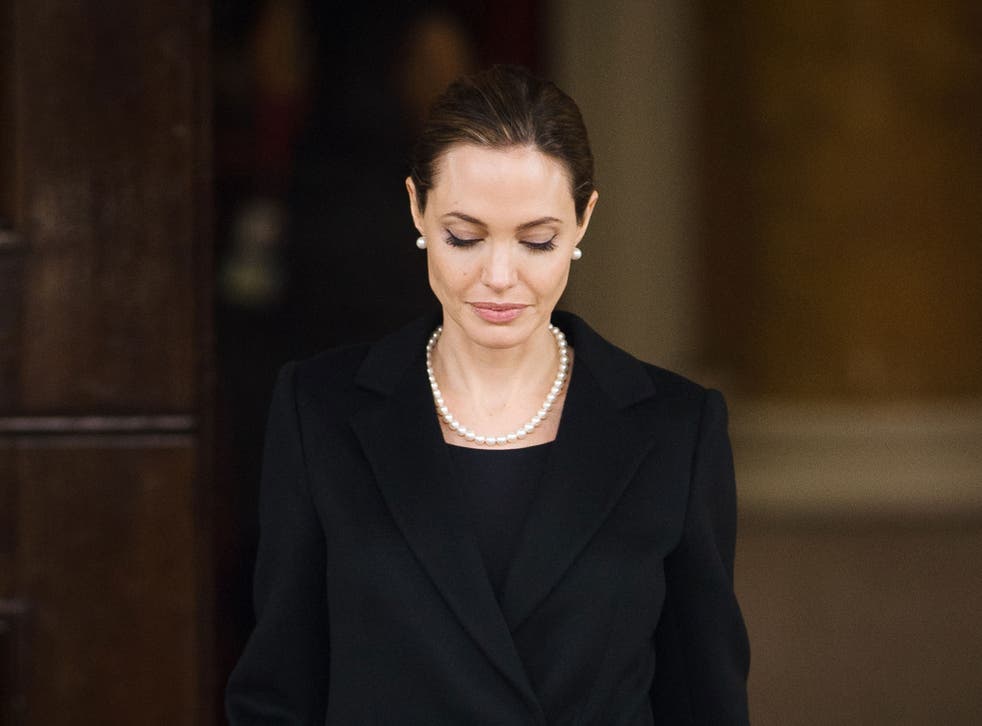 Angelina Jolie was never just a woman. She was never just a movie star, even. Since she first came to the public's notice, around the turn of the century, she has looked and behaved in an other-worldly manner. That pneumatic figure, that go-fuck-yourself attitude and those eye-poppingly intense relationships of the familial and romantic kind…
Now she has done something else extraordinary. The Most Beautiful Woman in the World™ has elected to have her breasts removed. She has become The Most Inspiring Woman in the World (for this week, at any rate). Not only has she become the instant figurehead for taking control of your own medical destiny, but she has made it public in the most significant manner possible.
Armed with the knowledge that she holds the BRCA1 gene, giving her an 87 per cent probability of developing breast cancer, Jolie has undergone surgery to remove her breast tissue completely, thus reducing the risk to less than 5 per cent. It was suggested to me that it must have been such a dilemma for her to face. What dilemma?
You'd have to be a particular breed of ostrich to ignore those odds (and Angelina, as we know from Kung Fu Panda, is more of a tigress). In an area of medicine riven with probabilities, possibilities, outcome variables and potential side effects, 87 per cent is a zinger. It's un-ignorable. Even if you have all the money in the world at your disposal, and a career that is built – in large part – on your appearance, the only figure that matters in the end is that 87 per cent.
Over the past three months, she has undergone painful and traumatic surgery, as she detailed in her eloquent and deeply moving editorial in the New York Times yesterday. And because everything Angelina Jolie does makes headlines around the world, from having a character changed from male to female (in Salt) to adopting more children than some think seemly, to wearing a phial of her then-husband's blood around her neck, to becoming a major player in the UN, so the news of her breast surgery has made headlines around the world.
Just imagine that you're a woman whose female relatives have all contracted breast cancer, or who has discovered a large lump in her breast. That terrifying diminishing feeling, of being a scared and lonely patient about to lose your very femininity, is swept away. It is beyond altruism. Angelina has made it all right to be a strong, powerful, beautiful woman without breasts.
That is not facile. In my own adventures with breast cancer, the overriding fear among my fellow patients was of becoming less of a woman. Not pain at the surgery, or anxiety about what chemotherapy would feel like, but being looked at and found lacking. Because let's be clear, women's breasts are looked at. They are the headlights on the car, the shop window display, nudge, nudge.
God knows, I've had some men address my chest, the flat plains of my chest, and finally meet my eye with a look of puzzlement. Ain't nothing going to change that in a hurry. But if Jolie's changed chest arrangement makes any number of men have conflicting feelings about tits – if in some deep recess of their mind they know now that it's not just about the jiggle and the nipples – that's no bad thing. (Don't worry guys, she's still got those pillowy lips to perv over.)
For the rest of us, body image is the less-spoken part of her (I'll say it again) extraordinary statement. "On a personal note, I do not feel any less of a woman. I feel empowered that I made a strong choice that in no way diminishes my femininity," Jolie says. It is important to note that she has had reconstructive surgery, so to anyone outside her very nearest and dearest, there is no actual change to her silhouette. Newspaper picture editors poring over photographs of her in February, March and April will confirm as much.
But as anyone who has been, or been near, a breast cancer patient will tell you, reconstruction is a most painful and intrusive procedure – far worse than the initial lumpectomy or mastectomy. It often entails removal of skin from another part of the woman's body (say, the back or the tummy) to create the skin, fat and/or muscle of the breast. I've had a skin graft: it is howlingly painful and doesn't heal for a long time.
Most of us might deliberate over subjecting ourselves to more surgery that is not medically necessary. But if our job was, in part, to look beautiful – to be Lara Croft and Mrs Smith and Evelyn Salt all rolled into one – it might be felt more necessary.
Jolie has, as she points out in her editorial, the love and support of her partner Brad Pitt and her six children. She has millions of dollars, no need to work ever again (even if the fables about six nannies and houses in every country in the world were true), so I hope her reasons for subjecting herself to reconstructive surgery were not professional. No woman should have to wear a wig after chemotherapy, or have implants in her chest (and, as last week's news pointed out, these can adversely affect detection of future breast tumours) unless she wants to. But she, like any woman, will want her body back, the familiarity of the way clothes fit.
The gawkers can go hang. The paparazzi hoping for a long-lens summer-holiday shot of Jolie in swimwear with the faintest of scars can piss right off. To needlessly pop the balloon of "Sexiest Woman Alive" by publicly detailing her surgery makes her, to my mind, incandescently attractive.
Oh, and one other thing. This is not a cure for breast cancer. We're nowhere near a cure. It's terrible that anyone should have to lop off parts of their body to try to prevent cancer from developing. But the fact that someone so out-of-this-world famous and glamorous has spoken about it makes her worthy of our undying affection.
Register for free to continue reading
Registration is a free and easy way to support our truly independent journalism
By registering, you will also enjoy limited access to Premium articles, exclusive newsletters, commenting, and virtual events with our leading journalists
Already have an account? sign in
Register for free to continue reading
Registration is a free and easy way to support our truly independent journalism
By registering, you will also enjoy limited access to Premium articles, exclusive newsletters, commenting, and virtual events with our leading journalists
Already have an account? sign in
Join our new commenting forum
Join thought-provoking conversations, follow other Independent readers and see their replies