The death of traditional retailers like HMV started when we caught on to one-click and the joy of owning DVDs wore thin
Farewell, then, to a victim of click, click, hooray. Also: leave Scrabble alone!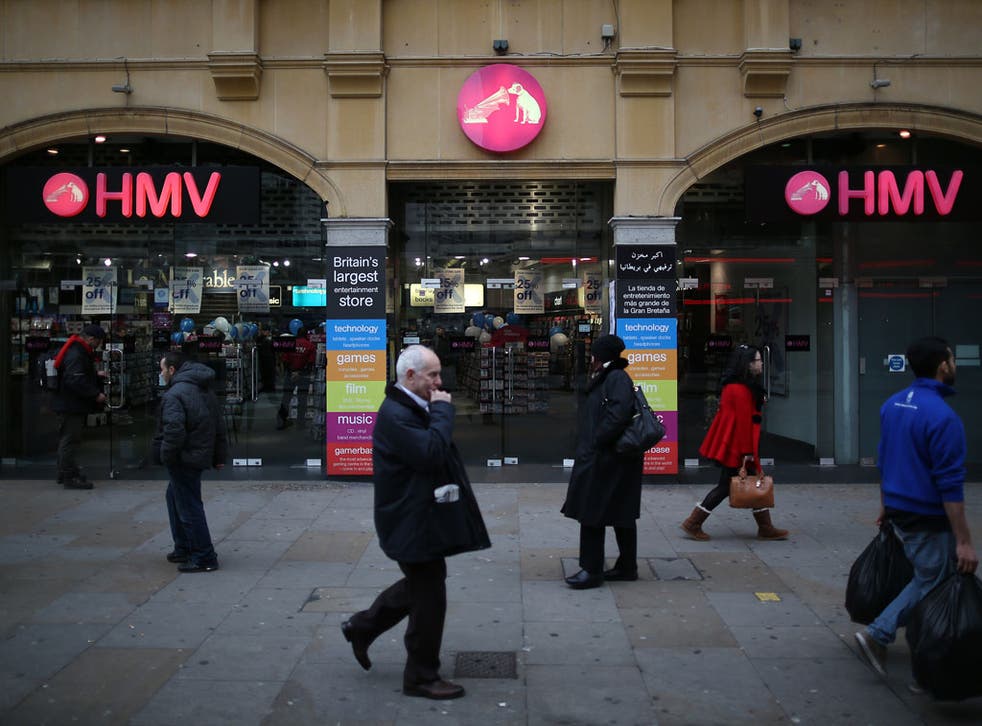 As Mr Selfridge pirouettes around his store beholding the bright dawn of recreational shopping in ITV1's newest Sunday night "period drama for dumdums" extravaganza, there's an irony that this week saw another heavy nail thumped into British shopping's coffin.
HMV – that place where my crimp-haired friends and I met boys and bought Sisters of Mercy T-shirts – is to appoint an administrator. This is very sad, yet wholly unsurprising. I can't blame David Cameron for this one, although I'm sure his PR team would swiftly tell me he's been keeping HMV afloat in Pink Floyd and Smiths CD purchases alone.
On the other hand, Toys R Us pulling out of my hometown of Carlisle last week, hot on the heels of Jaeger, Benetton, JJB Sports, Past Times, The Disney Store, Goldsmiths and Comet, well, this I found very dark. The concept of Toys R Us losing its grip on the art of selling toys face-to-face somewhere as deeply "family" as Carlisle – now this makes me anxious and, by default, political. These are bleak times for retail.
HMV, for very different reasons, for a long time has not stood a chance against the 21st century. We all killed HMV. We killed it with our Spotify, Netflix, iTunes and LoveFilm accounts, with our sexy Amazon one-clicks, with our Asda impulse "shove a Bublé record in with our shower gel" purchases and our curious fresh new "human right" to rob stuff off the internet. We all killed HMV with our impatience to hear things NOW, not in 20 weeks' time when its PR and distribution schedule allowed it. We killed it with our general antipathy towards smelling and seeing our fellow man. Oh, bollocks to human interaction. I bought a new toaster, some audio wires and a PG Wodehouse novel last night on my phone, on the sofa, all in one tax-dubious Amazon basket, without even dislodging the snoring cat across my chest.
Of course, in the 1980s and 1990s pre-mobile phone, pre-internet, well, human interaction was what we went to HMV for. Oh, HMV was a den of teenage hormonal iniquity, rocking with hormones, fluttering hearts and semi-erections. It was genuinely one of the only ways to meet like-minded local twonks, other than the laborious process of the NME Lonely Hearts PO Box section.
Eyes met across a crowded Indie/Alternative section. Ah, the small thrilling steps from earnestly discussing The Teardrop Explodes to the potential of heavy-to-atomic-level petting in a park with a bottle of Thunderbird. Great times, but, importantly past times. Facebook, BBM and Twitter have ruined HMV's usefulness as knocking shop with a sideline in flogging CD singles and other "stuff".
And, to be frank, the joy of owning "stuff" – piles of DVDs, vinyl, CDs and books – has become ever so quaint and eccentric now. It's long been my suspicion that HMV was being kept afloat solely by single males filling their houses to the brim with Blade Runner: The Director's Cut DVD box sets and Tom Petty multi-disc collector's sets, all of which would be sent on a one way trip to Big Yellow Storage once someone took them in hand, saying "Why does your living room look like HMV Croydon?".
But surely the main category of people HMV were relying on for business in recent years were people who hadn't worked out how to use the internet yet or simply couldn't afford it. I am not a trained corporate accountant but something seemed awry here.
In future business seminars, I will point out why several popular women's shoe shops will, within 10 years, become obsolete, killed by stores like Asos.com (because many women don't want to waste 40 minutes in a shop that feels like a bad nightclub, waiting to be told by a mumbling teen in a headset that the size isn't in stock, and there are no mirrors to see your feet in the shoes). I will also offer a meditation on the forthcoming death of the high street and business park "white goods" industry. Because why would anyone in 2013 go to the hassle of buying and arranging the delivery of a fridge-freezer in person? Click, click, hooray. Yes, I want someone to blame for the dying high street, but the blame, it seems, is closer to home.
Hands off my scrabble board, Joshua!
From time to time, I float the idea of the BBC, as a cost-cutting tactic, cancelling The Archers on R4 – which is unending awful bilge – mainly to see the dark, hunted and haunted expression of otherwise balanced people. Ha! Such, safe twee gubbins? How can anyone get so het up?
But then I found out about American Scrabble enthusiast, software developer and, might I add, "annoying berk" Joshua Lewis' proposal to change the scores on the Scrabble tiles to a "fairer system".
I don't want Scrabble to be fairer, Joshua. Scrabble's stark unfairness has been the key to my victory at it for decades. In Joshua's land, or cloud cuckoo land as I call it, the Z would no longer be worth 10 points. (What fresh hell is this! Having that Z cued up for a triple-letter zinger has been the highlight of many an arduous mini-break). The C would be worth only 2 points. The G worth 3. The Q would remain as a 10. And so it bloody should. You need a U with the Q or you're almost always stuck with it.
Unforgivably, in Joshua's new system, which he calls Valett, but I like to call more accurately "the complete abandonment by modern society of all that is decent and true", X would be a piddling 5.
I'd like to pour the entire bag of tiles over Joshua's meddling head and poke him with the plastic tile holding device. I have tasted my "provoking those with twee hobbies" medicine. And it is bitter.
Register for free to continue reading
Registration is a free and easy way to support our truly independent journalism
By registering, you will also enjoy limited access to Premium articles, exclusive newsletters, commenting, and virtual events with our leading journalists
Already have an account? sign in
Register for free to continue reading
Registration is a free and easy way to support our truly independent journalism
By registering, you will also enjoy limited access to Premium articles, exclusive newsletters, commenting, and virtual events with our leading journalists
Already have an account? sign in
Join our new commenting forum
Join thought-provoking conversations, follow other Independent readers and see their replies