The floods may have finally shocked rightwingers into taking climate change seriously
Surely refuseniks feel duty-bound to rethink beliefs. Some clearly can't or won't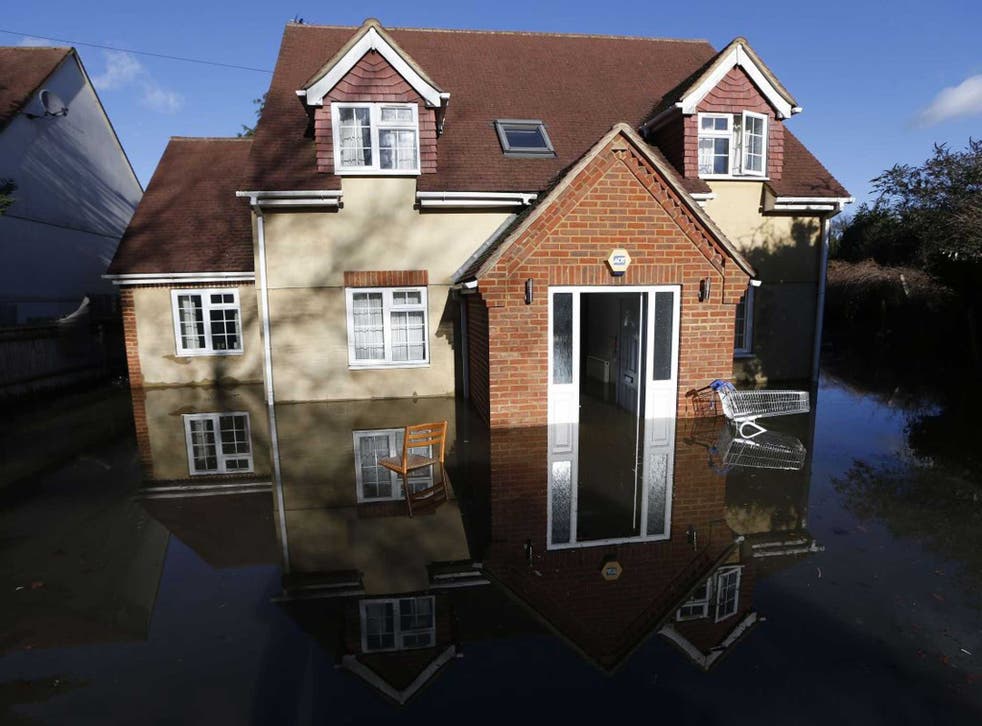 Biblical floods, submerged habitations, devastated, distraught people who have lost everything.
This is a turning point for me and, I assume, millions of others. I wasn't daft enough to be a climate change denier, but was just not that much into green politics and environmental science. This is, I think, the first column I have ever penned on the subjects.
My spouse, in contrast, is eco-aware and one of nature's dedicated proselytisers. In the past when he started up about recycling, fossil fuels, deforestation or agricultural vandalism, I would sing Boney M songs loudly to cut out his words. (He can't bear Boney M.) Yes, frivolous and immature. After reading Germaine Greer's latest book on the piece of Australian forest she bought and returned to the wild, I had started thinking more deeply about the planet and human recklessness. Then came this washed-out winter. Shock and awe have been followed by buckets of guilt. Guilt is good if it leads to personal and political reappraisals and candour.
Something seriously bad is happening to climate patterns all around the world. Typhoons, droughts, flood and famines have destroyed parts of our beautiful planet. But all that was happening out there, to other folk, often dusky and wretched, those who have been thought of as the flotsam and jetsam of humanity, perpetually needy. Though millions of pounds were raised by charities, concern was not sustained.
Just last November, Typhoon Haiyan ravaged the Philippines. I had forgotten all about the cataclysm until I saw Simon Roberts' heartbreaking pictures of the makeshift shacks that survivors still live in (they are on the Oxfam website). The 2004 Tsunami was different because several Westerners were, tragically, swept away. Questions were asked if such catastrophes were getting more frequent, ferocious and were partly man-made?
Those have become urgent as our isles deal with fierce weather onslaughts on people and places.
Surely most obstreperous refuseniks feel duty-bound to rethink orthodoxies, beliefs, behaviours, policies and biases? Some clearly can't or won't. Though most sceptics have been spookily silent recently, an agitated Nigel Lawson has been coming out with bizarre explanations, blaming, among other "evils", wind turbines – tilting, like pathetic old Don Quixote, at windmills.
Floods UK: Before and after images of affected areas

Show all 21
His son, Dominic, is also a fundamentalist denier. These two and others within the (hopefully ever smaller) band of doubters want total proof and unconditional causality – knowing such absolutes are impossible at this point. They have yet to produce substantial, uncompromised, peer-reviewed research to prove there is no climate change. Or to reveal any links they may have to businesses which may or may not affect the views they hold and disseminate.
Their contemptuous disregard for facts and evidence-based theories should make them irrelevant. But the media just loves some mavericks and so they get to sound off and confuse the people, especially the undecided. After these storms, one hopes, Britons will listen less to these ideologically driven, right-wing refuters.
On to another fave right-wing bogey – the big, bossy state, which steals all our money and spends it on pen pushers, lesbian fests and cruises for prisoners. Many of those same moaners, I reckon, have this week been blaming the Environment Agency and DEMANDING to know what the Government has been doing/will do to stop rain from falling on British soil and swamping their good lives. They now want big government, a sturdy nanny to take care of them and wipe their tears. Their anger and pain is evident and understandable, their demands right and just. Perhaps now they will stop their silly moans and pay taxes nicely. Only governments – local and national – and international bodies can plan for future climatic disasters and respond when crises arise.
Human relations too have been profoundly altered by the deluge. Rushing and rising water recognises no class, race or wealth differences. Nor do humans when they are caught up in calamities. Preconceptions about groups wash away. Victims and those who go out to rescue them have to cooperate or sink.
I have been struck by the camaraderie in the worst-hit areas, the willingness to help, to share pain, treat each other with respect. Sure the farmers are angry with townies and vice versa, and there have been some disgraceful mutterings from Ukip types about how we should cut overseas aid, but that is all talk. When they have to, British men and women seem able to muster empathy and generosity towards strangers in distress. As they have this fortnight.
In the volatile times to come, we have to do our little bit for the environment. I promise to try harder. Anti-social right-wingers calling for the state to back off need to wake up and grow up. The wrathful rains have kindled kindness and resilience.
The selfish among us must now know that without cooperation and mutuality, our citizens are vulnerable and perilously weak. After this transformative winter, nothing can be as it was.
Register for free to continue reading
Registration is a free and easy way to support our truly independent journalism
By registering, you will also enjoy limited access to Premium articles, exclusive newsletters, commenting, and virtual events with our leading journalists
Already have an account? sign in
Join our new commenting forum
Join thought-provoking conversations, follow other Independent readers and see their replies