The Government's assault on our beavers is all part of their Stalinesque approach to wildlife
This could be hello and goodbye to our long-toothed friends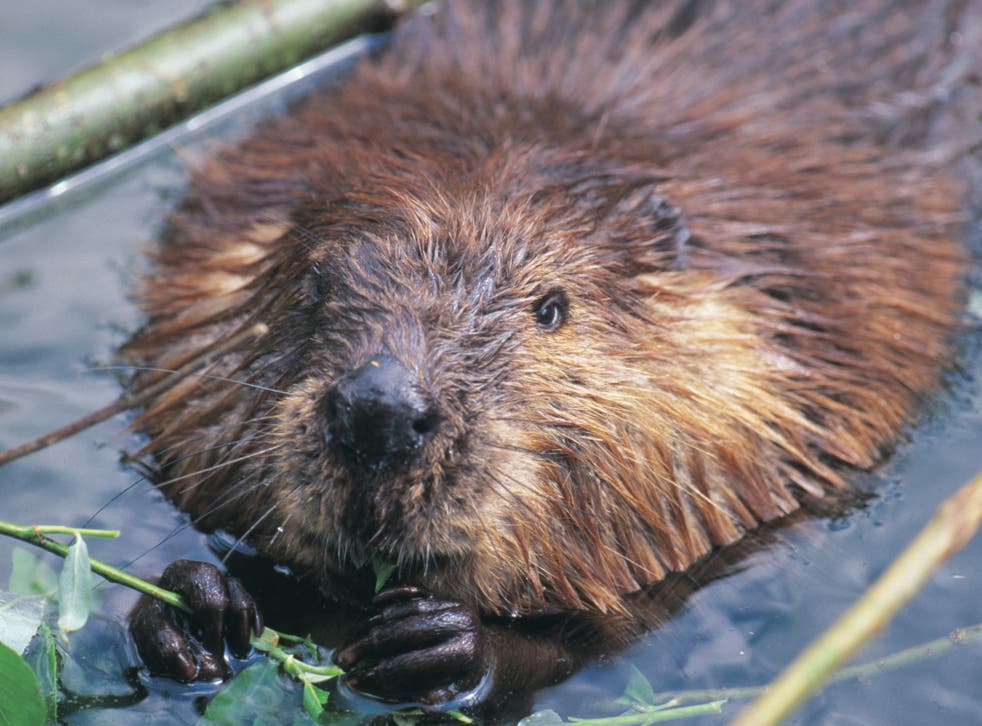 First they came for the ducks. Now they are gunning for the beavers. Hot on the heels of reports that a colony of these animals has been spotted frolicking in the wilds of Devon, a minister in the environment department, Defra, George Eustice, says Defra intends to nab and "re-home" them. Many local people are appalled, and a petition to save them has gathered several thousand signatures.
Whether it will have the slightest effect is doubtful. According to Defra, there is a risk that the beavers harbour some kind of parasitical disease. What disease, we don't know, and almost certainly it won't matter. If it wasn't for the disease another excuse would be provided: a danger to fish, farmers, children perhaps?
Why is this nation of professed animal and bird lovers so keen on eradicating its own wildlife? Some years back it was the turn of the ruddy duck. An inoffensive, ornamental-looking bird, escapees had colonised these islands successfully – too successfully, it turns out. A rare triumph for birdlife in Britain, one might have thought - against a background of steep, relentless decline on the part so many other species.
But no. It turned out that some of the ducks were migrating from Britain to Spain and interbreeding with rare white-headed ducks, endangering the purity of the stock of the latter. One might have thought, so what? Alternatively, shouldn't have the Spanish have dealt with these migrants, if they deemed it so important.
All such considerations were pushed aside, however, as an order went out to kill the lot, which has been executed with efficiency. A few years ago, ruddy ducks could be spotted on ponds all over London and other places. Now they have gone.
The planned assault on the beaver is even more curious. Ruddy ducks were done way with partly on the grounds that they were an invasive, non-native species. The beaver is a native and only died out in the Middle Ages as a result of persecution. But that fact doesn't seem to count. Our authorities can always change the goal posts if they need to.
National Geographic Traveler Photo Contest

Show all 12
Of course, no one seriously challenges the idea that some invasive species need to be controlled, or even eliminated, when they pose an existential threat to others. Over a decade ago, hedgehogs were removed from parts of the Hebrides to the Scottish mainland, after it was shown that they were devouring almost all the eggs of nesting sea birds. Grey squirrels have been removed from some forests to give struggling reds a chance to recolonise former territory.
But Defra's recent - and planned - wars of extermination cannot be justified on those grounds. The ruddy duck was not a predator or competitor. It posed no threat to mallards or any other duck. Beavers are another addition. We should welcome their return to the wild.
Meanwhile, plans are afoot for more wars of extermination, against wild boar in the New Forest, for starters. Again, the wild boar is a native species. However, pregnant sows could potentially attack children, we read, so it looks like they are for the high jump. There is talk of a mass killing of the parakeets that have colonized London and the southeast.
What is odd is that the numerous wildlife organisations operating in Britain maintain silence concerning the ideology behind these eradication programmes. Surely they could promote a more genuine debate about whether this shoot-it, kill-it, approach to non-native "invaders" - and to native returnees - is absolutely necessary. In many ways it is a nonsensical idea; Britain is awash already with non-native species, starting with rabbits, pheasants and most types of deer.
The UK is becoming like Stalin's Russia when it comes to wildlife. One moment a bird or animal is there. Then, following a hasty show trial - at which it is pronounced guilty of some vague crime - it just disappears. Why do we allow this? Why isn't the community in Devon being consulted about the impending "re-homing" of their beavers, for example?
We should insist on clearer criteria for these eradication programmes, starting with the establishment of a principle that they should only go ahead if it is absolutely plain that they pose an immediate, dire, threat, either to other species or to ourselves. Otherwise, it seems the "disappearances" will continue.
Register for free to continue reading
Registration is a free and easy way to support our truly independent journalism
By registering, you will also enjoy limited access to Premium articles, exclusive newsletters, commenting, and virtual events with our leading journalists
Already have an account? sign in
Join our new commenting forum
Join thought-provoking conversations, follow other Independent readers and see their replies