The HS2 shambles reveals how our politics can't cope with planning
Planning far ahead does not fit the marketing needs of political campaigning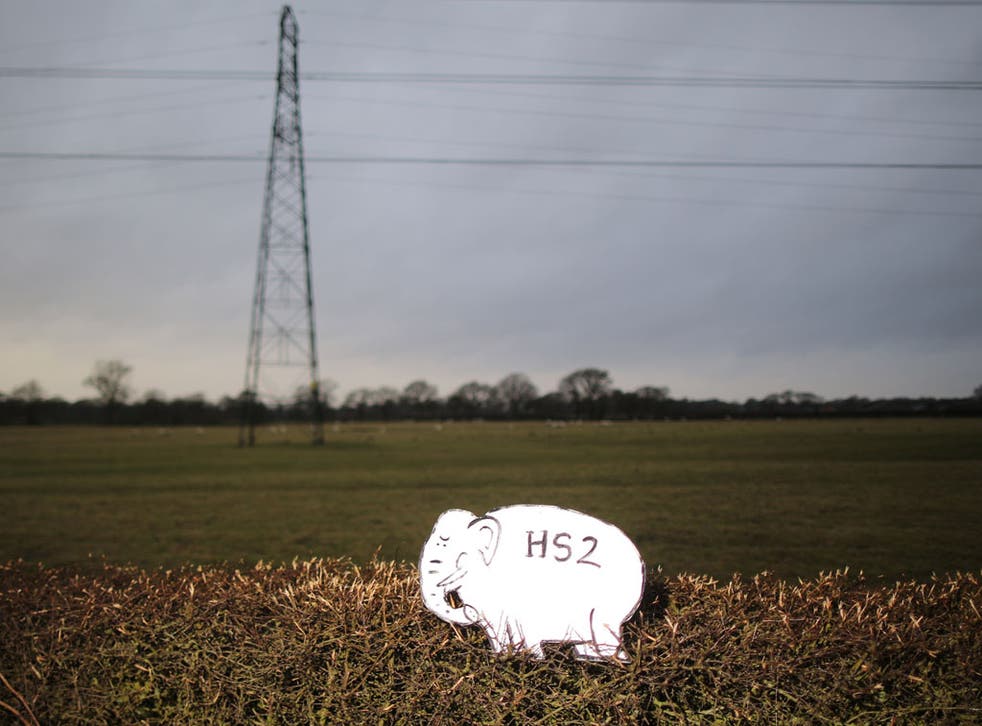 In its origins, the HS2 project to build a high-speed railway from London to Birmingham and points north was conceived as a political marketing ploy. The socialist panjandrum, Lord Mandelson, gave a full account last July of the Labour Government's thinking when it gave the go-ahead in 2010 just before the last general election. Actually I find Lord Mandelson's confession just as shocking as anything that Damian McBride has revealed about his years as a character assassin with the same Labour Government.
I repeat what he had to say because the outcome of an ambitious project is often determined by its origins. Thus we learnt that the cost estimates Labour had at its disposal were "almost entirely speculative". Think about that: relying on guesswork when planning to spend billions of taxpayers' money. Then Lord Mandelson added, "The decision was also partly politically driven… We were on the eve of a general election and keen to paint an upbeat view of the future… we were focusing on the coming electoral battle, not on the detailed facts and figures of an investment that did not present us with any immediate spending choices". This is worse still in my opinion – huge sums were to be spent for party advantage. Which is pretty close to stealing from the taxpayer.
So what should have been asserted in 2010 before the project's go-ahead was finally stated by Ed Balls, the shadow Chancellor, in his speech to this week's Labour conference. He said, "The question is not just whether a new High Speed line is a good idea or a bad idea, but whether it is the best way to spend £50 billion for the future of our country". And he argued this even though he too is preparing for a general election.
Nonetheless the comfort that these words inspire is limited. For Mr Balls said nothing about how such an immense project should be managed should a Labour government decide to proceed with it. And please don't say this is detail that can come later; it is of the essence. In this respect, consider what the Public Accounts Committee (PAC) of the House of Commons, chaired by the redoubtable Margaret Hodge MP, had to say earlier this month on the management of the HS2 project by the Department for Transport.
According to the PAC, "So far the Department has made decisions based on fragile numbers, out-of-date data and assumptions which do not reflect real life". The real life reference alludes to the department's assumption that business travellers cannot and do not work on trains using modern technology. And the committee added an accounting point of high significance when it said that the programme's large contingency appears to be compensating for weak cost information. In other words, the Government hasn't the foggiest idea of the real cost, so it sticks in a large figure for unexpected developments and hopes nobody will notice the extent of its ignorance.
This, by the way, is the same government department that recently wasted million of pounds in a faulty bidding process for a new franchise to run the InterCity West Coast line. As a subsequent review put it, the department made significant errors during the competition, which not only caused the cancellation of that franchise award at considerable public expense but also called into question the remaining franchising programme and the department's ability to conduct it.
This amateur, bungling approach to managing infrastructure projects goes wider than just the Department for Transport. The Treasury, for instance, has identified 40 key projects and programmes that break down into more than 200 separate projects. But this does not add up to a properly targeted and prioritised infrastructure plan. It is just a wish list.
In fact the dearth of new projects is frustrating business leaders. As the Financial Times reported, Steve Holliday, head of National Grid, Britain's biggest energy supplier, is warning that the UK risks falling behind in national competitiveness if it doesn't deliver on infrastructure. John Cridland, director-general of the CBI, says the government had "talked the talk on infrastructure for the last two years with little sign of action… the faltering speed of delivery on infrastructure creates a worrying sense that politicians lack the political will to tackle some of the major issues head-on".
Here, then, is something that is an opportunity for Mr Balls. He could have made much more of it in his conference speech. Because I don't think that business really minds whether a Labour government, or a Coalition government or a Conservative government carries out a greatly increased investment in a range of infrastructure projects extending much wider than HS2. We are talking here of investment in energy supply, high-speed broadband, a water sewerage and flood defence system, airport capacity in the southeast and road congestion.
A group of economists whom I imagine the shadow Chancellor respects, the LSE Growth Commission, have done a lot of thinking about the issues. Indeed I don't think the problem could be more succinctly described than in this extract from their recent report: "Investments in infrastructure, such as transport, energy, telecoms and housing, are essential inputs into economic growth. They are complementary to many other forms of investment. They also tend to be large-scale and long-term, requiring high levels of coordination to maximise the wider benefits that they offer. This makes it inevitable that governments will play a vital role in planning, delivering and (to some extent) financing such projects."
The LSE would like to see an "Infrastructure Strategy Board" established to provide the strategic vision in all areas: its key function to provide independent expert advice. Under it would come an Infrastructure Planning Commission charged with delivering on the strategic priorities. In the LSE's view, this body would have independence from ministerial decision-making. It would also like an Infrastructure Bank created to facilitate the provision of stable, long-term, predictable, mostly private sector finance.
We know from the Armitt report into infrastructure planning, recently commissioned by the Labour Party, that much of this is accepted by Mr Balls. In his speech, he said: "We will set up the independent Infrastructure Commission, as recommended to us by the Chair of the Olympic Delivery Authority, Sir John Armitt, to end dither and delay in infrastructure planning".
But why the reticence? The answer goes back to Lord Mandelson's revelations about the last Labour government. To paraphrase the famous slogan, "It's the economy, stupid" that Bill Clinton used to focus minds, in this case "it's the politics, stupid". For contemporary British politics cannot deal with the long-term.
Planning far ahead doesn't fit into the marketing needs of political campaigning, let alone fighting an election. Modern politics resembles the supermarkets that place attractive sweets and other goodies near the checkout counters. Long-term planning is considered much too serious to be easily saleable to the electorate – or so they think. I don't think that, as a matter of fact, but that is another story.
a.whittamsmith@independent.co.uk
Register for free to continue reading
Registration is a free and easy way to support our truly independent journalism
By registering, you will also enjoy limited access to Premium articles, exclusive newsletters, commenting, and virtual events with our leading journalists
Already have an account? sign in
Register for free to continue reading
Registration is a free and easy way to support our truly independent journalism
By registering, you will also enjoy limited access to Premium articles, exclusive newsletters, commenting, and virtual events with our leading journalists
Already have an account? sign in
Join our new commenting forum
Join thought-provoking conversations, follow other Independent readers and see their replies