The Iraq invasion was wrong, but this time we must get involved
A keenness to denounce Tony Blair and George Bush is parochial and does nothing to help those in need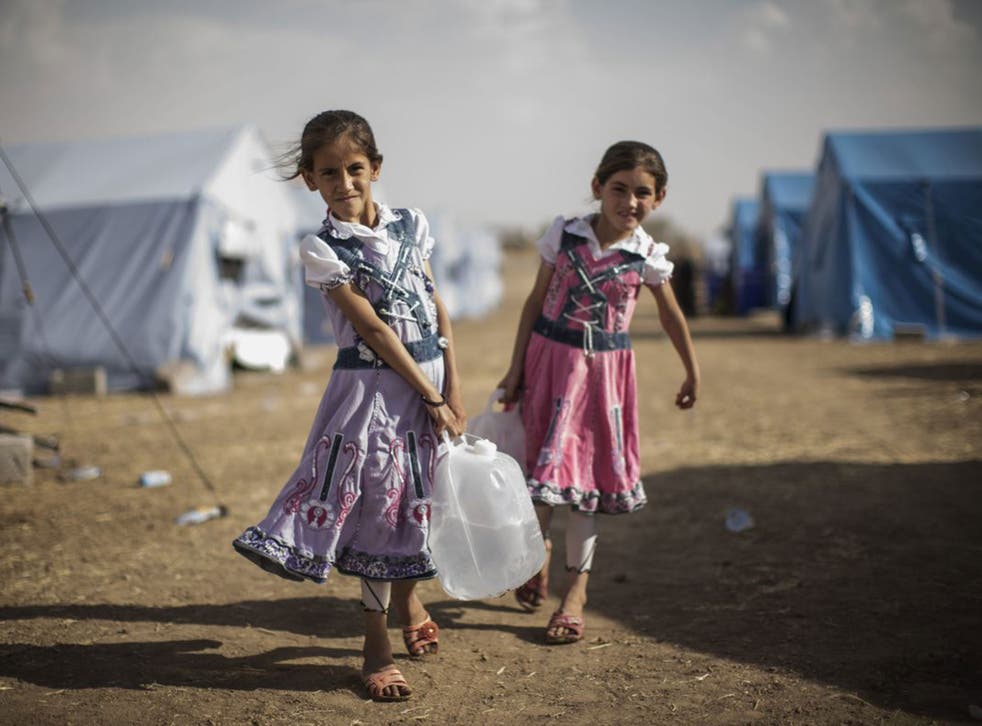 The takeover last week of Mosul, one of Iraq's largest cities, by an al-Qa'ida splinter group began with a PR disaster. The Islamic State of Iraq and the Levant (Isis) issued a decree, telling the city's two million inhabitants how they would be expected to behave: drinking and smoking were banned, everyone would have to pray five times a day and women would have to stay indoors except in cases of emergency. It was all horribly reminiscent of the moment when the Taliban seized Kabul in 1996, and the Islamists have since tried to tell local people that life will actually continue as normal.
Mosul was one of a string of towns and cities in northern Iraq that fell to Isis, prompting alarm among the civilian population of Baghdad and a looming refugee crisis. Save the Children warned of "one of the largest and swiftest mass movements of people in the world in recent memory", describing how families fleeing Mosul had only a matter of minutes to gather their belongings. As the exodus produced huge traffic jams, a UN human rights official said he was receiving reports of "very grave human rights violations, including summary executions" in Mosul. In Syria, where Isis first came to prominence, there were reports that the jihadists crucified three young men in a town near Aleppo last weekend for co-operating with a rival opposition group.
In December, Amnesty International called on the international community to block the flow of arms to Isis, which was originally made up mainly of foreign fighters but has recently attracted local recruits. No one took much notice: it is an indicator of the way in which Western governments have averted their eyes from the growing crisis in Iraq, preferring not to think about the consequences of the 2003 invasion. It is not as though Isis failed to signal its intentions since crossing into the country from its strongholds in Syria; in the past six months, it has captured Fallujah and parts of Ramadi.
At one level, it is understandable that the political leaders who followed George Bush and Tony Blair wanted to extricate themselves from a poorly prepared and unpopular invasion. Barack Obama, Gordon Brown and David Cameron were all keen to put the Iraq War behind them, but, in doing so, they compounded the original problem. One of the reasons I opposed the invasion was the fact that I had no sense, when I talked to British politicians, that they had any understanding of the difficulties they would face when Saddam Hussein was toppled. I remember arguing that de-Baathification would take a decade or more, making the idea of a quick in-and-out a pipe dream. This point is barely addressed in Blair's lengthy defence of the invasion, which he has published today. Last week, one of the scenarios emerging in Iraq was the possibility that Isis has formed an alliance with remnants of Saddam's Sunni Baath party, who feel they have no representation under the Shia-dominated government of Nouri al-Maliki.
Now the Obama administration has ruled out putting troops on the ground but is having to consider other military options In Iraq. The British government has also ruled out sending troops but says the UK may offer other support, which could include expertise in counterterrorism. No doubt, Cameron feels constrained by his bruising defeat in the House of Commons last summer, when MPs voted against even the possibility of air strikes on Syria to stop further chemical attacks by the Assad regime. But it sometimes feels as though the egregious mistakes of 2003 have created an almost permanent state of paralysis towards the region at Westminster.
That does not mean we have no further responsibility towards Iraq. The current mess is a consequence of the invasion; it is possible to argue that foreign forces should not have gone into the country in the way that they did, but also that they should not have left while the country remained so unstable. This is partly the fault of Maliki, who failed to negotiate terms under which the Americans would leave a small force in Iraq when they withdrew in 2011. Yet one of the striking things about Isis is how small their numbers actually are, with some reports suggesting they took the city with a single battalion of between 500 and 800 fighters.
It is undeniable that Iraq has a brutal, nepotistic, sectarian government and that Maliki isn't up to the job. However, allowing Isis to hold a swathe of territory in Iraq would be a disaster for civilians, as well as creating another base for terrorist attacks across the region and beyond. Maliki may have been sufficiently shocked by recent developments to bring more Sunnis into his government; in any event, his shortcomings are not a good reason to stand at arm's length and allow parts of the country to be controlled by a jihadist group so extreme that it has been disowned by the leadership of al-Qa'ida.
For around a decade, discussion about Iraq and Syria in the UK has been frustratingly parochial, amounting to little more than a variant on the perennially popular theme of "Tony Blair was wrong". I don't doubt that he was but it doesn't invalidate the principle of humanitarian intervention, backed up by military advice and even force on occasions. Instead of obsessing over a former prime minister who no longer matters very much, we should be thinking about how the international community can help the Iraqi government and the half million or so refugees who have left Mosul and other towns since the beginning of last week.
Register for free to continue reading
Registration is a free and easy way to support our truly independent journalism
By registering, you will also enjoy limited access to Premium articles, exclusive newsletters, commenting, and virtual events with our leading journalists
Already have an account? sign in
Register for free to continue reading
Registration is a free and easy way to support our truly independent journalism
By registering, you will also enjoy limited access to Premium articles, exclusive newsletters, commenting, and virtual events with our leading journalists
Already have an account? sign in
Join our new commenting forum
Join thought-provoking conversations, follow other Independent readers and see their replies