The latest front in Operation Divide and Rule sees soldiers used to fight a political battle
Defence Secretary Philip Hammond wants to divert welfare spending to the military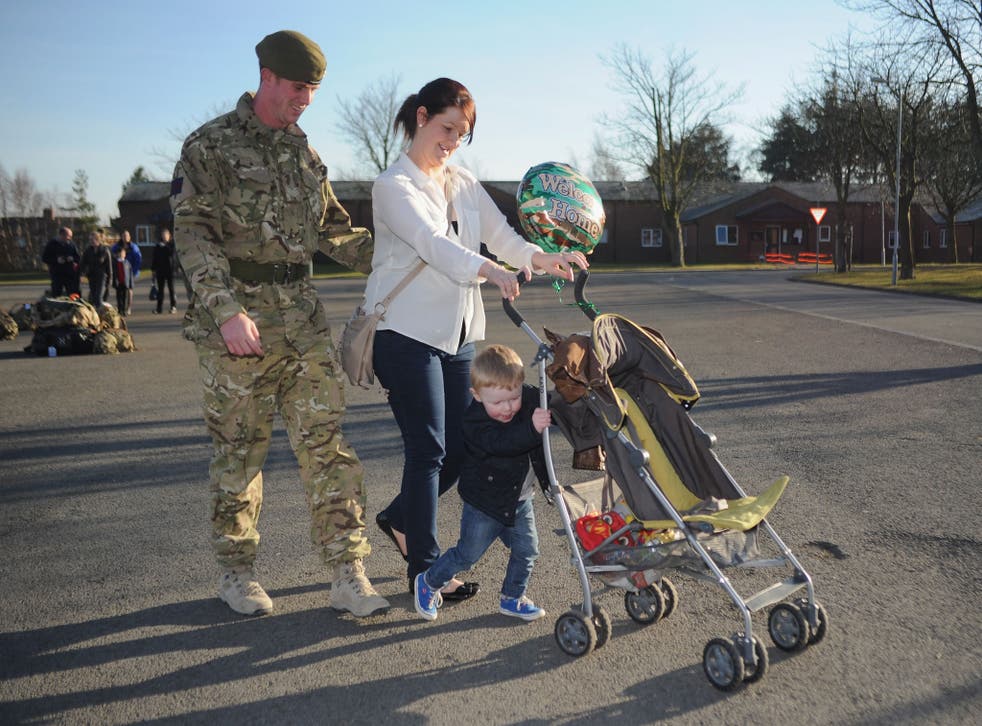 Neighbour against neighbour: it has been the strategy of this government ever since it embarked on its mission of trashing the economy. Struggling to make ends meet because your boss pays you poverty wages while the Tories are slashing your tax credits? Blame your unemployed neighbour. Stuck in a job where your employer no longer has pension coverage? Turn on the nurse next door who still has an intact pension. Having to make choices like heating your home or feeding your kids properly? Hate the immigrant down the road and their mythical generous benefits.
And now we have the latest addition to Operation Divide and Rule: soldiers versus scroungers. The "first priority," says Philip Hammond, Defence Secretary and new darling of the Tory Right, "must be defending the country and maintaining law-and-order." There is a "body of opinion within Cabinet that believes that we have to look at the welfare budget again," he adds, arguing that a further 0.5 per cent reduction would save military spending. Given that voters have intentionally been left with the impression that social security spending is being fleeced by Jeremy Kyle-addicted vegetables churning out feral children, the message is clear. That the biggest chunk goes on elderly people, or that landlords and badly paying bosses are being subsidised by taxpayers is, as ever, left unsaid. Following the Tories' drubbing in Eastleigh at the hands of Ukip, we can expect a lot more of this.
Using soldiers as political fodder is clever indeed. The aim of the message is this:here are courageous men and women, fighting in horrendous conditions beyond the imagination of most, risking (and tragically sometimes losing) their lives for our country. Who could be more deserving? Contrast that with hordes of feckless skivers, sticking their fingers up at hard-working taxpayers behind their closed curtains. Why are we showering the latter with mansions, widescreen TVs and even horses, while the former are battered by cuts?
Tax on soldiers
Not that it's just the Tories cynically using soldiers for political ends. Liam Byrne – banker-turned-politician and, tragically, Labour's spokesperson on the welfare state – sums up the cynicism and absence of humanity that defines modern politics. Even when he takes a stand against policies that destroy lives, he believes it can only be done by appealing to voters' basest instincts.
Rightly, Byrne damned the Tories last week for hammering soldiers' families with the bedroom tax. But the purpose was to make a contrast with convicts who he wrongly claimed were exempt, forcing Iain Duncan-Smith of all people to correct him and make a liberal counter-argument.
The truth is that soldiers are extremely brave people indeed. They are sent to unjust wars by politicians whose own kids are generally safely at Russell Group universities, cheered on by the keyboard warriors of the British commentariat, baying for others' children to endanger themselves in foreign lands. Soldiers are disproportionately drawn from working-class communities lacking in secure, well-paid work. No wonder polls reveal that opposition to the Afghan and Iraqi wars is highest among working-class voters, who are more likely to know people sent to face IEDs and snipers. "I joined the mob because of economics primarily – working class, poor, life of drudgery ahead," the army veteran and author Joe Glenton told me. And it is current and former soldiers – like millions of others – who are already being battered by the attacks on our welfare state.
If a soldier lives in social housing and is away from home for more than 13 weeks, their family will be expected to pay up to £80 extra rent a month under the bedroom tax. And sickeningly, soldiers maimed and seriously injured in war are having their disability benefits stripped away. Aaron Moon lost a leg in Afghanistan; perversely, an assessor asked the 25-year-old to move his toes before finding him fit for work. Councillors talk of taking up the case of sick and disabled veterans having disability benefits slashed. Ex-soldiers will be hit, too, by cuts to tax credits, housing and unemployment benefits. The idea that soldiers are somehow independent of the welfare state – and thus immune to attacks on it – is bunk, and Hammond knows it.
Veteran crisis
The Government has a duty to look after soldiers whose lives they have endangered. That is not what Hammond is interested in: here is pure political positioning, and a further attempt to redirect justifiable anger away from those responsible for the mess this country is in. "I think that a mix of unemployment and a lack of provisions for traumatised veterans is going to be a serious social problem over the coming years," Joe Glenton tells me. "We'll see more vets in nick, more alcohol and drug abuse, more domestic violence and so on."
It is a crisis that is already here. According to the Howard League, between 5 and 10 per cent of the prison population are veterans, and "comprise by far the largest occupational group in the prison system". According to NHS figures, nearly 4,000 ex-soldiers were diagnosed with mental health issues in 2010. More British soldiers have ended their lives since the 1982 Falklands War than died in the conflict itself. "The army exists to wage war," says Skip, a veteran diagnosed with post-traumatic stress disorder after fighting in Iraq. "It does not exist to take care of long-term health problems sustained in its service." State support is "woefully inadequate", he tells me.
So yes, let's safeguard soldiers' welfare. Let's do that by no longer sending them to fight unwinnable, unjust wars. Instead of simply sacking soldiers and throwing them on the scrapheap, let's find secure, dignified alternative work. Let's give the help needed to those struggling with mental distress. But let's not allow soldiers to be used as political weapons to make the poor poorer by this disastrous government.
Register for free to continue reading
Registration is a free and easy way to support our truly independent journalism
By registering, you will also enjoy limited access to Premium articles, exclusive newsletters, commenting, and virtual events with our leading journalists
Already have an account? sign in
Register for free to continue reading
Registration is a free and easy way to support our truly independent journalism
By registering, you will also enjoy limited access to Premium articles, exclusive newsletters, commenting, and virtual events with our leading journalists
Already have an account? sign in
Join our new commenting forum
Join thought-provoking conversations, follow other Independent readers and see their replies