The legal aid cuts are just the beginning of a move towards a fully privatised criminal justice system
The privatisation of legal proceedings in the US has led to untold miscarriages of justice - and now it's coming to a town near you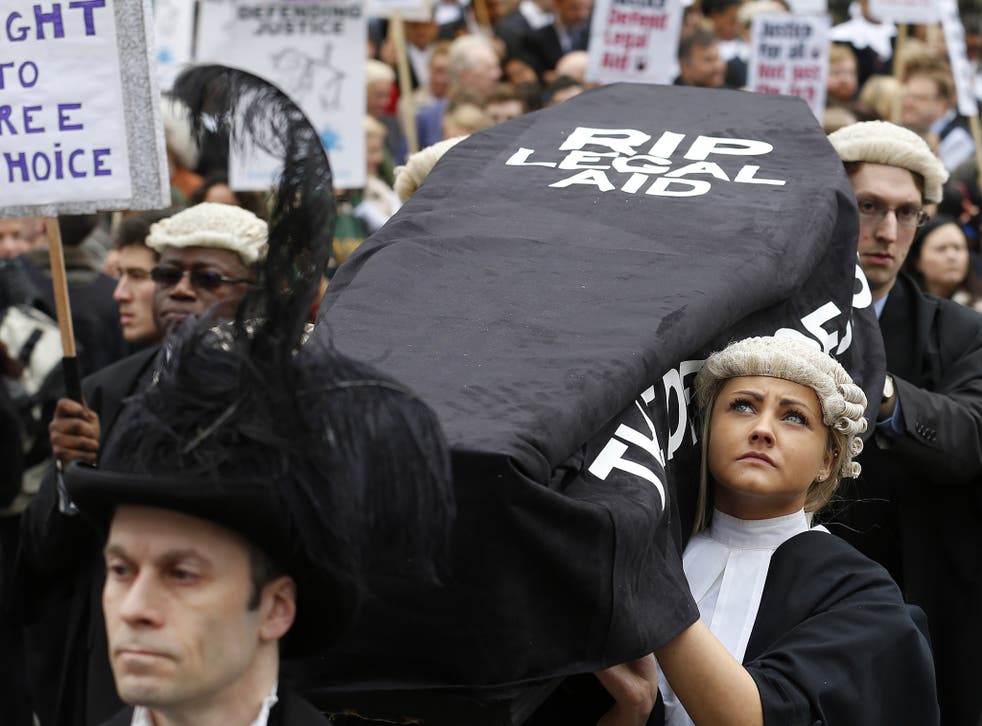 Yesterday, lawyers from across the country gathered outside the Houses of Parliament to protest the Government's proposals to privatise our criminal justice system. Justice Secretary Chris Grayling launched a public consultation on Government proposals to introduce price-competitive tendering for criminal legal aid work, which is open until 4 June 2013.
Under the proposals solicitors firms will bid for legal aid contracts in criminal work against leading competitors such as haulage firm Eddie Stobart and supermarket chains who aim to establish a legal arm to their business enterprise in pursuit of commercial gains. The Government will give contracts to the lowest bidders in an attempt to save £220 million per year by 2018 at the expense of justice. Price competitive tendering is part of the Government's ultimate aim to privatise our criminal justice system.
The UK are following America's neo-liberal economic model by privatising the criminal justice system in pursuit of profit. We only have to consider the result of price competition in criminal cases in the US to understand that privatised justice will be the death of justice for all. The US spearheaded low-bid contracts for legal services to ensure poor or needy defendants were represented. Different states implemented different forms of price competition for legal services. Although, some states, notably California, simply give contracts to the lowest bidder.
When a justice system is sold to the lowest bidder, justice no longer functions. America's legal system highlights that a system sold to low bidders churns out poor representation resulting in miscarriages of justice. Take the example of Gary Nelson's lawyer who represented him on a capital murder charge. Nelson's lawyer had never tried a capital murder case and was paid less than $20 per hour. His closing argument was 255 words long. Nelson was convicted.
Nelson's legal representative was not equipped to defend him nor any other defendant charged with serious criminal offences. Fortunately Nelson was later exonerated and released by a lawyer who had the experience, fortitude and money to ensure justice was done. Nelson was lucky. Many other defendants have been convicted of crimes they have not committed – convictions that would never have been upheld if they had access to meaningful representation, fair legal proceedings and above all, justice.
Research conducted by Meredith Nelson on low-bid contracts in America found that defendants represented by contracted lawyers are far more likely to plead guilty at first court appearances. There is an undeniable incentive for lawyers to encourage innocent individuals to plead guilty when lawyers make a living from 70 per cent of their clients pleading guilty at first instance.
In contrast, trials take considerably longer, and lawyers in America are paid poorly (or not at all) to conduct preparatory or investigative work in readiness for trials, which they may have little to no experience of. As a barrister, I am concerned that lawyers in England will soon have vested interests in persuading defendants to plead guilty. Under Grayling's proposals lawyers will be paid the same fee for guilty pleas, which take an average of one minute, as for trials, which can last anywhere from a day to several weeks.
What's more there is a clear conflict of interest when the same private contractor responsible for imprisoning defendants will also be responsible for representing them. Take G4S as an example: if G4S won a contract for criminal legal aid, they would be responsible for representing defendants in court. And once the defendants have pleaded guilty or are found guilty, G4S will then be responsible for securing the defendants (it once sought to represent) safely behind bars. Apparent vested interests will cause real concern that financial rewards are an incentive to ensure imprisonment rather than a fair trial at the expense of justice.
Lawyers across the country eagerly await the results of Grayling's consultation. But whatever the Government's final decision is, we know that it will follow America's privatised justice system in one way of another. Whether we follow the Californian model for procurement of criminal legal aid services currently proposed by Grayling, or another state, ultimately our system is heading the same way as America.
Register for free to continue reading
Registration is a free and easy way to support our truly independent journalism
By registering, you will also enjoy limited access to Premium articles, exclusive newsletters, commenting, and virtual events with our leading journalists
Already have an account? sign in
Register for free to continue reading
Registration is a free and easy way to support our truly independent journalism
By registering, you will also enjoy limited access to Premium articles, exclusive newsletters, commenting, and virtual events with our leading journalists
Already have an account? sign in
Join our new commenting forum
Join thought-provoking conversations, follow other Independent readers and see their replies