The Lib Dems should not sign up to Osborne's austerity straitjacket
The party must fight the election on its own terms - not the Tories'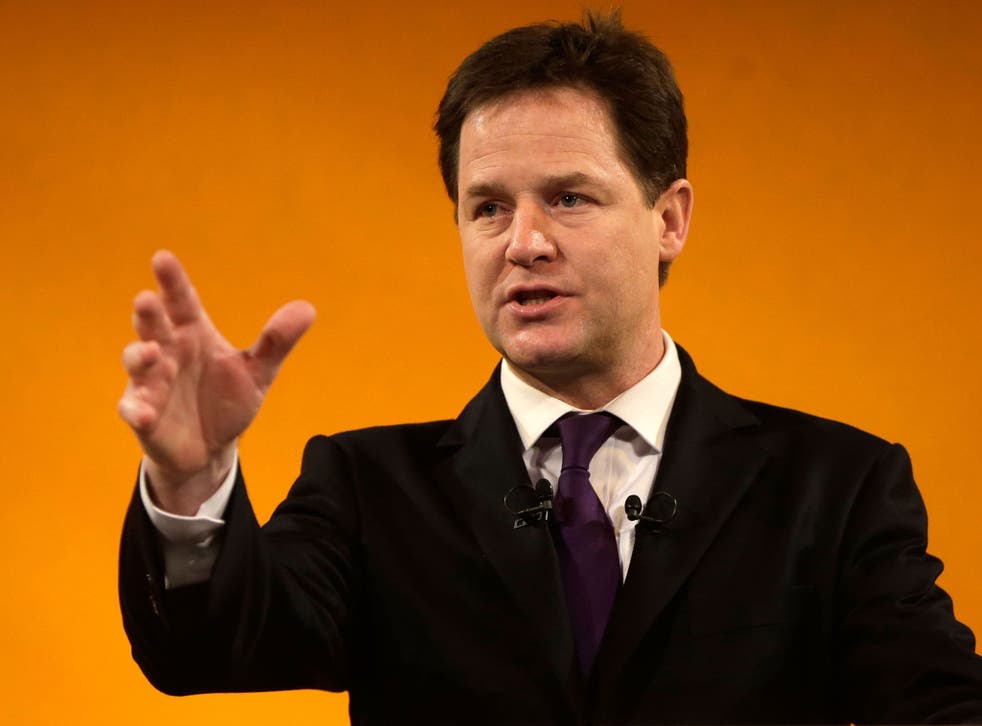 Amongst the undignified shouting and guffawing, George Osborne slipped a political timebomb into his autumn statement, whose significance may well shape the next general election. In setting what he sees as an elephant trap for Labour, he's waving what ought to be an enormous red flag for his Liberal Democrat coalition colleagues – and may well have tied his own hands should he return to No. 11 Downing Street in May 2015.
The Liberal Democrats cannot, or rather should not, sign up to the Chancellor's plan to lock in austerity – deeper than planned at any stage since 2010 – up to and beyond 2018. For one, it is economically illiterate. For another, the ink is barely dry on a hard-fought deal struck by the party to fight the next election on our "own distinctive economic policies," including fiscal plans to aid investment in "people, business and infrastructure," not on the same terms as Tory austerians. Any deal to balance the budget in the next Parliament no matter the state of the economy – and more importantly, peoples' living standards – flies in the face of that independent economic position.
Far away from the autumn statement's crowing about upwards revisions to growth – however unsustainable – and headline giveaways, the Chancellor's proposal to legislate for new fiscal rules would stretch fiscal consolidation far beyond those in his original – and long-since abandoned – Plan A.
Details are as yet sketchy but the plan for a new "charter for budget responsibility" probably means legislating for a balanced budget – eliminating not just the structural but absolute deficit – by 2018/19, and a shorter period on which to judge government spending plans than the rolling five years we have now.
This seemingly technical revision to how government finances work could have utterly devastating consequences on already-stretched public spending. Many serious commentators are already questioning the credibility of aiming for a balanced budget by a set date, not least if there are to be no tax rises beyond the unreliable "anti-avoidance measure" that seems to pay for everything these days. A charter that set a three-year fiscal mandate instead of a five-year rolling rule would effectively remove the government's ability to borrow to invest – anathema to Osborne but crucial in light of the Office of Budget Responsibility's gloomy assessment of private investment, which has fallen not risen by their original optimistic estimate. If business isn't investing, and the Government is determined to balance its books by a set date no matter what, there's only one outcome – years if not decades more of underinvestment in crucial infrastructure and services, and get more demand sucked out of a fragile economy.
Worse, it will mean yet more spending cuts for their own sake, distorting spending decisions for years to come. The talk of limiting "annually managed expenditure" – welfare to most of us – is an example, as it risks great damage to the most vulnerable in society for no good reason.
All this would be fine if it were just the Tories' chief election strategist plotting in his elaborate garden shed. But this vein of thinking risks inflicting real damage between now and 2015, and makes it even less likely that millions who have missed out on the recovery will feel any gain.
As for the Liberal Democrats, there are reports that Osborne and Nick Clegg have agreed that a budget surplus will be a feature of this new charter. Balanced budgets don't necessarily signify a balanced economy – something Help to Buy and lower household savings are moving us further and further away from. They are only of value if the real economy is providing people with the capability to live fulfilling lives. Should Clegg sign up to Osborne's plans, especially as at the Lib Dems' Glasgow conference in September he conceded the need to tax the wealthy more, he'll have to answer not only for what the charter commits the nation to, but for what his party stands for if not a distinctive vision on the economy.
Prateek Buch is director of the Social Liberal Forum
Register for free to continue reading
Registration is a free and easy way to support our truly independent journalism
By registering, you will also enjoy limited access to Premium articles, exclusive newsletters, commenting, and virtual events with our leading journalists
Already have an account? sign in
Join our new commenting forum
Join thought-provoking conversations, follow other Independent readers and see their replies