The lingering death of Hayley in Coronation Street is just too painful for me to watch
Art isn't life, whereas soap opera always somehow feels as though it is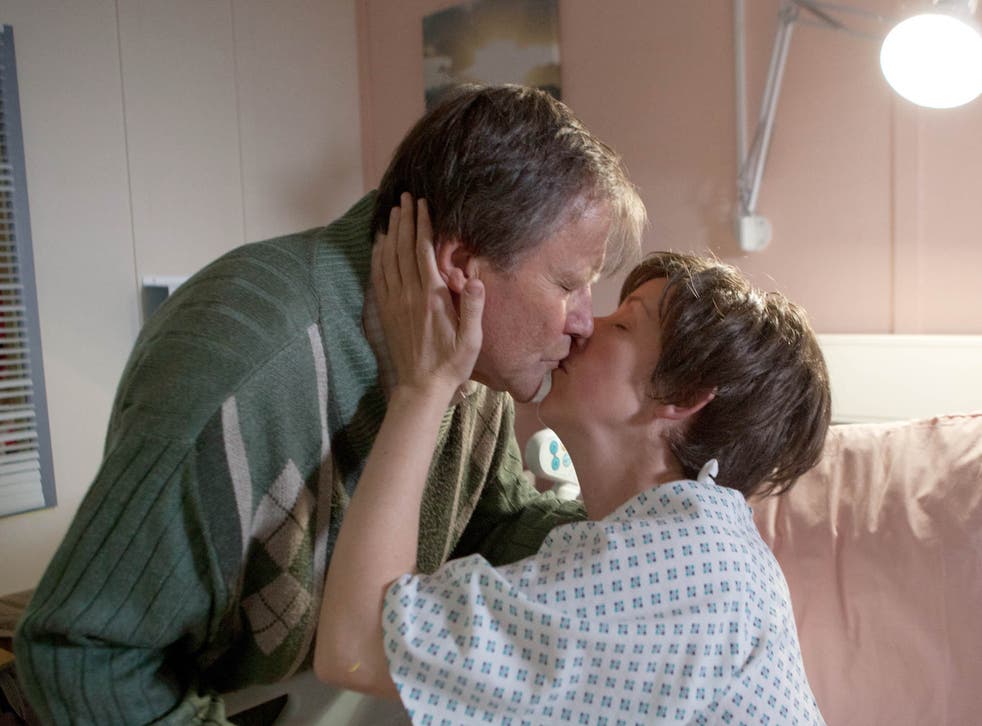 I fear it must attest to the essential morbidity of this column that almost the only time I refer to Coronation Street is when someone dies on it. Last time it was the fragile Alma, who departed in a becomingly confused state listening to Perry Como. We should all shuffle off as peacefully, though I've chosen Richard Tauber singing "Goodnight Vienna". If I make it through that I want the same singer singing "Dein ist mein ganzes Herz" to Marlene Dietrich, and if I'm still alive then, it's obviously going to be a long night and I'll need the St Matthew Passion. In this instance, the death on the Street hasn't happened yet but, barring divine intervention, will have before you are able, reader, to send flowers.
This isn't a spoiler. Not only has Hayley Cropper's death been dramatically imminent for some time, it has become second-page news in the popular press because the actress playing Hayley believes as fervently in assisted suicide as her character. The furore is of the usual uneducated sort. How dare they show children the way to suicide before the watershed! I would worry more, myself, that we show children the way to intellectual suicide whenever we let them watch Simon Cowell, but anti-euthanasia campaigners have a narrow understanding of what a life is.
Those who express pious concern about sex and swearing on the box the same: we violate the minds of the young with every manner of crassness and triviality, and then worry lest a profanity offend their hearing. Suffer the little children to gibber, so long as they grow up unsullied of ear and chaste of body – which they won't anyway.
Hayley, notwithstanding, is off. And if she does go the way she promises to, in charge of her own final hours, a whole person in the arms of the strange man she loves, we should salute her. But I'm not sure I'll be able to watch. Too painful.
That this has a lot to do with Julie Hesmondhalgh's acting – that I am going to miss her shadow puppetry as much as I'm going to miss her shadow puppet – I don't doubt. She has been the best thing in Coronation Street, along with David Neilson who plays her husband Roy, for years. And to be the best thing in Coronation Street is to be the best thing in any British soap opera – a verdict I reach, admittedly, without having seen all the others, but I have my finger on the pulse and what I know I know.
The premise of their relationship is somewhat extruded – Hayley, a pre-operative transgender male to female, and sometime friend, incidentally, to the Alma who died listening to Perry Como (an early intimation of mortality), meets Roy who isn't a pre-operative anything but carries a shopping bag and could be said to be in need of a boost to his self-image of some sort, though it's Hayley who goes to Amsterdam (an early intimation of her free‑thinking ways) for what I used to think was called realignment but is actually called reassignment surgery.
Roy's coming to terms with this, to say nothing of Hayley's coming to terms with Roy (a humourlessly honourable pedant with a thing for model railways), has kept the writers of Coronation Street busy for the past 15 years, masterfully steering the story out of the shallows of macabre curiosity into the deeper waters of an abiding and now tragic affection between two gauche and unglamorous people.
Detective dramas have come and gone on television recently, most of them overpraised. Too many lakes, too many dead children, too many wrongly accused paedophiles, and of course too many detectives. For my money, the tale of Hayley and Roy Cropper has knocked them all for six. And if you think Olivia Colman and Benedict Cumberbatch could have done it better, think again.
(Just an aside, but given our national obsession with the Old Harrovian Benedict Cumberbatch, to say nothing of such Old Etonians as Dominic West, Damian Lewis, Tom Hiddleston, Eddie Redmayne, Henry Faber and God knows how many more, isn't it time we English stopped complaining about the Etonian complexion of the Cabinet and admitted that the minute a public schoolboy opens his mouth or shows us his dimple we go weak at the knees? Britons never never never shall be slaves? Pull the other one.)
But acting alone doesn't account for my reluctance to watch Hayley die. No matter how well Julie Hesmondhalgh goes on to perform as Medea or Lady Macbeth, I doubt I will feel about them as I feel for Hayley. This is the point in a conversation about soap operas where the subject of catharsis invariably crops up, the classical view that art should purge us of immediate emotion and return us to life, restored to calm.
The justification for art lies in its being at once real and unreal: us but not us, us with the space to reflect on what we are, us as our own study and not the helpless victims of being – a familiarity tempered by remoteness that is beyond the reach of soap operas, partly because of the illusion of intimacy they create night after night, sometimes for years on end, and partly because they refuse both the artificiality of theatre and the fictionality of novels – even novels read out of the misbegotten impulse to "identify".
I don't mean this to be a qualitative distinction. Coronation Street is better written than many a play and film I've seen recently. But it isn't in its nature to free us from the raw immediacy of experience, to position us simultaneously within suffering and outside it.
So Hayley will have to die without me because I can't bear the naked, unmediated sadness of it.
Register for free to continue reading
Registration is a free and easy way to support our truly independent journalism
By registering, you will also enjoy limited access to Premium articles, exclusive newsletters, commenting, and virtual events with our leading journalists
Already have an account? sign in
Join our new commenting forum
Join thought-provoking conversations, follow other Independent readers and see their replies