The mother of all battles? Politicians should realise that fathers are a group worth wooing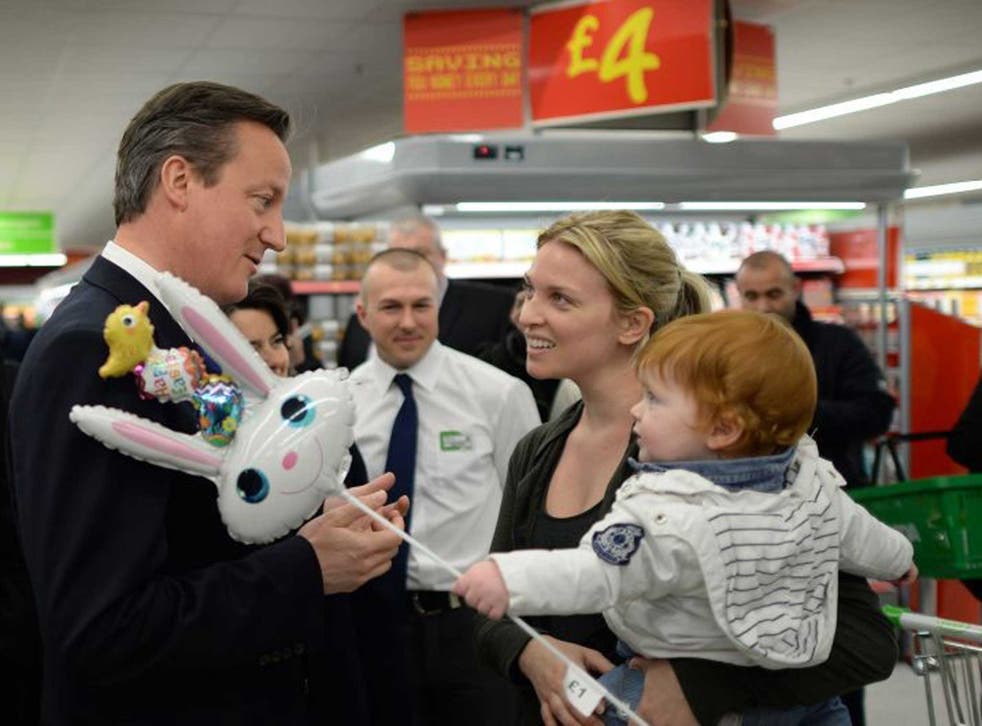 On Wednesday, leading female politicians from the three main parties attended the launch of Asda's "Mumdex Manifesto" in Parliament. The supermarket's "Mumdex" is a rolling survey of mothers' consumer confidence and concerns, and politicians are always keen to listen. Asda also claims that mothers contribute a hidden £37bn to the UK economy every year in unpaid work, care and voluntary help. Mums are certainly a valuable slice of the electorate.
Indeed, in the months before a general election, we are reminded that mothers will be the crucial swing voters: traditionally more likely to float, they are less tribal than men, considering policies on a case by case basis. In an election campaign, their votes are all to play for. So-called "mummy issues" such as childcare, education and caring for elderly parents are always prominent in manifestos. Yvette Cooper, representing Labour at the Mumdex event, said her party would be listening to the concerns of mothers at the school gate.
Yet, speaking as someone who will take her first trip to the school gate this September, I wonder whether we mums really are more powerful than our other halves? The two top doorstep issues are the economy and immigration – which are at least gender neutral. Turnout among men at the last election was 66 per cent, compared to 64 per cent of women. Men over 35 are more likely to be fathers than their younger male counterparts, and they are also more likely to vote than younger men and women generally – turnout in this group was 72 per cent at the last election. Turnout among women over 35 was 70 per cent. Mothers make up less than a quarter of voters. It seems the establishment is missing an opportunity to listen to dads.
Fathers have had a difficult image in recent political history. While the most prominent group for mothers has been Mumsnet, the highest-profile group for dads has been Fathers 4 Justice. As earnest as their superhero-clad campaigners were, I am not sure most fathers feel represented by them. The Fatherhood Institute does more serious political work, but doesn't enjoy the same coverage as Mumsnet.
Dads get a raw deal politically too: in the last Conservative manifesto, the words "dad" or "father" did not appear; while in Labour and Lib Dem brochures they were mentioned only in the context of shared parental leave. Yet every dad I know has a keen interest in education, the NHS, elderly care and, yes, childcare. With more women, including mothers, at work than ever before, surely it follows that more fathers are involved in household duties – from the daily trip to the school gate, organising a childminder or struggling with the weekly shop. Despite David Cameron, Nick Clegg and Ed Miliband all having young children and playing up to their "ordinary dad" images, can their parties say they understand the concerns of the nation's fathers?
Of course, women are under-represented in politics and in many households it is the mother who worries about finding enough money for the supermarket shop. But it's not too late for Asda to launch a "Daddex".
A battle for all women
This focus on mothers doesn't mean the world has stopped telling women how we should think and act. Last week, it was Steve Davis telling us that female snooker players weren't mentally focused enough to compete with men at the highest level. Now we have former head of the Army, Lord Dannatt, saying the plan to allow women soldiers to bear arms cannot work because they would be unable to "follow orders and … attack a village".
Other critics of Defence Secretary Philip Hammond's plan for women on the frontline say it would upset the "cohesiveness" of the corps. As someone with a relative in the Army, I know the majority of soldiers – male or female – do not relish killing. Being a soldier is about professionalism and defence, not bloodthirstiness. Yet men like Davis and Dannatt obviously think women are scatter-brained, unprofessional rebels.
Armageddon out of here
This was a "good" story from Hammond, normally a minister who gives little away, and a progressive line from someone on the right of the Tory Party. In his speech at the press gallery lunch, he also revealed that underneath the Ministry of Defence lies the bunker where the Cabinet would sit out a nuclear Armageddon. There are bedrooms for all Cabinet ministers, yet only one chamber has a double bed – for David and Samantha Cameron. Hammond cheekily said that the future of the human race would be in their hands, as it were.
Pickles shuns the limelight
How does Eric Pickles sleep at night? Very well, he says, because the streetlights outside his window have been turned off. But the Communities Secretary's own party's councillors in Essex are concerned that in Basildon all streetlights are switched off between midnight and 5am. Women's safety groups and the AA are alarmed at nationwide figures, gathered by Labour, that show that 750,000 streetlamps in 81 council areas have been dimmed or switched off at night. Pickles says not only can he see the stars, it stops burglars thriving in the "ambient light". I don't know about you, but if there's a burglar on my street as I walk home after dark I'd rather it wasn't pitch black.
Georgie Porgie, puddin' and pie
I wonder whether George Osborne was on one of his 5:2 diet off days on Thursday when aides tried to get him a table at the Thyme Deli and Café in Horwich, Bolton. Café owner Amanda Biggs, whose menu includes Tracklements chutneys, Lottie Shaws parkin, fresh local Lancashire cheeses, Patchwork pates and Huntley's Moo 2 You ice cream, turned away the Chancellor's party because she was too busy.
A pity she couldn't lay on a Lancashire spread, because I think Osborne's diet has gone too far. I hope I don't offend – and plenty of comments are routinely made elsewhere about the appearance of female MPs – he has lost too much weight on this fad diet. It is the madness of thin George.
Register for free to continue reading
Registration is a free and easy way to support our truly independent journalism
By registering, you will also enjoy limited access to Premium articles, exclusive newsletters, commenting, and virtual events with our leading journalists
Already have an account? sign in
Register for free to continue reading
Registration is a free and easy way to support our truly independent journalism
By registering, you will also enjoy limited access to Premium articles, exclusive newsletters, commenting, and virtual events with our leading journalists
Already have an account? sign in
Join our new commenting forum
Join thought-provoking conversations, follow other Independent readers and see their replies