The New Suffragettes: Pussy Riot are the band that dared to rock Russia's establishment
With two of their members in prison (one on hunger strike), Pussy Riot have paid a heavy price for their principles. But their feminist message is getting through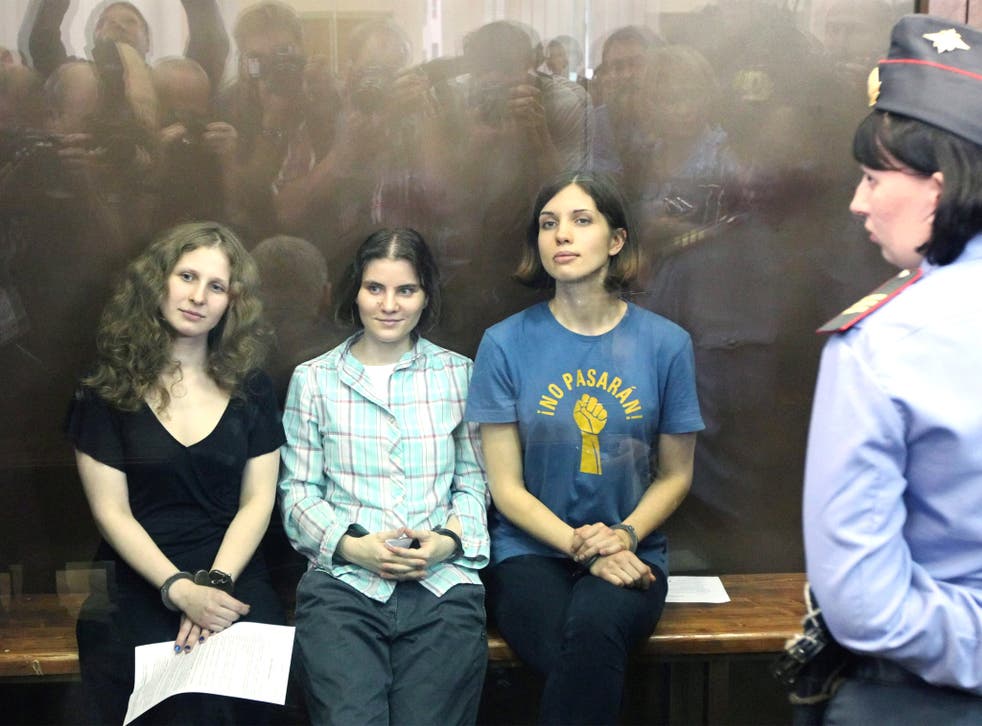 Just over a year ago, Nadezhda Tolokonnikova, Maria Alekhina and Ekaterina Samutsevich were members of an obscure offshoot of a newly blossoming protest movement. Today they are the most recognisable dissidents in modern Russia.
The three members of the punk band Pussy Riot went on trial last summer, for "hooliganism motivated by religious hatred". Two are still behind bars, and Alekhina, who is on hunger strike, is now in prison hospital. The women have suffered heavily for a brief performance inside Moscow's biggest cathedral in February last year.
The "punk prayer" which would have such disastrous consequences for the women was an appeal to the Virgin Mary to "chase out Putin" – and become a feminist. This feminist angle is sometimes forgotten, amid the other attributes (democratic protesters; modern artists; "holy fools" who tell truth to power) with which Pussy Riot has been overlain. Yet alongside their more overt political demands, the women also define themselves as champions of women's rights.
Long before they were arrested, Pussy Riot played a number of "protest performances" at locations such as Red Square, often with feminist inspired lyrics; and drew comparisons to the American feminist group Bikini Kill. Samutsevich, who was released after she changed lawyers and appealed against her sentence, has criticised the initial defence team for focusing on the political rather than the feminist nature of the protest. Feminism is still largely regarded as a taboo in Russia. Even women's rights activists often rush to say that they are not feminists. During Pussy Riot's trial, one witness claimed that the word "feminist" is obscene if uttered inside a church.
Pussy Riot has nearly a dozen members, who were still anonymous in early 2012. They came from many different backgrounds, but, according to a statement issued then: "What we have in common is impudence, politically loaded lyrics, the importance of feminist discourse, non-standard female image.
"We are united by feminism, opposition to Putin's regime, anti-authoritarianism and leftist ideas," they said.
"Our action was half creative, half political," said Maria Alyokhina in a recent interview from prison. "A massive problem with this country is the absence of a sense of humour. Nobody found it funny, when in reality it was quite humorous."
Few people are laughing about Pussy Riot now. Instead, the band has acquired a wider resonance, while the publicity around their trial has stimulated worldwide discussion about the nature of the protest movement, and the role of women, in Russia. Even those whose natural political affinities lie elsewhere have begun to sympathise with Pussy Riot, which is testament to what can be achieved by women who stand up for their beliefs.
Read more from The Independent's series The New Suffragettes here
Register for free to continue reading
Registration is a free and easy way to support our truly independent journalism
By registering, you will also enjoy limited access to Premium articles, exclusive newsletters, commenting, and virtual events with our leading journalists
Already have an account? sign in
Join our new commenting forum
Join thought-provoking conversations, follow other Independent readers and see their replies