The next election may be a year away, but Osborne is on the campaign trail. It's a risky strategy
The Chancellor displays some chutzpah in turning deficit reduction to his advantage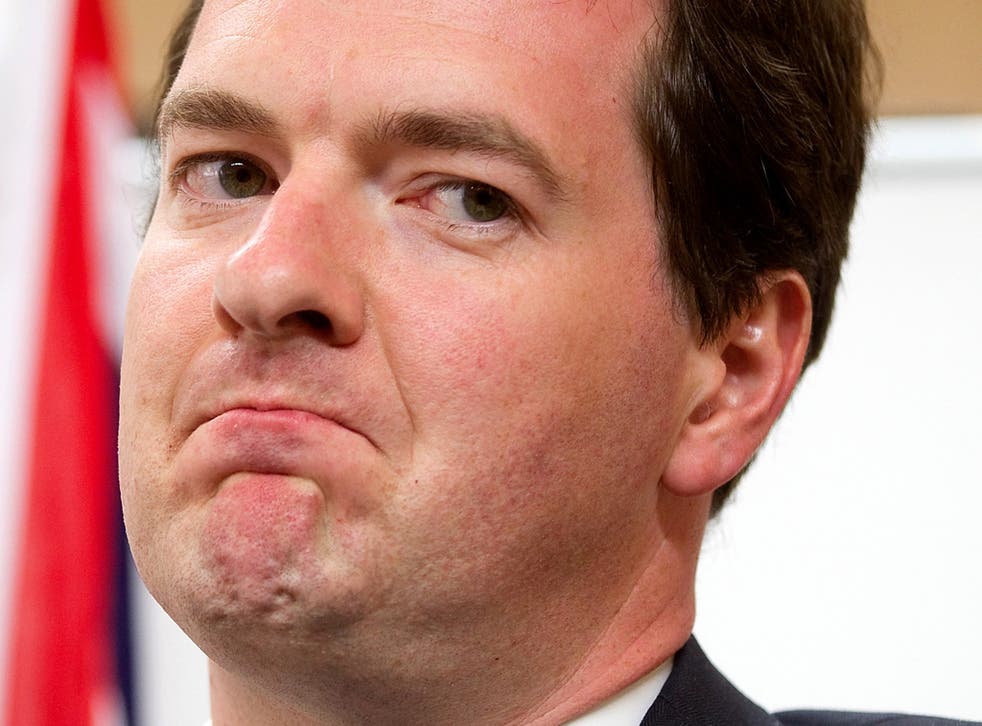 Normally, this week in January would mark the unofficial start of the general election campaign. Prime Ministers tend to call an election after four years of a parliament, an anniversary that arrives for David Cameron this May. This time, it is different. There will be no election in 2014. The current parliament runs for five years.
But apart from the absence of an imminent vote, there is a tangible sense that the campaign is under way. The opening salvos in recent days from David Cameron and George Osborne are typical of those that greet the start of election years.
The duo is attempting to convey a message that is both populist and multi-layered. The essence of their pitch is: "Yes, we have achieved a lot, but there is still a long way to go, so don't risk letting the other lot in." The message about a smaller state chimes with both their ideological instincts and, as they see it, electoral expediency. It is also a delicate one. Cameron and Osborne seek to claim credit for economic growth, but not so much that they lose their raison d'être, which is tackling the deficit. As a result we got, and will continue to get, good and bad news. On Sunday, Cameron confirmed that pensions would continue to rise. Yesterday, Osborne played tough by insisting that £25bn of cuts were required after 2015.
These are not only two distinct strands of argument, but they are close to being contradictory ones. Osborne declares that £12bn of his planned cuts will come from welfare. That is the easy bit, plucking a figure from the air and then talking vaguely about where the savings will be made.
Pensions might have been a fruitful source, but, in announcing his positive news, Cameron sealed off this particular pot of cash. Iain Duncan Smith, not known for being soft on welfare, has already had to fight his corner against the Chancellor seeking further cuts in this Parliament. We wait to hear where Osborne will turn next in the welfare budget, and what IDS will think of his proposals for the next parliament.
Osborne focuses on welfare reductions, albeit vaguely, but he will also have to explain where the other £13bn of his proposed cuts will come from. Admittedly, such precise figures are all part of the depressing pre-election game. The sums will bear little relation to what happens once the campaign is over.
Indeed, the Chancellor displays considerable chutzpah in seeking to turn the continuing challenge of deficit reduction to his advantage at the next election, given that he had aimed to wipe it out in this parliament. Another accessible way of conveying his message would be: "I screwed it up in this parliament and because I did so it is absolutely essential I continue as Chancellor".
But his figure of £13bn in non-welfare, post-election spending reductions is not entirely meaningless. It points to a broad intent to cut much further at a time when people are living longer and placing huge additional demands on the state. Osborne has the balance absolutely right, a focus on capital spending and a forensic hunt for savings in current spending. But ideological instinct and electoral calculation combine to make his proposition on both capital and current spending too miserly.
The Chancellor is not more generous partly because he knows that Labour has never won a contentious "tax and spend" election from opposition. It has either challenged the Conservatives' spending plans and lost, or accepted them and won – specifically, as it did in 1997. Osborne calculates that the deeper he proposes to cut, the harder it will be for Labour to play its 1997 version of the game.

Perhaps the "tax and spend" wand will work again for the Conservatives, but the next election will be very different to those in the 1980s and the one in 1992. The British economy is stuttering into life after a global financial crash that raised fundamental questions about how a country dependent on the City, personal debt and housing booms might grow differently and more sustainably in the future. These questions will be as central in 2015 as "tax and spend".
It also feels very early for the Tory leadership to be playing their election cards. At his press conference yesterday, Nick Clegg argued that the Tories were making a "monumental mistake" in seeking cuts almost solely from the "working poor". Osborne's future spending squeeze is not a straightforward proposition from a ruling government, but will be a source of considerable tension within the Coalition during 2014 and the first half of 2015 – a very long time.
Labour has struggled to adapt to the rhythms of a five-year parliament. Most specifically, it agonises over the timing of policy announcements when the election is still a long way off and sometimes gets it badly wrong.
Now Osborne contrives "tax and spend" dividing lines as if the election were this summer. Will he still feel it electorally beneficial to make the same speech in a year's time? I doubt it. Always fragile, a party's pre-election "tax and spend" plans can withstand scrutiny for six months but not for a year and a half.
Register for free to continue reading
Registration is a free and easy way to support our truly independent journalism
By registering, you will also enjoy limited access to Premium articles, exclusive newsletters, commenting, and virtual events with our leading journalists
Already have an account? sign in
Join our new commenting forum
Join thought-provoking conversations, follow other Independent readers and see their replies