The Paris march was an emotional display, but it was full of hypocrisy on press freedom
Here are the countries whose show of support for press freedom at the weekend was at odds with their records at home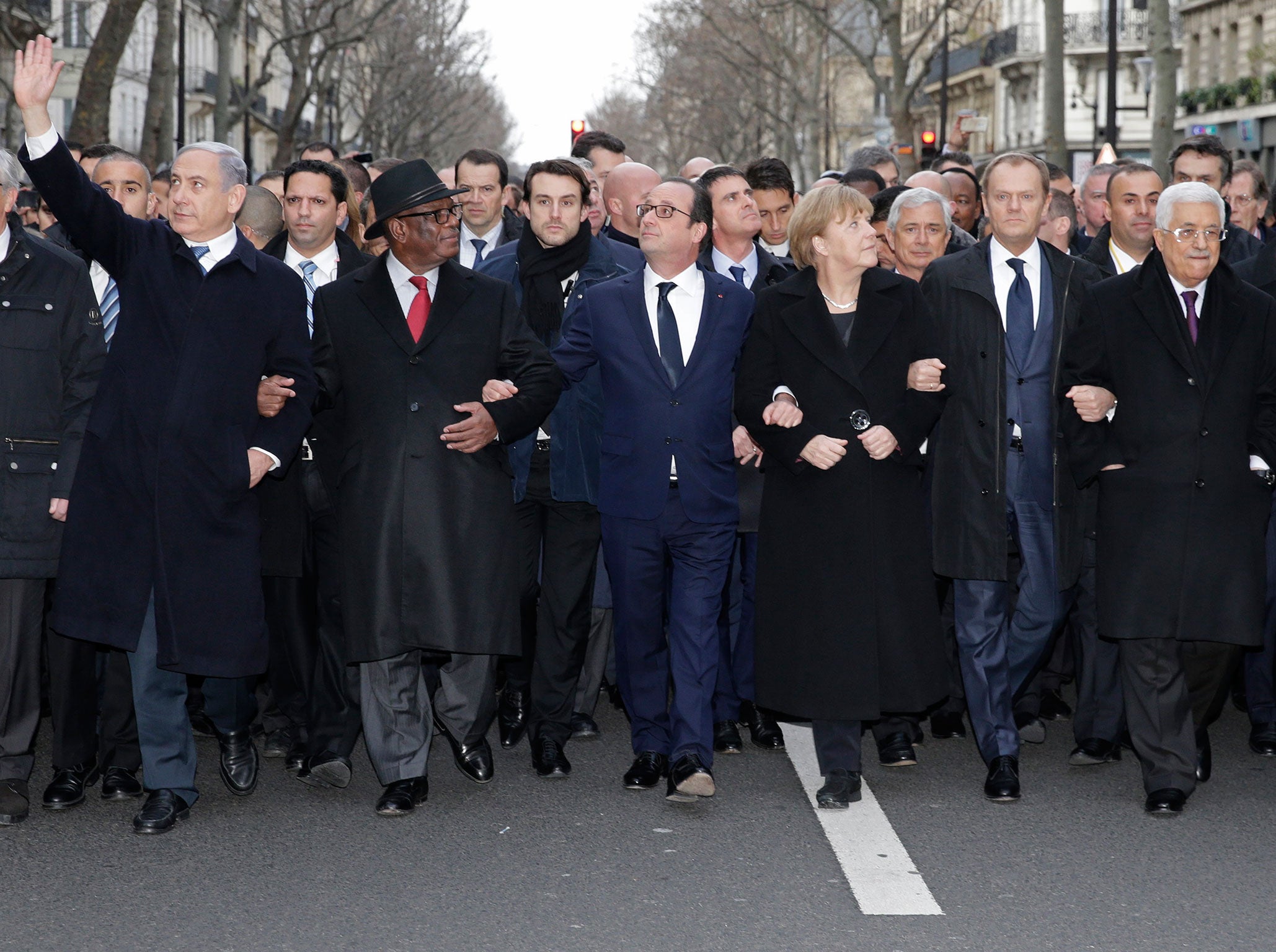 World leaders assembled in Paris in support of press freedom yesterday, following the brutal murder of 12 people at the offices of French satirical newspaper Charlie Hebdo.
The rally was meant to show solidarity with the victims of the attack and defiance against those who wish to curtail free expression. However, many of the countries represented have poor records when it comes to press freedom at home.
SAUDI ARABIA
On the Friday before the rally, Saudi Arabia had blogger Raif Badawi publicly flogged for setting up a liberal website which they deemed to be insulting to Islam. He is currently serving a ten year prison sentence, along with countless other Saudi activists and dissidents.
BAHRAIN
Bahrain imprisons the second highest number of journalists in the world per capita, and has also been accused of torturing France 24 correspondent Nazeeha Saeed for covering 2011's pro-democracy demonstrations.
EGYPT
Sixteen journalists are currently imprisoned in Egypt for doing their job, including the Al Jazeera trio Peter Greste, Baher Mohamed and Mohamed Fahmy, and photojournalist Mahmoud 'Shawkan' Abou Zied.
TURKEY
Turkey was the top jailer of journalists in the world in 2013. Today, it still holds seven in prison, and in December police detained a further 23 people following raids on media outlets linked to opposition cleric Fethullah Gülen.
RUSSIA
Russia has jailed journalists and bloggers for such crimes as "insulting a government servant" and "insulting a judge." Its government has also been heavily criticised for press censorship and blocking independent media websites.
ISRAEL
According to Reporters Without Borders, Israeli forces killed up to six journalists during the war in Gaza over the summer. They have also been accused by Human Rights Watch of "targeting civilians" in a string of attacks on media facilities two years ago. The Foreign Press Association also alleges that the Israeli army has been "deliberately targeting" journalists covering protests in the West Bank.
UNITED ARAB EMIRATES
There are four bloggers currently imprisoned in the United Arab Emirates: Osama al-Najjar, Obaid Yousef al-Zaabi, Saleh Mohammed al-Dhufairi, and Khalifa al-Nuami. In 2013, the UAE also held a journalist incommunicado and without charge for a month over alleged links to the Muslim Brotherhood.
In pictures: Charlie Hebdo demonstration, Paris
Show all 20
QATAR
Qatari poet Muhammad ibn al-Dheeb al-Ajami was sentenced to life in prison in November 2012 for publicly reciting the Jasmine Poem, which praised the uprising in Tunisia against president Ben Ali.
PALESTINE
Courts in the occupied West Bank sentenced two Palestinians to jail for insulting president Mahmoud Abbas in 2013, including journalist Mamdouh Hamamreh who shared a satirical photo of Abbas on Facebook.
ALGERIA
Algeria has detained journalist Abdessami Abdelhai without trial for the last 17 months. In November he began a hunger strike to protest his imprisonment.
TUNISIA
In December a military court in Tunisia jailed blogger Yassine Ayari for three years on charges of "defaming the army" in a series of Facebook posts. Amnesty International have since called for his "immediate release."
UNITED STATES
In Ferguson, police arrested Washington Post reporter Wesley Lowery after slamming him against a soda machine in a McDonald's, while other journalists have also been detained and threatened during the unrest.
GREECE
Riot police in Greece injured photographer Tatiana Bolari at a protest in June last year, after beating her legs and back with riot shields. Another journalist, Marios Lolos, was also beaten by the authorities. Reporters Without Borders described their behaviour as "intolerable."
UNITED KINGDOM
In 2013, Reporters Without Borders accused the British authorities of "an extremely grave violation of freedom of information" after they forced The Guardian to destroy computer hard drives containing documents provided by Edward Snowden.
POLAND
Police arrested two journalists while they were covering a protest in November last year. They did not inform their families for more than 24 hours and allegedly prevented one of the detained reporters from having access to a lawyer. Reporters Without Borders condemned their arrest.
Join our commenting forum
Join thought-provoking conversations, follow other Independent readers and see their replies