The real poison is to be found in Arafat's legacy
He placed vain trust in Israel and the US - mistakes that his people are still paying for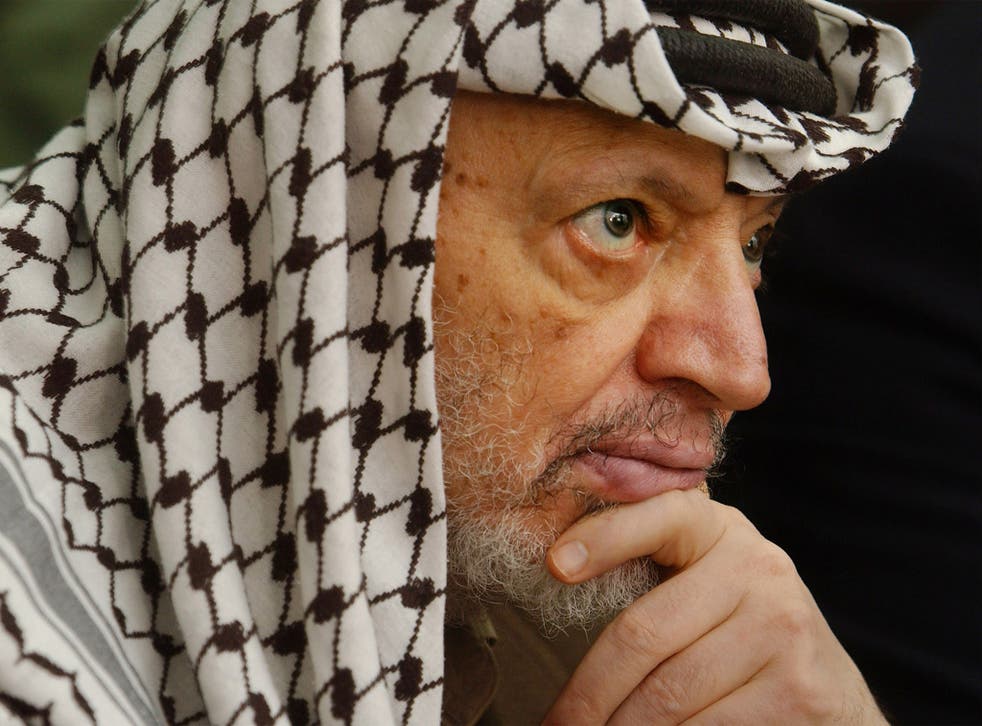 I never much cared for Yasser Arafat. It wasn't the scrubby beard or the protruding eyes or the fact that he'd done away with a few of his chums or even the way he once forbad a photographer friend from taking a picture of his bald pate. It was the histrionics, the endless carping about the "peace of the brave" – a phrase he cribbed from de Gaulle – the way in which he would go on about child casualties ("even the little babies…") and then his endless production in interviews of an old Palestine one pound note with its denomination in Hebrew and Arabic. Surely Jew and Arab could live again together?
He made so many concessions to Israel – because he was growing old and wanted to go to "Palestine" before he died – that his political descendants are still paying for them. Arafat had never seen a Jewish colony on occupied land when he accepted the Oslo agreement. He trusted the Americans. He trusted the Israelis. He trusted anyone who appeared to say the right things. And it must have been exhausting to start his career as a super-"terrorist" in Beirut and then be greeted on the White House lawn as a super- "statesman" and then re-created by Israel as a super-"terrorist" again.
In the end, surrounded in his Ramallah headquarters and shelled by Israeli tanks, his few visitors noted how old he looked, how sick. One Scandinavian diplomat who managed to visit him noted how he no longer wore socks, how he had a habit of picking loose skin from his feet during interviews, how the lavatories smelled.
Then came Arafat's flight to Paris – the Israelis suddenly turning humanitarian on the old boy – and, even before his death, the first murmurings about poison. I didn't take them very seriously. If he lives, I thought, the gossip will stop; if he dies, he will have been poisoned – as surely as Napoleon was poisoned by the Brits, as assuredly as 9/11 was a CIA plot. So he died. And so, of course, we were told he was poisoned.
Suha Arafat, who had been estranged from him for some years, began talking about his murder and from that moment, murder it became. I happened to hear second-hand from a French military nurse at the Bercy military hospital where Arafat was treated and where he died, that French medical authorities made extensive tests to see if Arafat had been poisoned, before and after his death. They found no trace of poison. And the French had bad relations with Israel at the time.
But as the years stretched out, no conversation, no mention of Arafat's death could be without the word "poison". When the accusations started, Israeli spokesmen even talked of the possibility that Arafat's Palestinian enemies had done away with him. Israel, on the other hand, was proved to have tried to poison a Hamas official in Amman – King Hussein was told of the antidote and Benjamin Netanyahu was forced to release Sheikh Ahmed Yassin as part of the deal. Yassin was later assassinated by the Israelis, bombed in his wheelchair.
Then this month, when the scientists reported on the high level of polonium found in Arafat's body, it started again. Perhaps it came, one interviewer suggested to me, in the depleted uranium shells the Israelis had fired at Arafat's headquarters when he was trapped inside. Problem. According to my enquiries at the time, the Israelis had no depleted uranium shells in their ordnance inventory. That doesn't mean they haven't used them in other locations. But not at Ramallah.
And what actually is the evidence? He died in 2004, on 11 November, a suitable day since the Great War armistice marked the end of a conflict which gave birth to the Israeli "homeland" in Palestine. The Russian investigation is inconclusive. The French haven't yet told us their results. The 60 samples taken from the old man's remains and clothes led the Swiss investigators to say only that the evidence of polonium "moderately" supports the idea that he was poisoned.
I'm sceptical. Edward Said told me that Arafat said to him in 1985 that "if there's one thing I don't want to be, it's to be like Haj Amin. He was always right, and he got nothing and died in exile." Hunted by the British, Haj Amin, the Grand Mufti of Jerusalem, went to Berlin during the Second World War in the hope that Hitler would help the Palestinians. It was the greatest blunder any Palestinian has made. Arafat followed that blunder by going to Baghdad and embracing Saddam Hussein after his invasion of Kuwait, believing Saddam would "liberate" the land he called Palestine. Arafat wanted to believe Saddam. Like he wanted to believe the Americans. And the Israelis. And his legacy of vain trust has destroyed any hope of a Palestinian state. That is the poison we should be studying.
Knowing the enemy for 70 years
I've long grown weary of the way in which Time magazine, CNN, Fox News and other glories of American journalism like to map out the ethnic/religious/racial front lines of the Middle East. "How to tell a Sunni from a Shiite" was my favourite Time headline. But thanks to reader Lieuke Katz of Albuquerque, New Mexico, I've discovered that Time has been at this game for more than 70 years.
Katz has sent me a page from December 1941 which is headlined: "How to tell your friends from the Japs". The article tries to help Americans to distinguish between Chinese and Japanese, an important task since the Chinese were (then) our allies. "Even an anthropologist, with calipers and plenty of time to measure heads, shoulders, noses, hips, is sometimes stumped," the reader is told with almost fascist bluntness. So here we go:
"Chinese, not as hairy as Japanese, seldom grow an impressive moustache, Most Chinese avoid horn-rimmed spectacles. Although both have the typical epicanthic fold of the upper eyelid … Japanese eyes are usually set closer together… The Chinese expression is likely to be more placid, kindly, open: the Japanese more positive, dogmatic, arrogant… Japanese are hesitant, nervous in conversation, laugh loudly at the wrong time. Japanese walk stiffly, erect. Chinese, more relaxed, have an easy gait, sometimes shuffle."
From Pearl Harbour to Baghdad, it pretty much takes your breath away.
Register for free to continue reading
Registration is a free and easy way to support our truly independent journalism
By registering, you will also enjoy limited access to Premium articles, exclusive newsletters, commenting, and virtual events with our leading journalists
Already have an account? sign in