The Independent's journalism is supported by our readers. When you purchase through links on our site, we may earn commission.
The Russian spring of the 1990s has passed. What happens now depends on the Opposition - and on us
Many Russians say that their country is returning to a Brezhnev-style era of stagnation. The question is not merely whether they're right, but what can be done about it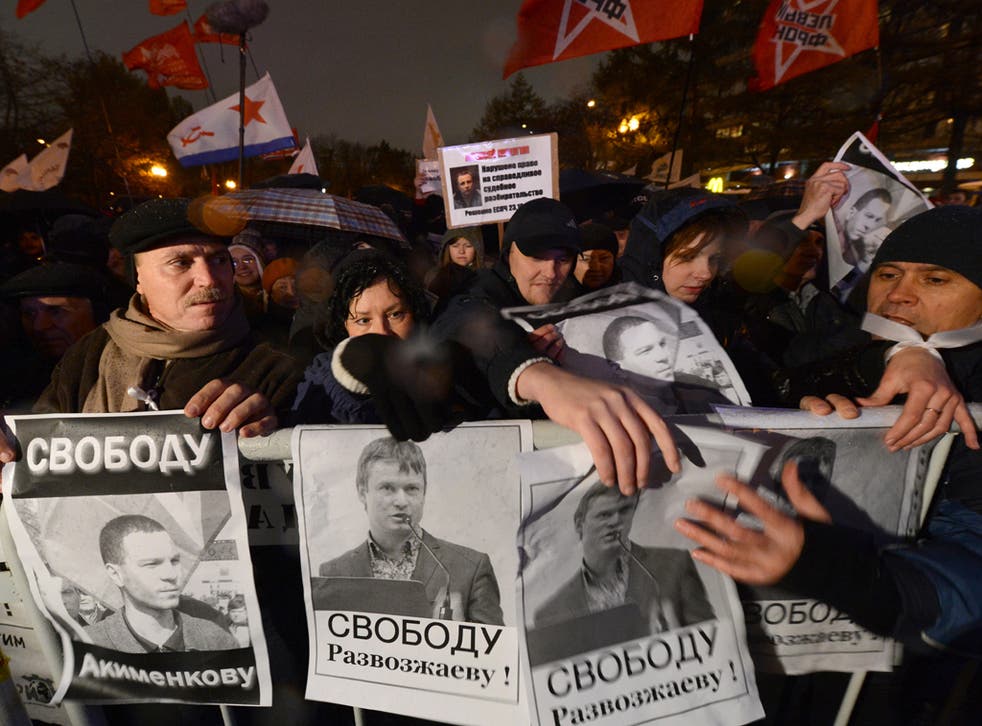 For years, Vladimir Putin largely ignored the internet. Most Russians received their news on Vremya, the main evening TV news show, which combines old-style propaganda with ultra-modern production techniques. It is slick and persuasive, if you are not inclined to look further.
But the growth of opposition activism, fuelled by social media and blogs, has forced Putin's hand. Yesterday, a new law came into effect that will allow the Kremlin to close down sites and pages it disapproves of. It is just the start of a battle of attrition online.
Passed by the ever-obedient parliament in July, the legislation "on the protection of children from information harmful to their health and development" will require any site deemed harmful to be added to a special register and blocked. The authorities are using justifiable concerns about child pornography as a catch-all device for political censorship.
For all the disapproval expressed in the West, Putin and his team are confident they are on safe terrain. They can legitimise their actions by citing a similar approach in the West. Concerted moves from governments around the world to clamp down on abuses on the web are manna from heaven for authoritarians.
Despair
Russia's opposition is in despair. Reformers' hopes had been pinned on Dmitry Medvedev, but after he handed back power to Putin in their mysterious deal of September 2011, politics has descended into torpor. The demonstrations that followed the parliamentary and presidential elections last winter have all but died away.
The best-known faces of protest, Pussy Riot, languish in jail. Figures of lesser charisma, but potentially greater importance, are similarly hounded. Gennady Gudkov, a former KGB officer turned critic, was expelled from parliament over claims that he had been making money from his position. Given that pretty much everyone in power is doing that, the charge was probably right, but also arbitrary and irrelevant. Alexei Navalny, the charismatic, web-savvy, self-styled leader of the protest movement, has kept a lower profile for the most part since being arrested on a number of occasions.
Many Russians say their country is returning to a Brezhnev-style era of stagnation. Nothing much happened then, although the jokes were good. Comparisons with Soviet times are misleading, however. Technology has transformed information. Real politics is now migrating online, with several outspoken sites and digital TV and radio stations in a game of cat and mouse with the authorities.
Last weekend, in the premises of the Red October former chocolate factory, the online station Dozhd TV (Rain TV) conducted an unlikely beauty parade. A succession of opposition figures, from environmentalist Evgeniya Chirikova to one-time It Girl, Kseniya Sobchak, to the aforementioned Navalny put themselves forward as leaders of an organising committee of the opposition. Just over 80,000 people – a tiny proportion of the overall population but still a significant start – took part in the online vote for a 45-strong committee. They will now have to bide their time for the big push; they might as well turn themselves into a proper machine. That will be easier said than done.
For several hours during the vote, the connection went down, amid speculation that this was a Kremlin-inspired cyber-attack. Meanwhile, the state media bombards the populace with negative stories about Putin's critics, their "louche lifestyles", their "corruption", their "dodgy" financing from abroad. On one Saturday night show, the once-admirable, now-appalling NTV station had a late-night chat show in which the feisty female moderator harangued several opposition figures as they sat haplessly on stools.
Frustration
Putin's strategy is to isolate his critics in the minds of the narod, the ordinary people who do not inhabit the glitzy world of central Moscow or St Petersburg. As Vladimir Ryzhkov, an astute former MP, pointed out last week, the "key to Putin's black PR campaign is to portray the opposition as radicals, anarchists or ultra-nationalists" who would destabilise Russia. The opposition, he said, would have to work "long and hard" to counter this, particularly in the regions.
They are not being helped by our actions back home. During a speech I gave recently at the Sakharov Centre in Moscow, to launch the Russian edition of my book, Freedom For Sale, the audience asked disconsolately about British Government plans to force service providers to keep all communications by every citizen (and the foreigners they deal with) for a year – just in case anyone may have committed an offence. I shared their frustrations. The Communications Data Bill, aka the "snoopers charter", is not only bad and dangerous, but it will reinforce the ability of Putin, the Chinese and others to cry double standards any time their human rights record online is challenged in future.
In the early to mid-1990s, when I worked as a foreign correspondent in Moscow, the sudden dismantling of dictatorship gave rise to a brief Russian spring. Perhaps those hopes were naïve, and many mistakes were made. The situation now is more complicated. Putin has wrested all the levers of control back into his hands. How long he maintains that depends largely on the determination and skill of the opposition, but also on actions oversees. If we do not practise what we preach, we help perpetuate the worst instincts of the Russian state.
Register for free to continue reading
Registration is a free and easy way to support our truly independent journalism
By registering, you will also enjoy limited access to Premium articles, exclusive newsletters, commenting, and virtual events with our leading journalists
Already have an account? sign in
Register for free to continue reading
Registration is a free and easy way to support our truly independent journalism
By registering, you will also enjoy limited access to Premium articles, exclusive newsletters, commenting, and virtual events with our leading journalists
Already have an account? sign in
Join our new commenting forum
Join thought-provoking conversations, follow other Independent readers and see their replies