The scandals over Jimmy Savile and Newsnight show the BBC can either modernise or die. Having a full time Chairman would be a good start
Our writer applied to be a BBC Trustee last year. This is what she learnt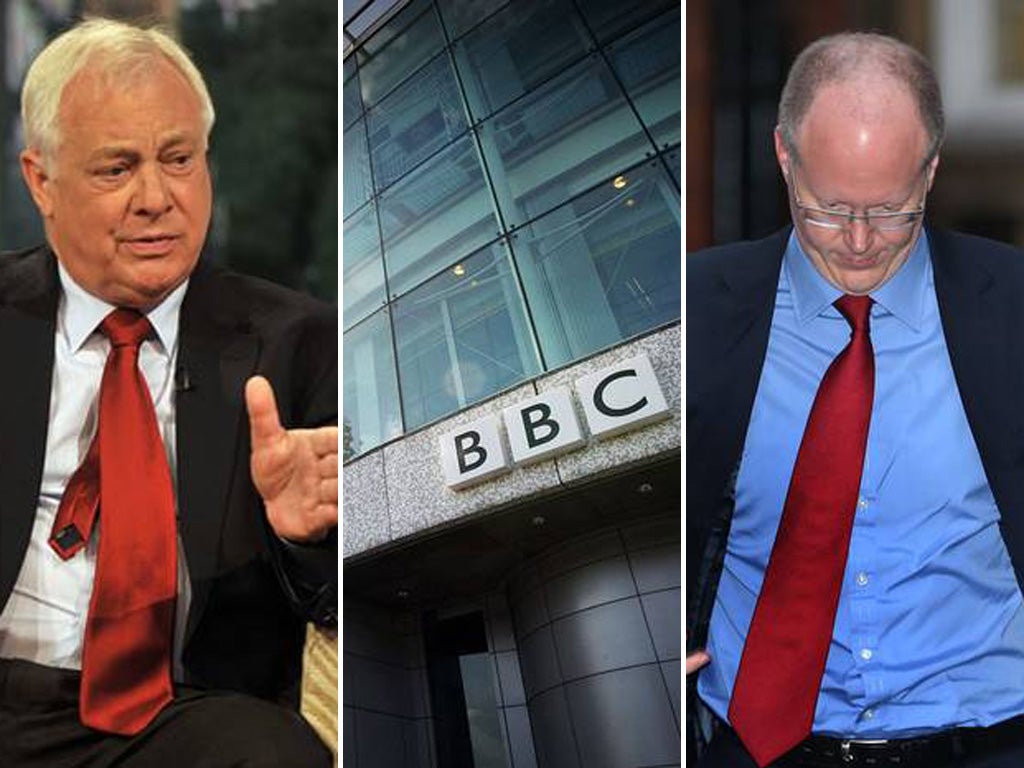 Walking through the corridors of the BBC I was struck by the lethargy in what should be a vibrant, dynamic environment. More lacklustre than edgy, I could practically smell the formaldehyde oozing from the corridors. Granted it was Radio 4 but it was representative of my cumulative encounters with the BBC. A secretive, elite institution that enjoys unfettered power unburdened by accountability. A recipe for disaster.
I was recording a programme about Race which, when broadcast, was edited beyond recognition. The producer indicated he disliked a fellow contributor, Jane Elliott, and in my view abused his position in an apparent attempt to sabotage her career. This is a woman who was in her 70's and had dedicated her life to confronting racism in the US in the wake of Martin Luther King's assassination. A woman whose children were bullied and beaten because she, a white woman, dared to speak out against "her own" community in the 60's.
Too little, too late
Later that year a BBC executive (a Lord) and I met in Sydney to debate whether the media is trustworthy. He argued that it was and I the contrary. Although I like to think I made a compelling case, it was his own hubris that undid him. When he dismissed ethics as having any place in editorial decisions, he lost the audience completely. Clearly unaccustomed to public scrutiny, the disconnect between his reality and that of his audience was cosmic.
Brand BBC has been blighted by a series of crises recently, though none so heinous as the Savile scandal. Editorial integrity, or the lack thereof, is at the heart of every incident. Whilst I welcome Lord Patten's tough talk of a radical overhaul, it's too little, too late from the chair of the BBC Trust. After just one of the seismic scandals that left the corporation's reputation in tatters, the trust should have taken stock.
As chair, Patten's remit is to promote trust amongst licence fee payers. Had he instigated the cultural overhaul at the start of his tenure the Newsnight catastrophes might have been avoided. Instead, his belated intervention in the wake of the Savile scandal exposed his allegiance to the status quo. His excuse for not intervening over the Newsnight child abuse allegation was fear that it would be considered "grotesque interference". His job is to interfere in order to safeguard the integrity of the institution.
When juggling multiple boardships, as Lord Patten is, keeping abreast of issues at every organisation he represents would simply be unfeasible. Resigning from the BBC Trust would relieve him of one such burden. His inability to grapple with a culture of contempt, appointing the hapless Entwistle as DG and then rewarding him with £450,000 of licence fee money for failure, makes Patten's position untenable.
Last year I applied for a BBC trustee role. Having surveyed the biogs of the other trustees there was a blindingly obvious skill gap. Despite its primary remit being to hold the BBC executive to account, there was no corporate governance specialist.
Despite being amply qualified for the job I knew I stood a better chance of becoming the next Pope. I was right, but at least I was beaten by a Lord. Given my USP is challenging taken-for-granted-thinking, I didn't stand a chance. I'm not suggesting I would have done a better job than the Lords that preside over the BBC Trust but I certainly couldn't have done any worse.
Against conformism
There was a question on the application form that implied unquestioning allegiance to editorial independence, a mantra repeated by Lord Patten recently, to which I responded: "Whilst I wholeheartedly support editorial independence, there is a risk that the media itself is sometimes too close to its subject matter to be objective. The ability to take a step back, reassess and hold your hands up when you get it wrong is a quality I would like to see given equal weight to that of safeguarding independence."
I cited The Higgs Report to set out the dangers of nepotism in leadership appointments: "Unaccountable boards, made up of "like minded people", recruited via a tap on the shoulder (as opposed to merit) is a recipe for failure. The BBC's brand and ability to compete, nationally and globally, is dependent on its board being held to account skilfully and effectively."
BBC Trustees should be appointed based on their ability to challenge, not conform to, the status quo. If the corporation is to survive the leadership has to be more accountable. The BBC's longevity depends on it becoming relevant to and representative of its audience. Having lost the debate in Sydney, the BBC Lords parting words to me were "You'll never work for the BBC". Mine to him were "Modernise, or like dinosaurs, become extinct".
Join our commenting forum
Join thought-provoking conversations, follow other Independent readers and see their replies