The Independent's journalism is supported by our readers. When you purchase through links on our site, we may earn commission.
The truth about the UK's pro-Israel lobbies
Why did our government ignore the slaughter in Gaza, and continue to sell arms to Israel? The answer lies in two of Britain's influential pressure groups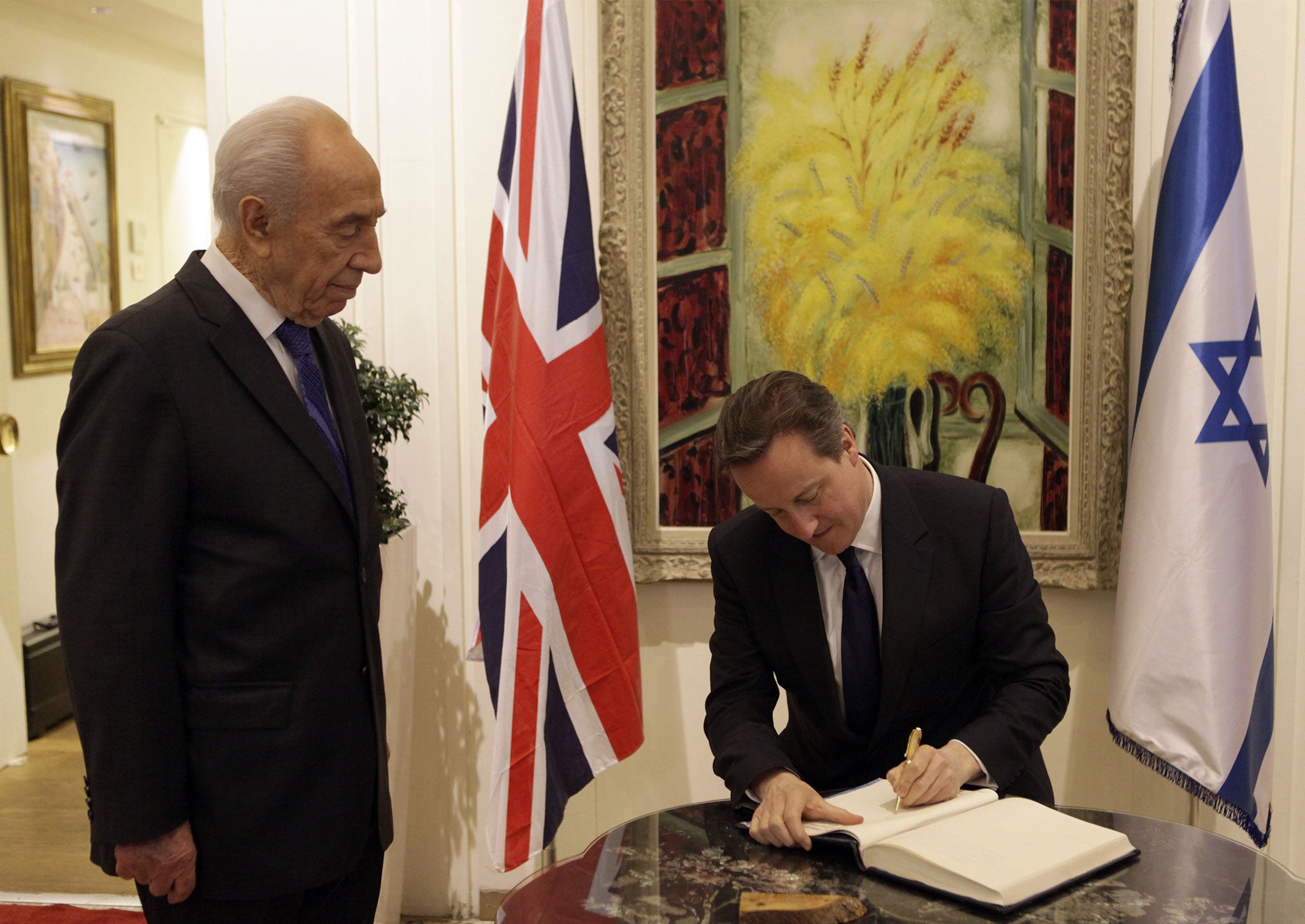 Writing for The Jewish Chronicle last week, columnist David Aaronovitch addressed the alleged rise in anti-Semitism in this country and attributed it to the Jews being "too quiet and too separate up till now". He suggested a Jewish lobby would be a great idea, and starting with "Jews beginning to get themselves kippah-ed up and sitting in the audience at Question Time".
It made me laugh, but coming from a highly reputable writer, it also made me cry.
Just before the most recent Gaza ceasefire, Downing Street confirmed it was conducting a review of arms sales to Israel after David Cameron said the UN was right to condemn the shelling of schools as a "moral outrage". Some licenses, it said, would be revoked if there were a substantial resumption of bombings.
The ceasefire ended long ago, and the Israeli bombings have claimed hundreds more innocent victims, bringing the total of dead children to over 560. But UK arms sales to Israel continue unabated. Why?
When Baroness Warsi resigned from David Cameron's cabinet, the event was reported in a major Indian publication under the headline: "Will Britain's powerful Zionist lobby forgive Sayeeda Warsi?"
The article made me think that one reason why her colleagues and their mates in the media were so keen to dismiss the once-rising Muslim star as "incompetent" (unlike, say, IDS) and "over-promoted" (unlike, say, Grant Shapps) is because she dared lift the corner of a veil shrouding the pro-Israel lobby in Westminster.
It also made me wonder why this was the case, and also why the all-powerful nuclear-armed State of Israel was asserting itself over the Palestinians so murderously, killing hundreds of children without as much as a slap on the wrist from the British government.
Is there a guiding hand behind the strategy of making people so afraid of being accused of anti-Semitism (as Yasmin Alibhai-Brown has explained so clearly) that they will feel unable to use their right to free speech, while at the same time alarming British Jews with the ludicrous spectre of "Germany in the 1930s" and "another holocaust"?
In pictures: Israel-Gaza conflict - summer 2014
Show all 18
In the US, the American-Israeli Public Affairs Committee (AIPAC) is acknowledged to be as powerful when it comes to foreign policy as the National Rifle Association (NRA) is in preventing any hint of gun control. Both operate similarly: they keep their sights on every member of the US's notoriously venal and corruptible Congress, and make it abundantly clear to them that any deviation from total support from Israel will be harshly dealt with.
This approach (brilliantly exposed in the recent issue of The New Yorker) has helped AIPAC prevent Barack Obama doing what he really wants, which is to speak out about Benyamin Netanyahu's murderous excesses. It also manoeuvred the Senate into approving billions for Israel with only six people in the room.
I never imagined there was an AIPAC equivalent here in the UK, not least because there are only around 250,000 Jews in this country – 0.5 per cent of the population. Another reason is that it deliberately keeps a vastly lower profile. But sheltering under the harmless-sounding titles of Conservative Friends of Israel (CFI) and Labour Friends of Israel (LFI) the pro-Israel lobby is incredibly powerful.
The late Conservative historian Robert Rhodes James described CFI as "the largest organisation in western Europe dedicated to the cause of the people of Israel". And you may have never heard the name Stuart Polak, but the director of the CFI is possibly Westminster's most effective operator.
It seems likely that Polak's influence was a significant factor in the government's refusal to describe Israel's bombing of Gaza, including attacks on UNWRA, as "disproportionate". Although surely this would have been the mildest of adjectives in view of what we have been seeing on our television screens every day.
In June 2009, six months after the Cast Lead operation against Gaza in which hundreds of civilians were bombed by Israel (sounds familiar?), David Cameron addressed the very grand annual lunch of the CFI at the Dorchester. Looking at his speech, my fellow journalist Peter Oborne was shocked to see no reference to Gaza whatsoever.
In an eerie echo of current events, Oborne noted that "Cameron went out of his way to praise Israel because it 'strives to protect innocent life'," and recalls how he "found it impossible to reconcile the remarks made by the young Conservative leader with the numerous reports of human rights abuses in Gaza.
"Afterwards," he adds, "I said as much to some Tory MPs. They looked at me as if I was distressingly naive, drawing my attention to the very large number of Tory donors in the audience."
Oborne also explains that "The Israel lobby has enjoyed superb contacts at the very top of British politics, and never hesitated to use them." And it would seem that he's right. At least half of the members of the shadow cabinet were members of the Conservative Friends of Israel before the 2010 election.
With this in mind, it seems too coincidental that there was little to no criticism of Israel after the illegal and deadly invasion of the Lebanon in 2004, or much response to a report into the war crimes committed during 2009/9's Cast Lead operation. Israel has admitted using white phosphorous during this operation. The chemical burns away at the skin, and its use is illegal under international law.
Michael Mates told Oborne on the record that "the pro-Israel lobby in our body politic is the most powerful political lobby. There's nothing to touch them." Mates added: "Their lobbying is done very discreetly, in very high places, which may be why it is so effective."
Maybe it is for this covert use of power that has led Aaronovitch to wonder where the UK's Jewish lobby is. But for many of us, it is becoming clearer and clearer that it has been here all along.
A reference in this article to the Conservative Friends of Israel was previously hyperlinked to the website of an entirely unconnected group, the Christian Friends of Israel. We are sorry for the error.