The Independent's journalism is supported by our readers. When you purchase through links on our site, we may earn commission.
The TV non-debate: Miliband does better than expected, but not better than Cameron
Battle For Number 10 was a hard-fought preview of the election campaign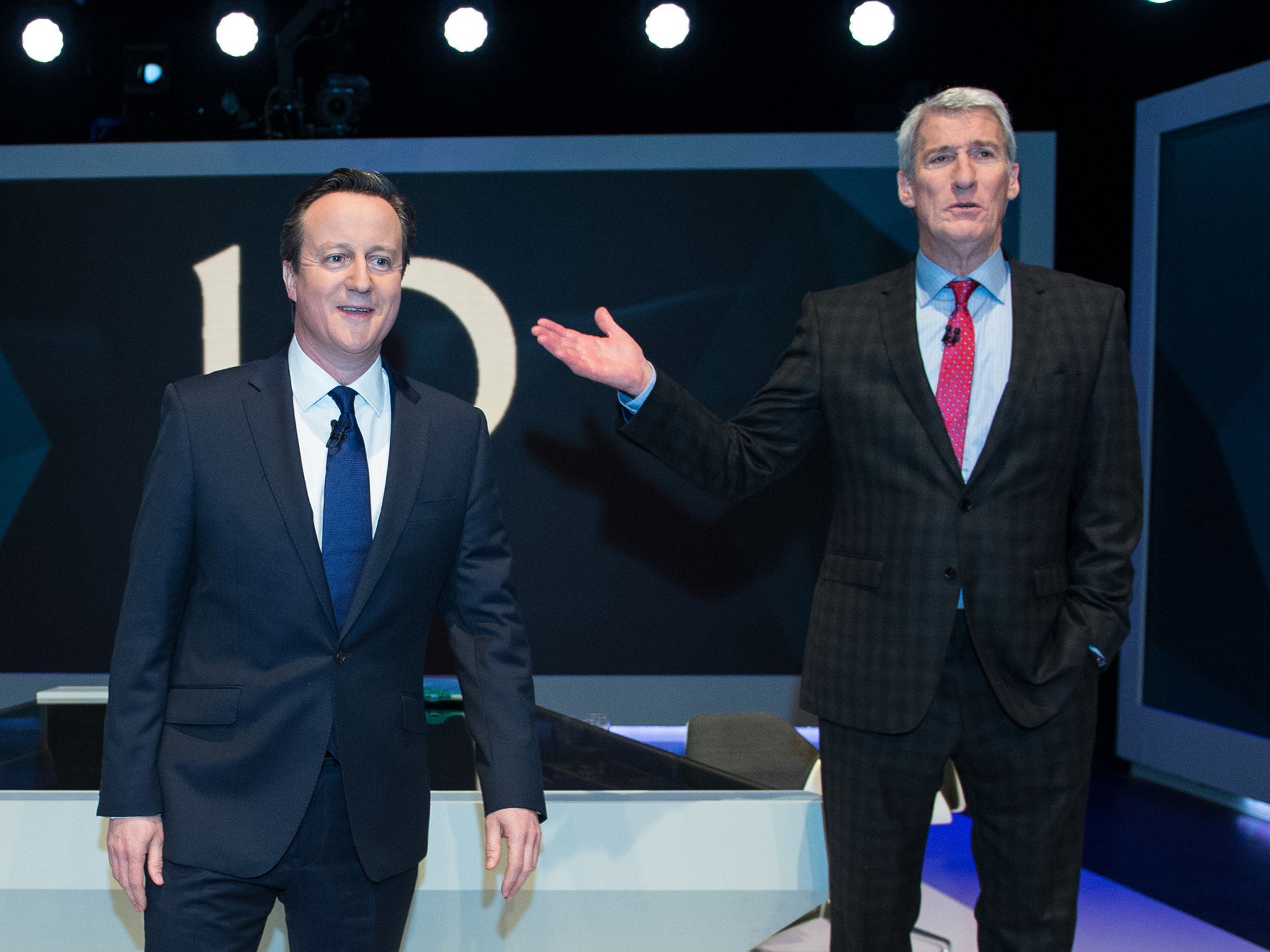 I have never seen David Cameron look so nervous or seem so uncomfortable, as he had to defend everything that has gone wrong since 2010. Ed Miliband, on the other hand, was able to escape into generalities and give a few good prepared answers, thus exceeding expectations. But the British public preferred the Prime Minister's straightforward performance, by 54 per cent to 46 per cent according to ICM's instant poll.
Cameron seemed not to have prepared at all for Jeremy Paxman's interviewing style – "What do you have in common with all these very rich people?" – but his diffident discomfort came across as modesty and a sincere attempt to answer the questions.
Thus Cameron, who can appear arrogant and slick, was described as "honest and down to earth" by someone in Deborah Mattinson's focus group.
One of his most striking moments was when he said simply that "I've not met my commitment" on immigration and ended his sentence, instead of going on with explanations and extenuations.
Indeed it could be said that UKIP was one of the beneficiaries of this debate, because one of Miliband's notable contributions was his refusal to say that there should be a limit on immigration or the British population.
Miliband seemed much better prepared. The strange running order meant that he was able to warm up with the audience question-and-answer session first, and he was helped by Kay Burley, the presenter, who might have been told to intervene more after a rather flat audience session with Cameron.
She didn't appear to understand Labour's policy on a Europe referendum, though, and accused Miliband of giving a "politician's answer". Miliband failed to hide his irritation, saying "I'm not sure", but that made him look arrogant.
Miliband's boldest device was to claim that his policy of cutting tuition fees was proof that he could be trusted to keep his word. Yet he was elected Labour leader on a promise to abolish them, and only switched a year later to cutting them – which is in any case a policy that benefits better-off graduates.
He also came up with some surprisingly crude anti-Americanism, however, claiming that he had stood up to Barack Obama, whom he mystifyingly called "the leader of the free world", over Syria. This is a travesty of what actually happened, when Miliband was in favour in principle of strikes to punish Assad until he realised how unpopular they were.
And his attempt to claim that he had stood up to Rupert Murdoch was contradicted in real time when Murdoch tweeted:
"Thanks for 2 mentions, Ed Miliband. Only met once for all of 2 minutes when you embarrassed me with over the top flattery."
If the election campaign goes like that programme, Miliband will avoid humiliation, but he won't do well enough to win.
As someone in Mattinson's focus group said:
"Miliband's words sound like a fairytale. Easier said than done."
And many Labour supporters will be in denial. Many of them simply refused to believe the ICM poll.
Others pointed to the finding that those voters who said they had changed their mind about how to vote split in Miliband's favour, adding one percentage point (net) to the Labour vote.
A YouGov instant poll was narrower: by 51 per cent to 49 per cent its respondents thought Cameron was the winner: but even 49 per cent is not a figure on which Miliband can win.
Join our commenting forum
Join thought-provoking conversations, follow other Independent readers and see their replies