The two entangled conflicts that are tearing Thailand apart
Whoever succeeds King Bhumibol will be in charge of dispensing favours and influence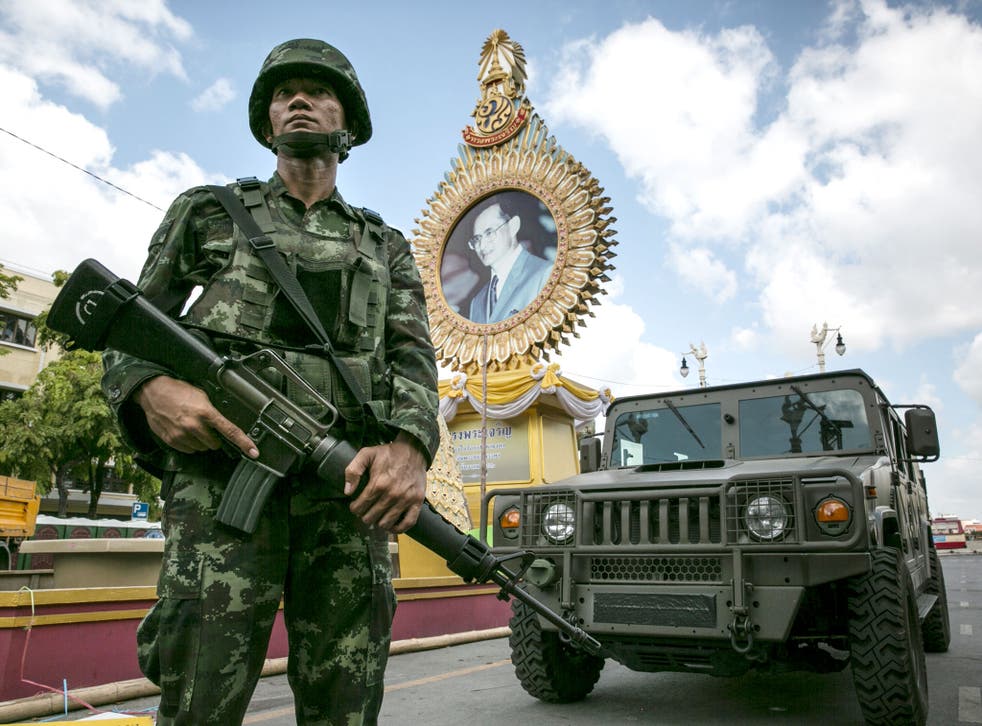 There are few people in Thailand who would publicly admit they've read the latest book by journalist Andrew MacGregor Marshall. Were they to do so, they'd probably find themselves accused of insulting the monarchy and facing a lengthy jail sentence.
It is not that Marshall's book, A Kingdom in Crisis, is particularly offensive. But it does make a striking case as it seeks to explain the origins of the political mayhem that has engulfed Thailand in recent years.
Marshall argues the situation can be understood only by seeing it as the jockeying by Thailand's powerful and elite factions ahead of the succession of King Bhumibol Adulyadej, who is 86 and who been ill for a number of years. This week, the king was readmitted to hospital for gall-bladder surgery.
According to Thailand's rules of succession, on the death of the widely revered king, the throne should pass to his son, Crown Prince Maha Vajiralongkorn. But within the palace establishment – an expansive network of privy counsellors, advisers and minor royals – are those who would prefer it instead went to Crown Princess Maha Chakri Sirindhorn, one of his daughters.
Many believe she would be easier to control, and perceive that the Crown Prince, a one-time playboy, is close to former prime minister Thaksin Shinawatra, a former telecommunications tycoon who has widespread support among working-class and rural Thais.
Marshall says the trauma that turned the streets of Bangkok into protest sites in recent years is not solely about the succession issue; also taking place is a struggle by the country's poor to overturn the exploitation they have suffered at the hands of the elite.
Thailand protests: Thai army declares martial law

Show all 25
"The turbulence is best understood in terms of these two entangled conflicts – an unacknowledged war of succession... and a struggle for equality and liberty that encompasses the whole country," he writes.
Marshall, a former Reuters correspondent, has been honing his theory for several years. Some of his work is based on classified US diplomatic cables uncovered by WikiLeaks – which, he says, the news agency would not publish. He says he has also developed numerous contacts within the royal establishment who have provided details from inside the palace.
At stake is massive wealth of patronage and influence. Forbes magazine has estimated that King Bhumibol, the world's longest-reigning monarch, oversees assets worth more than £18bn, and whoever succeeds him will be in charge of dispensing favours and influence.
The publication of Marshall's analysis, by Zed Books, comes as Thailand remains under martial law, following a coup in May by army chief General Prayuth Chan-ocha.
Marshall sees this as part of a desperate attempt by the elite to undermine the influence of Thaksin. "The coup was the culmination of years of slow strangulation of Thai democracy," he says.
Gen Prayuth, who has been sworn in as a "civilian" prime minister, says he will restore elections, perhaps next year.
Register for free to continue reading
Registration is a free and easy way to support our truly independent journalism
By registering, you will also enjoy limited access to Premium articles, exclusive newsletters, commenting, and virtual events with our leading journalists
Already have an account? sign in
Join our new commenting forum
Join thought-provoking conversations, follow other Independent readers and see their replies