The war in Iraq was wrong. But the anti-war movement has very little to be smug about
The backlash against this invasion discredited the idea of humanitarian interventions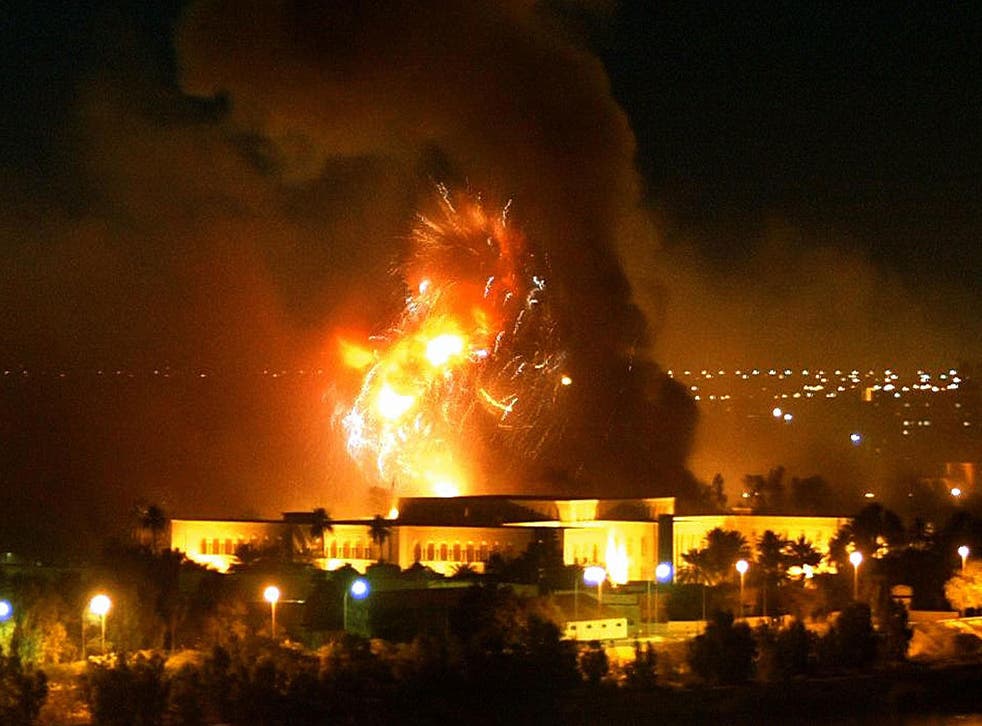 This month marks 10 years since coalition forces led by the United States and Britain went to war to topple the regime of Saddam Hussein in Iraq.
Looking back, I remember sitting with friends and watching on television as the United States began its aerial assault on Bagdad. I also recall, as I imagine do many others who opposed the war, a feeling of sickness in the pit of my stomach derived from the knowledge that much of the smoke we were watching drift across the Babylonian horizon on television was human smoke; or more accurately, humans turned into smoke by coalition bombs.
I also remember feeling betrayed by Tony Blair.
Britain had undoubtedly improved under Labour, and I remember looking with contempt on those middle class 'socialists' who were so materially detached from the tangible improvements Britain's poorest had seen since 1997 that they would dismiss Blair with names like "Thatcher mark two". But rather than make a principled case for overthrowing Saddam, Blair's government tried to frighten people into supporting military action with cooked-up claims about his ability to deploy weapons of mass destruction in 45 minutes. Blair then let down all principled democrats with a grubby 11th hour admission that the Ba'ath Party could stay in power after all - so long as Saddam gave up his (non-existent) weapons programme.
I was against the war then and to this day I believe it was wrong. One of the central lessons of the carnage visited upon Iraq, French writer Pascal Bruckner says in his book The Tyranny of Guilt, is that "people who hope to see local versions of the parliament in Westminster established in Kabul, Riyadh, Algiers, and Moscow will have to be patient and learn to accept necessity".
Broken eggs
Despite the freedom Iraq's civil society now has to blossom - without the suffocating embrace of Saddam Hussein - the country is beset by problems. Hundreds of thousands have died since 2003, and while elections have taken place and Saddam's crime family has been deposed, for ordinary Iraqis life remains a fiendish struggle. A 2011 poll by Zogby found that 42 per cent of Iraqis felt they were worse off than they had been under Saddam. Last year there were 4,570 civilian deaths, and 2.8 million Iraqis remain displaced from their homes 10 years after the invasion.
Attempting to justify the murder by the Soviet state of those Russians who had opposed the Bolsheviks, Vladimir Lenin is reported to have told the anarchist Emma Goldman that you "can't make an omelette without breaking a few eggs".
"Comrade, I see the broken eggs everywhere," replied Goldman. "Now where's this omelette you promised us?"
The same might be said of modern day Iraq.
The war had two other disastrous consequences: it discredited the idea of humanitarian intervention in the eyes of many progressives and it elevated sinister demagogues and political charlatans to positions of authority on the Left.
Tony Blair may have been wrong about Iraq, yet during his interview with ITV this week he was right about one thing: doing nothing, as in the case of Syria, often has worse consequences than taking military action.
The death toll in Syria may be as high as 90,000, according to US secretary of state John Kerry, and yet a full 75 per cent of British people oppose military action to help overthrow Bashar al-Assad, with only 12 per cent supporting even the supply of heavy weaponry to the Syrian rebels, according to YouGov.
It is hard to believe that this apathy is not in part down to the disastrous aftermath of the campaign in Iraq.
It would be a mistake, however, to hold up the anti-war movement as a paragon of virtue.
It is sometimes said that everybody remembers Fallujah but no one remembers Halabja. Collective amnesia of a similar sort appears to apply to the Stop the War Coalition, with celebrity speakers queuing up to this day to stand on its "no to war" platforms – putting to one side the fact that its leading lights were apologists for some of the most pernicious forces in the world during the so-called War on Terror.
As a statement signed by the officers of the Stop the War Coalition put out at a time when "insurgents" were tearing apart Iraqi civil society read: "The Stop the War Coalition reaffirms its call for an end to the occupation, the return of all British troops in Iraq to this country and recognises once more the legitimacy of the struggle of Iraqis, by whatever means they find necessary, to secure such ends."
That was of course the "resistance" than was an amalgam of Baathists, Islamic fundamentalists and pro-al-Qaeda militants, and the "any means necessary" meant everything up to and including the beheading of non-Muslims, the execution of homosexuals and the slaughter of insufficiently "modest" women.
As it turned out, the Stop the War Coalition didn't really wish to stop the war at all. As with the Hitler Stalin Pact, the forces of the far-Right had become acceptable to the far-Left because they had started killing British and American troops.
'Not in my Name' was the anti-Iraq War slogan, and for those of us who opposed the conflict, we should never again allow our names to be associated with so-called anti-war groups who profess pacifism but back cold-blooded killers.
Looking back on Iraq ten years on, it's clear that a degree of accounting still needs to take place on both sides, whether for or against the war.
Join our new commenting forum
Join thought-provoking conversations, follow other Independent readers and see their replies