The West babbles on, and Assad is the winner
Talks in Rome did nothing to hide the fact Syria's people have been betrayed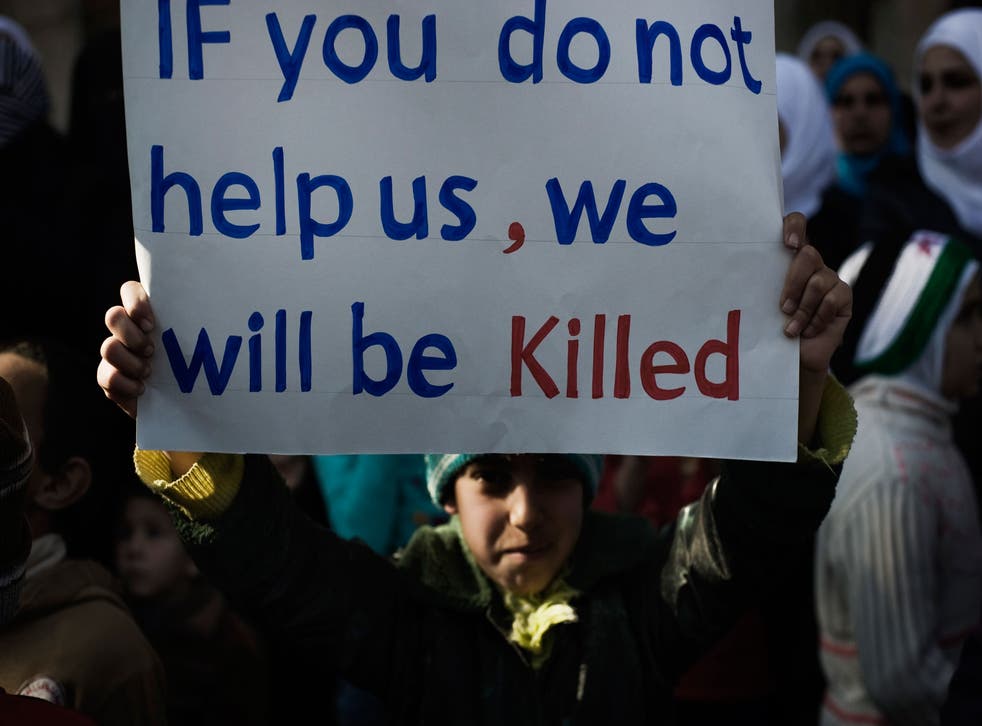 I sniff treachery. Because – let's be frank about it – something is going very wrong with the narrative of the Syrian war. Our Western lords and masters – as untrustworthy today as they were when they sold Poland to Stalin at Yalta – have started to talk much less about their visceral desire to destroy Bashar al-Assad and much more about their fear of the corrosive presence of al-Qa'ida within the rebel forces fighting to remove the Syrian president. As the Syrian tragedy deepens, so our moral Western policy towards the damned of this ghastly war has turned into a betrayal of its people.
Forget about Rome this week and our "pledge" – I love this news agency gunk – "to empower (sic) the Syrian people" and support the "supreme military command" (which does not exist) of the Free Syrian Army with bandages and radios.
The whole sorry story began, I think, exactly a year ago when La Clinton – mercifully now absent from US policymaking until the next presidential elections – made an astonishingly cruel statement to CBS television in Rabat. Squeaking about the refusal of the Syrians of Damascus and Aleppo to join in the uprising against Assad, she then – apparently referring to a recent statement by Ayman al-Zawahiri, the post-Bin Laden al-Qa'ida leader, in which he said he supported the Syrian opposition – asked: "Are we supporting al-Qaida in Syria? Are we supporting Hamas in Syria?"
Duplicity
Infinitely more frightful was the pitiful version of Lord Palmerston who now masquerades as our foreign secretary and who – just before he arrived in Beirut to truffle through potential oil discoveries off the Lebanese coast – gave a speech to the Royal United Services Institute which positively reeked of Potsdam-like duplicity.
While claiming that Britain had not lost faith in the Arab revolutions – Churchill said as much about his fidelity to Poland after handing the country to Stalin – William Hague said that Syria was the most serious case of a revolt being "hijacked" by militants. The country, he claimed, was "the No 1 destination for jihadists anywhere in the world today".
Incredible. This might almost have been a speech by Bashar al-Assad himself, who has been repeating this for almost two years about "al-Qa'ida terrorists" in Syria. Even putting aside the fact that Mali was supposed to have assumed the mantle of "terror centre" less than two months ago, this was an extraordinary statement for the pitiful Hague to make.
He babbled on about UK and other European extremists in Syria, then added: "They may not pose a threat to us when they first go to Syria, but if they survive, some may return ideologically hardened and with experience of weapons and explosives. The longer the conflict continues (in Syria), the greater this danger will become."
Ergo, I suspect, let's bring this war to a close. Why else are Hague and Lavrov now talking about "dialogue" between rebels and regime? But the most recent reports from rebel-held Syrian territory do indeed speak of looting and sectarian kidnappings and killing, ransom and retribution, of what one report from Atme – a rebel base on the border with Turkey – speaks of as a "beautiful" revolt marred by corruption. "The real revolution in Syria is over. We have been betrayed," Abu Mohamed (described by Agence France-Presse as a "respected rebel leader") has said. There are countless accounts, even from government-held parts of Damascus, of hostage-taking for both cash and political demands.
The injection of Jabhat al-Nusra fighters and other proto-jihadis has fouled the secular nature of the battle so badly that Assad's original claims that al-Qa'ida was the regime's enemy is beginning to look frighteningly true. There have been battles between the Free Syrian Army and al-Nusra and between al-Nusra's own commandoes.
West in retreat
Arab journalists who loathe Assad have been all too aware of this, not least since al-Nusra apparently claimed responsibility for a car bomb in Salamieh which killed dozens of civilians. "This movement with its criminal terrorist methods and doubtful patriotism must not be allowed inside the revolution," Hazem Saghieh wrote in Al-Hayat. "It closes the doors on the foreign nations which could help the revolution. It turns away from the revolution the Syrian minorities – Alawite, Kurd, Christian Druze and Ismaeli – as well as those among the Sunnis who believe in a civil state." Too true.
Goran Tomasevic, the award-winning Reuters photographer, filed a brilliant dispatch from Damascus only last week. "Rebel fighters in Damascus are disciplined, skilled and brave," he wrote. "I saw them … mount complex mass attacks, manage logistics, treat their wounded – and die before my eyes. But as constant, punishingly accurate mortar, tank and sniper fire attest, President Bashar Assad's soldiers on the other side … are also well drilled, courageous – and much better armed."
And there you have it. Both sides still think they can win – so the war goes on. But the West is in retreat. Forget support for the rebels. Even the gutless Obama has stood up to his generals and forbidden them from arming the good guys/bad guys. Wait now for some Yalta-like bleating for talks between Assad and his enemies. "So terrible is the bloodshed that even our hatred of Assad must take second place to common humanity"; wouldn't that do as a template for Palmerston-Hague?
And at the risk of being proved wrong in just weeks, I must add a small addendum. I came across a ferociously anti-Assad friend in Beirut last week. "He might survive, I think," she said. Indeed.
Register for free to continue reading
Registration is a free and easy way to support our truly independent journalism
By registering, you will also enjoy limited access to Premium articles, exclusive newsletters, commenting, and virtual events with our leading journalists
Already have an account? sign in
Join our new commenting forum
Join thought-provoking conversations, follow other Independent readers and see their replies