The West's outcry over Uganda's hateful anti-gay law may do more harm than good
By only standing up to Museveni's latest abuse, outsiders play into his hands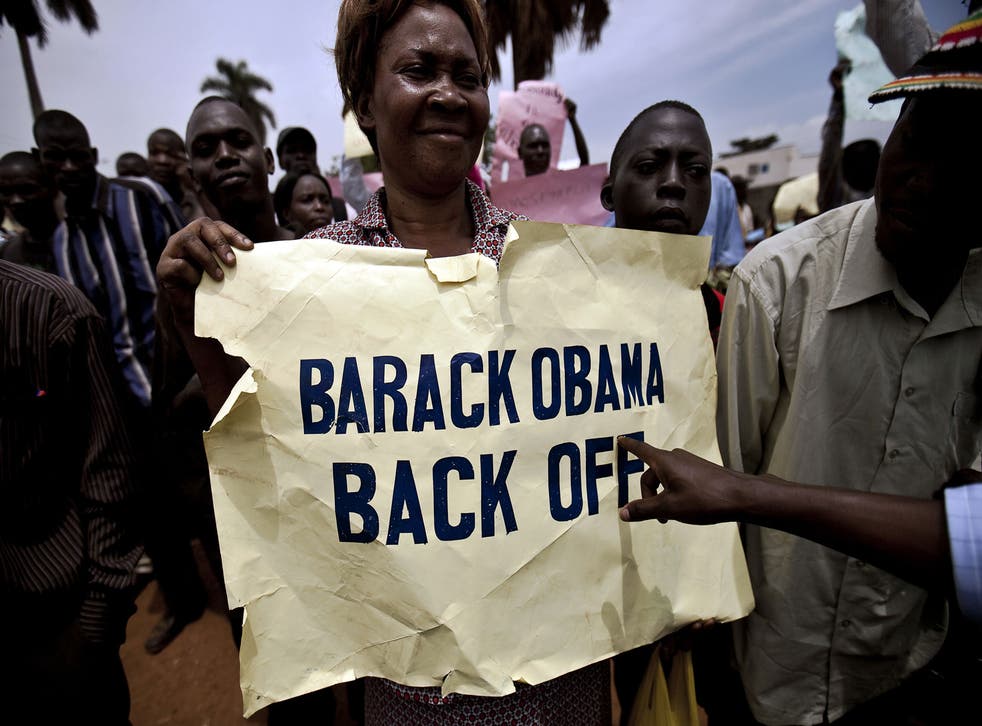 Governments have always had a grubby habit of getting involved in their citizens' sex lives. But it is relatively new to see sexuality as part of foreign policy. In the past few months we have watched the peculiar spectacle of Russia and the United States transposing their geopolitical antagonisms onto a struggle over gay rights in Russia. Now, Ugandan leaders are using homophobia to pursue anti-imperialist politics, while Western leaders are painting their criticism of this as indicative of their concern for human rights. But neither posture is genuine. There are two truths in this sad tale: mutual hypocrisy and the victimisation of Uganda's LGBTQ community.
Homosexuality was already illegal in Uganda – one of the many sorry hangovers from British colonialism – before President Yoweri Museveni signed the Anti-Homosexuality Act yesterday. But now sentences are harsher and activism on the issue has been outlawed. Discussion of the bill has led to an increase in homophobia. Uganda's LGBTQ community are right to be afraid now it has passed.
In finally supporting the bill – it's been knocking around parliament since 2009 – Museveni made claims to anti-imperialism. He invited the world's media to the bill's signing and told them that he is "prepared" for a "collision" with the West over the new law. He is projecting his homophobic law into the domain of foreign policy. He claims that Western support of gay rights as human rights is a form of "social imperialism".
Predictably, the international community has responded with outrage. The US is conducting "an internal review" of its relationship with Uganda and Obama has strongly condemned Uganda's homophobic legislation.
He is not alone. The EU has condemned the move, as have UK Foreign Secretary William Hague and International Development Secretary Justine Greening.
It's easy enough for a Western observer to see the farcical inconsistency in Museveni's anti-imperialist posture. He has been in power since 1986 and has been a staunch ally of the West - politically, economically, militarily - throughout his rule.
What may be more difficult to see is the likewise farcical inconsistency in the West's support of rights in Uganda. Sadly, it's been lacking until this point. This new law is hardly the first, worst, or likely to the be the last, abuse of fundamental rights in Uganda or by Ugandan military forces abroad.
Museveni's military has committed crimes at home and abroad, including resource pillage in eastern DRC. He is anti-democratic, having ruled for 28 years, changed the constitution, run flawed elections and arrested opposition figures. In his most recent term in office, his government has attacked peaceful protesters, faced major corruption scandals, severely limited the right to free assembly and political protest, increased state surveillance and brought in a law that allows the police to arrest women for the clothes they wear.
Little if anything was said loudly and publicly by Western leaders in protest over these issues.
Neither Museveni nor Western leaders are consistent. And while both may believe much of their own rhetoric over the Anti-Homosexuality Act, what they are saying is cover for their real motivations.
In both cases the simple answer is domestic politics. Museveni will gain support – both within his National Resistance Movement and in the country at large – for the hateful law. Obama and co hope to burnish their liberal credentials and keep a key constituency at home happy.
In both cases Museveni and his Western critics wrap their politics up in what will be taken as self-evident truths in respective nations: anti-imperialism in Uganda; the universality of rights in the West.
It is obvious that Museveni's actions covered by his bogus rhetoric are incredibly damaging to Uganda's LGBTQ community – they will now be persecuted further.
What is perhaps less clear is the possible negative effect that Western responses will have on the very people they are supposedly supporting.
In an interview earlier this month, prominent Ugandan gay rights activist Frank Mugisha told Think Africa Press that he appreciates outside support but fears further scapegoating if aid is suspended. Western rhetoric and actions could help promote a further backlash against the LGBTQ community.
Everybody should condemn this hateful legislation, but western politicians must see that inconsistently condemning rights abuses limits their strength when they do condemn them. One can't support gay rights without supporting other rights or it undermines the universal argument for those rights.
Museveni is implicitly asking Ugandans why the West is so upset about gay rights. He tells them it is because they are looking to promote homosexuality. In the face of such lack of criticism on other crucial issues, many Ugandans will decide that their president is correct. And given this lack of strong condemnation up until now, future criticism for other abuses runs the risk of being seen through a bogus "promoting homosexuality"/"social imperialism" lens. Not only does this limit the efficacy of supporting rights but it also puts the visible LGBTQ community in Uganda at risk.
Homophobia should be condemned in the strongest terms. But too often, the West uses universal rights rhetoric for other goals – increasing political support or to aid some other strategic interest. This inconsistency – or phony solidarity if we are being cynical – doesn't help Uganda's gay rights struggle, it certainly doesn't help other rights struggles and it could lead to further victimisation of an already victimised community.
Western politicians have had years to put serious pressure on Museveni's regime for a number of rights abuses. Doing so loudly on this issue - one of Museveni's choosing and one over which Western pressure could in fact play into his hands - doesn't make up for lost time. In fact, it could make it worse.
James Schneider is the editor of Think Africa Press
Register for free to continue reading
Registration is a free and easy way to support our truly independent journalism
By registering, you will also enjoy limited access to Premium articles, exclusive newsletters, commenting, and virtual events with our leading journalists
Already have an account? sign in
Join our new commenting forum
Join thought-provoking conversations, follow other Independent readers and see their replies