There's nothing wrong with Labour's modernisers except how outdated they look
With the return of Blairism, it's no wonder Labour has lost so much support to the Greens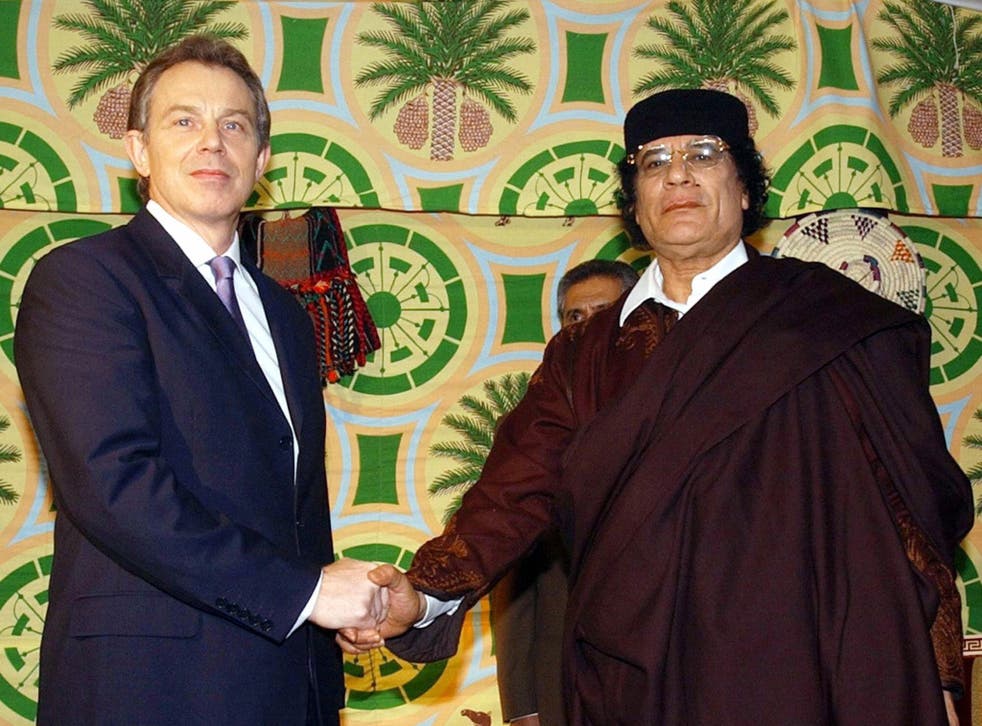 It's marvellous that, just as the election started to seem dull and outdated, New Labour has returned to make everything modern and relevant again. They want Labour to return to the values of the Tony Blair days, when everything conveyed newness and not stuck in policies that belong to the past, which must be why Blair delivered a glowing tribute to King Abdullah of Saudi Arabia.
"I admired him greatly, he was a sound and stable ally, a great moderniser," he said because everything about the exalted ruler of the House of Saud and his 30 wives said modern modern modern.
For example, his government sentenced Raif Badawi to 1,000 lashes for setting up a liberal website. Maybe the sentence for setting up a liberal website in the 12th century was 1,001 lashes so he was bringing it down bit by bit.
Obviously the Saudi regime's values never got as far as 1400 because the 15th century was a bit too dubstep for King Abdullah, but he must have taken other modern measures or Blair wouldn't call him a moderniser. Maybe the executioners that carry out public beheadings are now allowed to wear firmer gloves to prevent repetitive strain injury. Some complain that it's health and safety gone mad but he was determined to be modern.
He was modernising the attitudes towards women as well, insisting people said "we're stoning a WOMAN to death for adultery" and never a "bird", because it always pays to be politically correct.
The New Labour method is being applied in other areas as well. So the Scottish Labour Party elected Blair supporter Jim Murphy, the most strident campaigner against independence, to lead Scottish Labour and stop the collapse in Labour's support. This made sense, because the reason so many voters switched from Labour to the SNP must be that they felt Labour wasn't rude enough about the SNP.
As a New Labour man, Jim Murphy knows that to win elections you have to be modern, not stuck in the past with old-fashioned SNP policies such as scrapping Trident and opposing tuition fees. And so far he's doing amazingly well. When he took over, the SNP were on 45 per cent in the polls, 14 ahead of Labour, and many people doubted that Murphy would be able to change that.
The six-party election: key figures

Show all 12
But he's proved them wrong, because after just two months the SNP have gone up to 52 per cent, 28 ahead of Labour. At that rate, in two more years the SNP will be on 136 per cent, 196 ahead of Labour, achieving results that Stalin and Saddam Hussein would have been delighted with. The SNP will be winning seats in the North Pole and on clouds. Because if someone's as determined as Jim, they CAN make a difference.
Similarly, in England it appears that hundreds of thousands of votes that Labour expected to win will go to the Greens. So Labour set up a special anti-Green unit to prevent this, making statements such as "the Greens are obsessed with middle-class obsessions".
That should win them over. I suppose the sort of middle-class obsession they're obsessed with is the railways, as one of the Green Party's most popular policies is re-nationalising the network. And as we know, the only people concerned with railways are the middle class, always going on a train somewhere so they can get to one of their organic apricot conferences. Look at them all, thousands every morning squashed on to carriages so they can get into the town centre to buy antiques and go skiing.
Labour on the other hand has been led by characters such as Tony Blair and Peter Mandelson, not the sort of people obsessed with middle-class obsessions.
New Labour's Alan Milburn said the party can only win the election if it protects the "Blair legacy" by daring to be modern. By this he means repeating the trick of being even friendlier with top businessman than the Conservatives.
The argument seems to be that, for example, instead of appealing to the people who don't own rail companies, it's much better to appeal to the people who do. Maybe this is because there are huge areas of Britain where almost everyone is on the board of a rail company. I'm told that in the constituency of Gloucester West alone there are 200,000 members of the board of Virgin Trains. So it's essential Labour doesn't upset them by suggesting they change their behaviour in any way.
The problem the modernisers have is the more modern they become the more outdated they look. But as growing numbers of people become cross with the behaviour of bankers and businessmen, the old-fashioned outdated ideas seem like the modern ones.
It must be very confusing for any New Labour supporters following the election in Greece. They must think, "the mistake the Greeks have made is they've elected a party that's unelectable".
Syriza's policies, such as providing free electricity for the poor, are ridiculously out of date. Instead they should have been more modern, and told the unemployed that if they want electricity they should start an electricity company.
But New Labour has become even more modern than it was last time round, so this time they're probably demanding Labour's policy should be more forward-thinking than before, and that they should promise a monarchy in which women aren't allowed to drive and anyone objecting is lashed a thousand times in the street. Because you've got to move with the times.
Register for free to continue reading
Registration is a free and easy way to support our truly independent journalism
By registering, you will also enjoy limited access to Premium articles, exclusive newsletters, commenting, and virtual events with our leading journalists
Already have an account? sign in
Join our new commenting forum
Join thought-provoking conversations, follow other Independent readers and see their replies